Boat Fishing
Fisho writer and rally champ Michael Guest knew he was on a good thing with his first Noble Super Vee, a 6.2 walk-around. As it turned out, the only way to improve on it was to buy a bigger one!
QUEENSLAND-BASED Noble Engineering has been building its Super Vee boats for many years. In my opinion, they are the best riding plate aluminium boats on the market. Back in 2003 I got hold of a bare 6.2m hull from a reluctant Ben Noble. He was apprehensive about selling me the hull because it meant one of his boats would be out in public without his customary high level of finish.
Back then I was happy to prove him wrong by ensuring my first Noble received a first class custom paint job and quality fit-out. As a result, it was much easier to buy a "bare bones" 6.85m walk-around hull from Noble for my new project boat. The plan again was to customise the boat to a standard that only many man hours can provide.
You can't underestimate the amount of work involved in taking on such a project in your shed; my wife has threatened to leave me if I take on such a project again …
If it wasn't for my mate Luke Wilkinson I'd be still building the boat. After bringing the boat back from Queensland as a bare aluminium hull, the first job was to basically build the boat as you would a race or rally car: fitting up all of the accessories and ancillary items. Luke and I spent hours drilling holes, holesawing and grinding. The idea was once the boat was painted anything fitted up could stay in position.
Electrolysis can be a huge problem in alloy boats. By pre-drilling it allows etch primer and paint to cover all of the perforations and bare metal.
NSW Central Coast stainless steel fabricator Seaspray had been involved in the building of my last boat. For the new boat Seaspray again created a bimini frame and pivoting rocket launcher out of polished stainless steel.
Four weeks spent at Cardiff Bodyshop saw the project come to life. The boys there did a fantastic job with the two-pack paint finish, which features automotive blue and silver colours. It's high quality metallic paintwork.
After the paint job the "fun" really began; sorting out hundreds of metres of wiring, fuel and pump hose. These are the most tedious jobs, especially the wiring, where each connection is soldered and protected with a double layer of heatshrink. This time around I'd also decided to run trim tabs and a Coursemaster Autopilot, which added to the volume of wiring.
Pirtek supplied the fuel and steering hoses and custom fitted the Hydrive hydraulic system with stainless skin fittings. A 2000gph live bait pump feeds the transom-mounted live bait tank and a 200 litre in-floor kill tank is also plumbed for use as a live bait tank via the deck wash pump.
Deck design & layout
I'm not a strong believer in sitting down to drive trailer boats in the ocean and fail to see the need for two bucket seats that take up valuable space in so many boats. Instead, I built a large aluminium seat box, with two tackle lockers – four drawers in one side and five in the other – and topped off with a thick custom built cushion and pivoting lid for extra storage.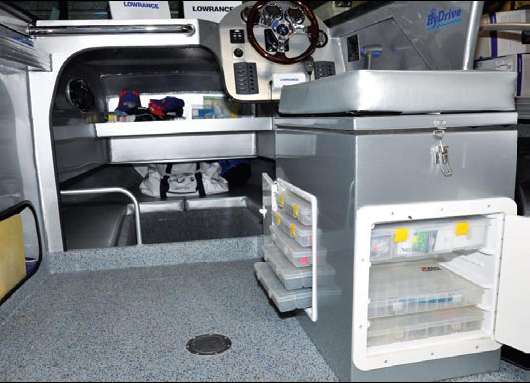 Padded coamings were added right around the gunwale and bow to act as a cushion to lean against when fishing. I had the trimmers make a thick padded cushion to match the driver's seat box, which was fitted to the top of a 150 litre ice box to provide another seat.
Being an ex-carpet layer, I reckon the greatest invention for boat floors is Regupol Granite rubber sheeting. This product is non-slip in all conditions and UV stabilised. The rubber runs 200mm up the sides of the deck area and makes cleaning a breeze.
The boat features state-of-the-art electronics including a Lowrance LCX-112 sounder (complete with 1kW dual frequency transducer), Lowrance 9200 Globalmap GPS, Lowrance VHF marine radio, GME digital EPIRB and the Coursemaster autopilot.
Lenco trim tabs and LED in-floor and overhead lighting round out the boat's fancy bits.
A dual fuel tank carries a total of 380 litres, which is more than enough for an extended fishing trip.

Power to burn
Probably the biggest decision to make with any boat is the choice of engine. I was excited to say the least to have a 300hp Evinrude E-TEC fitted to the transom. Three hundred horsepower is the "magic" figure we always try to achieve with rally car engines; to be able to just bolt such a powerplant on the back of the boat and go was a real buzz.
At 239kg, the 300 E-TEC is lighter than four-strokes in the same power range; for example, the Suzuki DF300 is 274kg, Yamaha's F300AETX 365kg and Mercury's 300 Verado 288kg. This weight advantage helps, in my view, to achieve a much better on-water balance. Also, the punch out of the hole you get from a high-tech DI two-stroke – even in a boat this size – is amazing.
I've recently been doing some trolling for both marlin and mackerel and have been astounded with the fuel economy: 700ml of fuel (less than a litre) per hour while trolling baits. While pulling skip baits for marlin the economy rate is around five litres per hour at five knots. With a cruising speed of 28 knots and an amazing 46 knots achievable at top speed, even a self confessed revhead like myself is in heaven. This is all achieved via a three-blade stainless propeller.
To keep an eye on trim, fuel levels and all of the engine data the dash features Evinrude's I-Command digital system. This technology comes in very handy, especially for fuel economy as you can see litres per hour at any rev range. The system is also compatible with the Lowrance GPS so all of the data can be seen on this screen as well.
Reelax outriggers and shotgun pole, a Cannon downrigger, tag poles, nets and a truckload of other gear
are all stored on board and within the cabin area.
After throwing on board all the ancillary fishing gear needed for a day's outing and fitting the full clears that attach to the four-piece glass windscreen and bimini cover, the boat's ready for action.
The alloy trailer was custom built for the hull by Noble Engineering. I had it designed so the keel height was as low as possible as my garage door's height is a limiting factor when storing the boat. This was achieved through drop-axles. Four wheel electric disc brakes were fitted to maximise braking potential.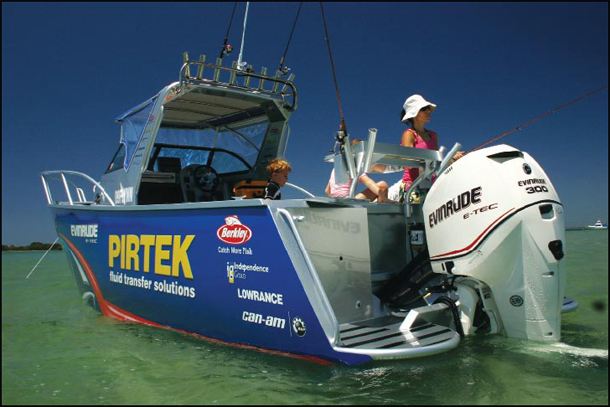 On the water
Any boat I own needs to be versatile enough to cover everything from game fishing to estuary family outings. I couldn't go back to a half cabin style boat after owning a walk-around. In the new boat I specified that the available fishing space at the bow be increased and a couple of rod holders be added. This makes the best use of the bow area and is a great platform for casting lures at pelagics or soft plastics into wash zones.
A transom door and swim platform makes accessibility in and out of the boat much easier for the family.
Overall the boat delivers an amazing amount of room. The 150 litre ice box – which also works as a seat – can be moved from the cabin area to the stern. As it has rubber feet it bites well onto the rubber floor and doesn't move, even in the worst conditions.
On the ocean the 6.85 Super Vee feels like a big boat. It's surefooted in both an on-coming and following sea. The trim tabs allow the driver to keep the boat level and adjust the bow up and down to suit the direction of travel. I've undertaken some fairly ordinary bar crossings in the boat and its combination of hull design and powerful and responsive E-TEC have made short work of very ordinary conditions – there's no substitute for acceleration.
Super Vee hulls ride very bow proud and use the double chine hull design extremely well to keep the cabin area dry, even in a cross wind. The high sides and stability at rest make the boat a great package for fishing at anchor or on the troll.
In the past six months the boat has helped amass an amazing tally of fish species including: striped marlin, yellowfin and bluefin tuna, Spanish and spotted mackerel, jewfish, kingfish, amberjacks, samson fish, rainbow runners, snapper, bream, whiting, flathead, pearl perch and bar cod. There's no doubt some boats are luckier than others, as are some anglers. Hopefully my luck will continue on the new boat and we'll add a few more species to the list!
Length:6.85m; LOA 7.2m
Beam:2.50m
Weight:(hull only) approx. 880kg
Hull thickness:5mm bottoms;
4mm sides
Deadrise:Variable;
24 degrees at stern
Power:Max. 300hp.
As tested, E-TEC 300.
Price:As featured, about. $130,000
Contacts: (07) 3303 8441; www.nobleboatsinternational.com, www.evinrude.com/en-AU