COULD Ross Cannizzaro's Phoenix 721 Pro XP be the ultimate tournament boat? As JOSH CARPENTER discovered, it's certainly one of the fastest! Images by SCOTT THOMAS.
ROSS Cannizzaro's boat is best described as a weapon. The entire set up is the tip of the spear when it comes to Ross's preferred style of tournament bream fishing. The 21-foot Phoenix was designed to be a purist instrument for competitive lure fishing, and when powered by a 300hp Gen2 Evinrude E-TEC, it's a fast and efficient machine that excels at its specified purpose.
The founder of Phoenix Boats in the USA, Gary Clouse, has a long history in professional tournament bass fishing and the boat building industry. He competed in both the BASS and FLW tours and has worked for the Stratos and Triton boat building companies in the US. Phoenix boats are designed by anglers, for anglers, and this comes across in many of the innovative features on offer in this specc'd up fishing machine. Who else would think to offer features like a padded front deck and what some describe as a "lazy Susan" for tackle storage under deck? Or an inbuilt solenoid starter, just in case your cranking battery is run down from using multiple sounders, livewell pumps and bilge pumps during a long fishing session.
Ross and his boat
Ross is a champion bream angler, but don't for a second think he just arrived at this point in his boating or fishing life. He's been targeting bream for 15 years and fishing competitively for a decade. Back in the day Ross fished out of an 11-foot De Havilland tinny with a six-horsepower Evinrude. While the Phoenix may be light years beyond the old tinny, it's the fishing that has always driven Ross.
Ross gave multiple reasons for choosing the Phoenix over other brands. The decision to go with this boat was partly to support his friend and the Australian Phoenix importer, Josh Batterson, but having seen a few other similar boats, he knew the Phoenixes handled better in rough water, had an excellent finish quality, and, importantly, had stainless fittings and sealed electrics. These are essential for using this type of boat in a salty environment.
When building these boats in the US, the process starts with a hand-laid hull, superior knit type fibreglass cloth and composite materials. The "Diamond Vee" hull design ensures a superb hole shot, superior turning capabilities and excellent top end speed. Ross's 721 Pro XP model comes standard with tilt adjustable hydraulic steering, a Hot Foot Throttle, recessed electric motor foot pedal bay on the front deck and a whopping 160 litre livewell.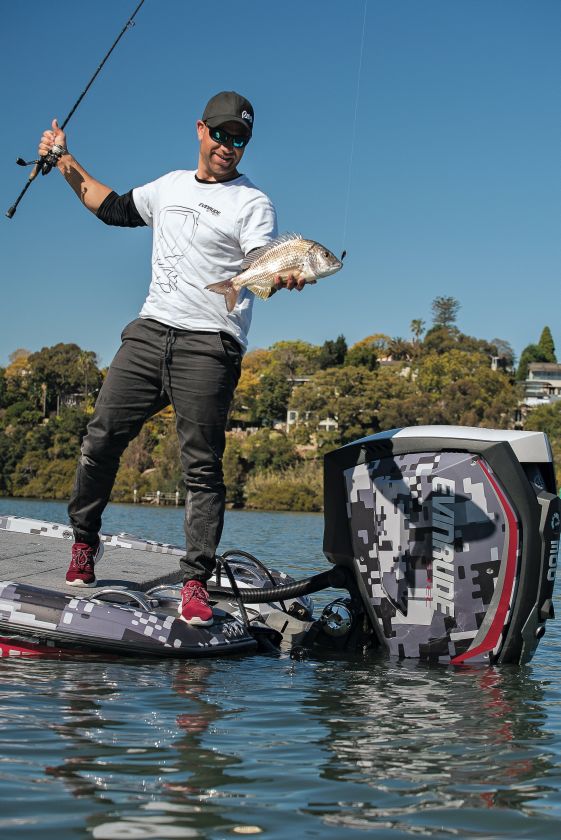 As a side note, I've personally had experience in boats of a similar size and style to this particular Phoenix and I was instantly impressed how soft the ride was on this hull when we started ploughing through chop and crossing boat wakes. Some of the other features such as the "pop out" console on the passenger side are quite handy when Ross uses it for other purposes like chasing harbour kingfish. This boat has a huge amount of storage for tackle and rods, which is always a prerequisite for serious tournament anglers. Add to this the beautiful boat wrap and the hull itself is near perfection.
Rough water ride
Sydney Harbour is Ross's main arena, although he travels extensively to compete in various tournaments. Many anglers may not realise the range of conditions Sydney can present on a single day. You can be somewhere up the Lane Cove River one minute, where you'd hardly think you were near a city at all, the next, on the Parramatta River dodging the sneaky frontal pressure waves from a River Cat. There's also the fast outgoing tide under the Harbour Bridge which throws up washing machine chop on the calmest of days, and the ocean swell crossings in front of the Heads going towards Middle Harbour.
This is where the direct injected two-stroke Gen2 E-TEC really shines. Sure, the boat has speed, a top speed over 70 knots (130kph) to be exact, but where it really shines is its mid range power and torque. Top speed is only for perfect conditions. The control of being able to open the throttle at 40 knots when you're working your way through a large boat wake can't be understated. Ross runs a big prop in a hand finished, 28" Raker HO which has been described as the "next evolution in maximising the superior power and torque of the Evinrude E-TEC Gen2".
The other point of difference with the V6 Gen2 E-TEC is the ability to now customise the engine colour and trims to match your boat. Not only does Ross's hull sport some serious pimping but the engine is matched via a custom grey camo design to complete what can only be described as a head-turning package. The cherry on top of this particular sundae are the twin Simrad NSS Evo2 sounders/plotters which Ross likes for their fast processing and large, clear displays.
In this day and age of ultra competitive bream tournaments, electronics are used to their very limit. Terms like "target separation" are not just industry buzz terms but very real advantages that can help an angler tell the difference between a school of bream or a school of luderick, or exactly how tall the weed is growing over the top of reef. When fishing, the rig is powered by a Minn Kota Fortrex 112lb 36 volt bow mount electric motor. With all the technology available in electric motors these days, it may seem somewhat archaic to run an "old school" mechanical cable operated electric on the front of such a state-of-the-art sportfishing vessel. However, the fact is there's nothing else that has the kind of control a cable steer electric provides.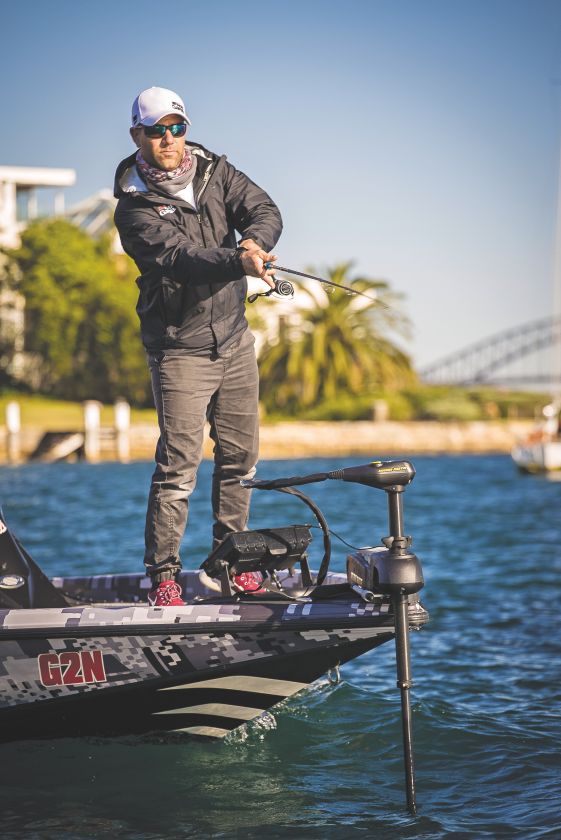 Ross's dynamic style of fishing, which tends towards casting at structure while threading in and out of tight places, requires a high degree of slow speed vessel control. Being able to turn the direction of the thrust in a split second with a tilt of the foot gets you out of trouble quickly and efficiently. While automated electrics with hand controls are popular with many anglers, the fact remains that mechanical steer engines are much more responsive in competitive environments, which is the reason why top tournament anglers like Ross Cannizzaro continue to use them.
The twin Power Poles on the stern of the big Phoenix are designed to silently hold the boat on the spot perfectly in shallowish water. This is great when fishing flats or fighting a decent bream. During our time on Sydney Harbour, Ross hooked a great fish. With the push of a button, he deployed the Power Poles and stuck right to the spot instantly to land the 40cm bream from the rear of the boat with ease.
Ross said some fishing arenas and techniques were made much easier with this addition. The Power Poles allow him to quickly "anchor" the boat in place in anything up to about three metres of water in even strong winds, tide or currents. The rig rests on an Elite dual axle trailer from Victorian trailer company Easytow. The US-made trailers generalled matched with boats like the Phoenix are generally not compliant with Australian road laws and require significant modification before they can be used. Thus, it's a much better option to simply get a quality Australian-made trailer to fit. Aussie trailers are probably more durable anyway, especially when it comes to use in saltwater fisheries.
As mentioned above, I was very impressed with pretty much every facet of this boat. It doesn't take much to realise that Ross has spent a significant amount of time researching and putting together what can only be described as a well-rounded rig. The high performance hull matched with the mid range power of the Gen2 E-TEC makes for a formidable ride in the boat's "go fast" mode. Excellent sounders, the shallow water anchors and a hull with amazing storage and comfort make it just as good when used for its "go fishing" purpose.
It's true to say that this isn't the sort of boat the average angler would probably choose, but if you're a serious and dedicated tournament specialist like Ross Cannizzaro, then it probably represents the ultimate fishing weapon!
For more info on the hull, engine or electronics head to the following websites…