Reviewed: Bar Crusher 760HT & 620XS
BAR Crushers have a reputation as solidly built fishing boats. While some boat manufacturers have a tendency to cover many boating styles, Bar Crusher has stayed true to its roots and produced boats with fishos' needs at the forefront of design. As a result the brand has enjoyed a loyal following with serious offshore aficionados.
I'd previously only experienced a couple of Bar Crushers on water – a 560C for a Boat Fishing review and Fisho editor Jim Harnwell's previous boat, a 5.5m Bar Crusher he owned for several years before going bigger.
A recent Melbourne visit provided an opportunity to get reacquainted with the brand via two current generation models – a 620XS (cross sport) and Bar Crusher's new flagship 760HT (hardtop).

The 760HT
As Bar Crusher's national sales manager Matt Urzia launched both boats at Patterson Lakes the bigger of the two really stood out – it's an impressive rig worthy of a flagship tag. At a healthy eight metres long (LOA) with a 2.47m beam, the 760HT is probably around maximum manageable towable (and legal, depending on state regs) size. Its max power is rated to 300hp; the test boat was fitted with a Suzuki DF 250.
Hop on board and it's plain to see the design intent behind the 760HT – some other "fishing" boat manufacturers could do worse than have a gander to see what a practical fishing boat is all about. There's no carpet to get stained by dropped bait bits or blood and guts, the solid chequer plate floor making for a quick and easy hosedown affair. For those who like comfort underfoot there's optional easily removable FishMat floor matting.
Fuel capacity is 300 litres as standard or there's an optional 500 litre tank to give the boat exceptional range – especially when fitted with one of today's frugal four-stroke or DI engines.
The 760HT features Bar Crusher's Waveslicer 19 degree deadrise deep-vee hull, with internal water ballast chamber that stores around 600 litres of water at rest to provide extra stability – a bonus when fishing offshore in any sort of working sea. The chamber drains when the boat's underway to prevent drag.
The hull features 5mm marine grade plate aluminium on the bottom and 4mm on the top and sides. The Rigideck sub-floor system – made up of a triangulated boxed sub frame – provides what Bar Crusher says is the stiffest boat flooring system in the world. This is a difficult a claim to prove, but in my experience both boats definitely felt solid in the deck department.
The 760HT's large angular cabin is surrounded by five sheets of toughened safety glass with sliding panels either side to provide ventilation. The glass provides an all-round view (the skipper's view aided by a single wiper), which is an important safety consideration especially for shorter skippers or crew.
The cabin's hard top allows substantial standing room and there are more than enough creature comforts for long on water stints. There's comfortable skipper and passenger seating, full-length 2.1m bunks with in-fill for a complete V-berth, Porta Potti (under bunk), plumbed sink 65L stainless steel fridge/freezer (under skipper's chair), plumbed sink, food preparation area, Hella LED internal lighting and an optional gas burner stove.
As cosy as the cabin area is, the cockpit is hopefully where the action will take place for most 760HT buyers. The deck is self-draining – there's also a bilge section below the transom – and there's a step-through hinged door transom and a foldaway rear bench lounge with access to dual batteries behind. Fishing friendly features include a marlin board, berley bucket, deluxe bait board with rod and cup holders, a generous size plumbed livebait tank, optional deckwash, in-floor kill tank and large side pockets to store nets, tagpoles, and gaffs. The hard top's sturdy rocket launcher has storage for 10 rods and together with the six gunwale holders and four at the transom that's a healthy 20 in total.
To tick off the boat's many notable features there's hydraulic steering and options including Lectrotab trim tabs and a Stress Free anchor winch and SARCA anchor. For those wanting to tend anchor the old fashioned way, a cabin hatch provides standing access to the well.
The 760HT looks to have been designed and built as a hardcore fishing boat, its solid, quality construction and proven Bar Crusher lineage providing the look and feel of a boat capable of taking on any conditions a regular bluewater visitor might encounter.
Across the 620XS
As impressive as the 760HT is, I was especially excited about the 620XS. Bar Crusher designed the XS range as "crossover" boats for both inshore and offshore use. The 620XS is a fishing boat for those who like the ability to fish bow to stern. Thanks to a console mounted to the rear of the deck, there's plenty of uncluttered workable deck in front and all the way to the stem. The 620XS looks arrowhead-like due to an aggressive raised shearline and sharp angular entry – this boat means business. The pointy end has an easy accessed anchor well, solid bowsprit fitted with SARCA anchor, and tubes mounted to the grab rails that can double as rod or extra reef pick holders.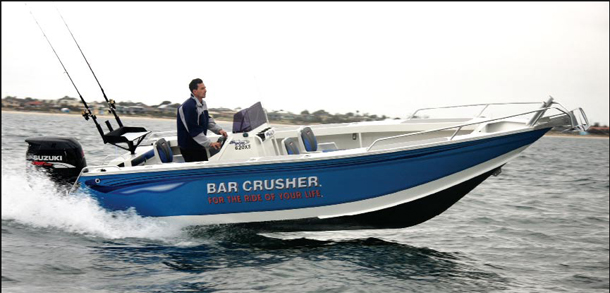 The hull of the 620XS is typical Bar Crusher, with 5mm plate bottom sheets and 4mm sides, and again featuring a hull water ballast system and chequer plate floor. The 620XS is supplied with three removable pedestal seats, one behind the console and two on the main deck with extra mounts supplied on the bow casting deck. The latter section also features a large sealed storage section for ensuring good condition of safety and other stowed gear. Like its big sister, the 620XS also has plenty of fishing features including removable transom bait board (c/w three rod holders), berley bucket, eight aluminium gunwale mount rod holders and plumbed bait tank. The console wasn't fitted with electronics but there's ample space for above dash mounting of a single large screen sounder/GPS set or two smaller units. There's a reasonable Perspex screen to provide minimal wind and weather protection. Maximum power is 175hp, the test boat was fitted with a 150hp Suzuki four-stroke, which proved to be a very smooth performer. Fuel capacity is 200 litres via a fuel filler mid-mounted in the deck.

On the water
As might be expected, the two boats are quite different on the water, but not as dissimilar as might be expected. Both feature the Waveslicer hull, which seems to be more than a gimmicky name. Thanks to a grunty motor on a reasonably light hull and two heavy-handed drivers the 620XS was airborne over more waves than I care to remember. Touchdowns, though, proved a revelation with the hull landing air cushion like – the ride of both boats was equally impressive.
Driving via the 620XS's rear console takes a little getting used to if you're used to driving from further forward. The boat is loads of fun to throw around and driving back to the ramp as fast as I dared in a following sea had Matt Urzia urging for more pace. After a few airborne leaps I chickened out but the boat had left a lasting impression. It's one to easily get confident on as it handles brilliantly and eats up average choppy conditions. I'd love to be on it closer to home when a southerly is ripping across Botany Bay.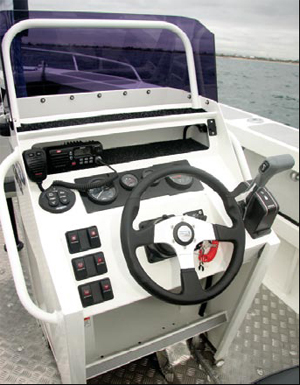 Extra wide chines run about a third of the length of each hull's length to provide added stability and spray deflection while underway. Both boats proved extremely "dry" in the fairly calm conditions encountered on the day. While Port Phillip Bay hardly provided a test for either boat, dark cloud and drizzle saw the 760's cosy cabin providing welcome cover. In contrast, a blast on the 620XS provides open boat wind-in-the-face fun. And with small versions of the XS (sub 5m) rumoured to be on Bar Crusher's drawing board, inshore boaties may have even more choice in the exciting XS range.
As a serious offshore sportfishing boat the 760HT feels right. It looks and rides like a trip to the shelf and back won't have you paying for it for days with sore muscles and aching back. It has loads of freeboard and fishing features that should ensure buyers only have to make a choice on electronics and provide fishing tackle. It's hard to believe a boat like this (under 8m) could soon be restricted to a 20mile offshore limit if a proposal in Victoria gets the nod.
For video footage of both boats go to www.fishingworld.com.au
BAR CRUSHER 760HT/620XS
Length: 7.6m, 8m (LOA)/
6.2m,6.7m (LOA)
Beam: 2.47m / 2.35m
Deadrise: 19 degrees
Fuel: 300 litres/ 200 litres
Power: Max. 300hp/ Max 175hp
Weight: BMT 2300kgs/ BMT 1950kgs
Price: As tested from $110,000;
from $65,000
Contact: (03) 9702 8555; www.barcrusher.com.au