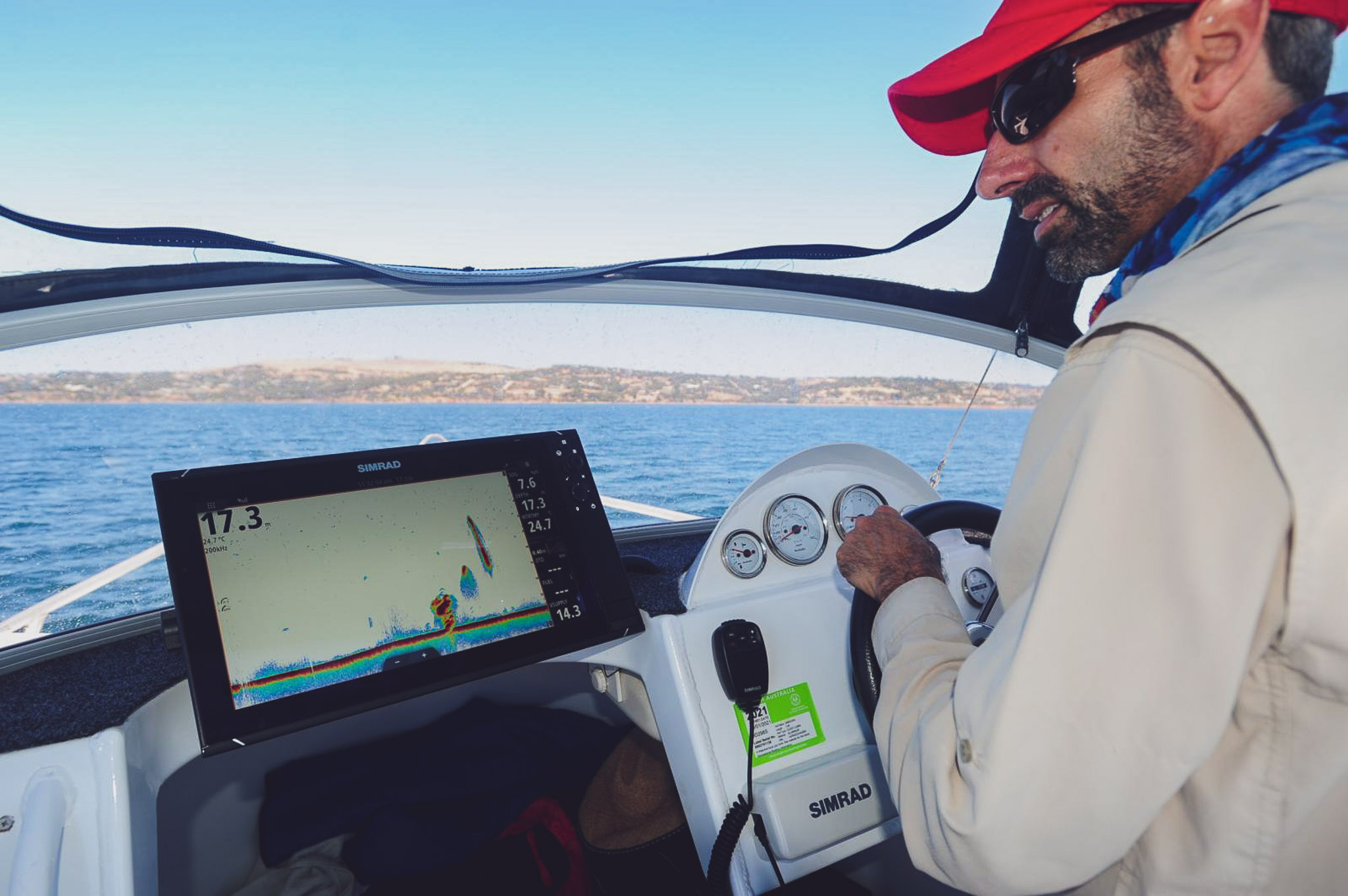 BACK in the July 2021 issue of Fishing World magazine I offered an initial review of the new Simrad NSS EVO3S multifunction display after mounting one on my boat earlier in the year. For those who didn't read the initial review, I upgraded my Simrad 12" NSS EVO3 to a 16" NSS EVO3S and was running my existing 600W 50-200kHz echo transducer along with an LSS Structure Scan transducer. Maintaining the original transducers allowed for a direct comparison between the two head units.
The initial review was of commendation, suggesting valuable upgrades had been made since the EVO3 was released in 2017. The first noticeable difference between the two models was the speed of processing courtesy of the iMX8 Integrated six-core processor. This increased processing speed offers instant chart rendering and scrolling between pages, with an increase of split screen capability from three up to six screens. The SolarMAX IPS HD display was another big tick with a sharper and brighter display that doesn't distort or fade when standing at an acute angle or while wearing polarised sunglasses.
As planned, after completing the initial review I ripped out my existing 600W transducer and LSS skimmer and replaced them with an Airmar 1kW TM185M transducer and a 2-in-1 Active Imaging skimmer. The TM185M is a medium frequency 85-135 kHz Chirp-ready transducer offering an 11-to-16-degree beamwidth.
Mounting the new transducers was straightforward, although I did have to play around with the angle of the TM185M once transom mounted. Initially I was losing contact with the bottom at speed, but by reducing the angle I've been able to maintain a clear and legible reading with the seafloor, even at WOT. These are a solid transducer weighing in at over 4 kilograms.
Running the TM185M on the NSS EVO3S offers a crisp and high-definition picture of the seafloor and offers more detail and sharper target separation when compared to my previous 600W transducer. I must admit it takes longer for the TM185M to relay a reading once the EVO3S is first turned on when compared to my previous transducer, but once loaded the image is crisp and seamless.
The EVO3S has a built-in high-performance echo sounder with 1kW enabled CHIRP sonar with dual channel capabilities. Having the dual channel effectively means you can run high frequency and low frequency simultaneously for greater detail. This is perfect if you are running a three-in-one skimmer and a high frequency transducer at the same time – something I haven't done yet, but the option is there.
I've now used the EVO3S for 6 months with the new transducers, clocking up quite a few hours of use in a range of environments. We don't have easy access to the shelf here in my local waters in SA – that's over 70 miles from shore – so most of our fishing takes place in relatively shallow water.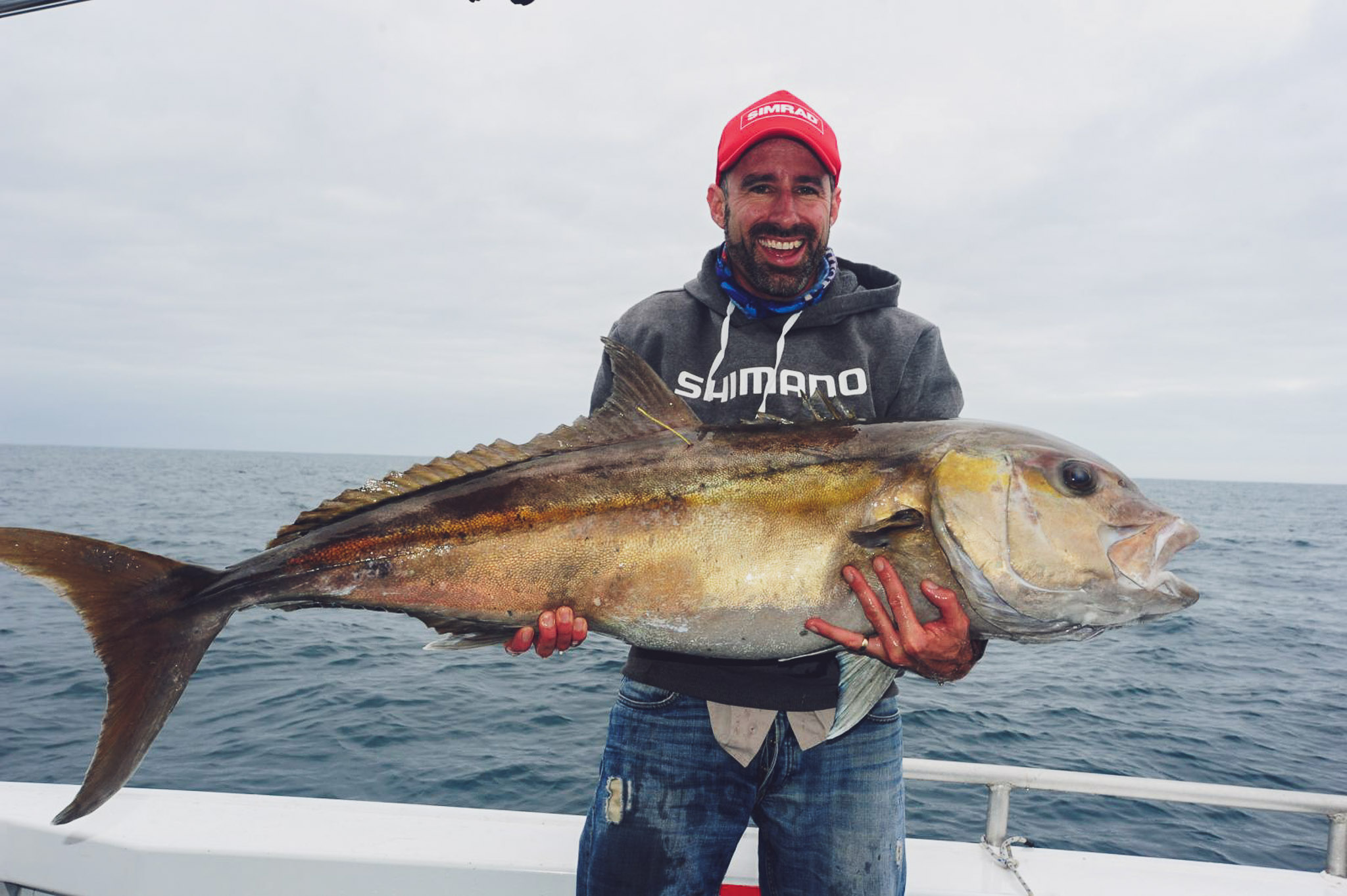 It's when fishing around our 30 to 60m reefs where the Simrad NSS EVO3S really comes into its own, offering detailed readings and fish markings through this depth range. Having a narrower beam coverage of 11-to-16 degrees of the TM185M offers clearer images at higher speeds and paints a more accurate picture of what's directly underneath the vessel as opposed to the higher beamwidths which are better for scouting a wider area. It really comes down to what you want your sounder and transducer to deliver to suit your personal fishing scenarios.
For me, I love sounding around our reef edges looking for fish – I almost enjoy the hunt of searching as much as the fishing itself. Being able to pinpoint a school of fish, mark them on the sounder and set up a short successful drift is very rewarding and is made easy with quality electronics.
When scouting our local reefs, I increase the Gain on the EVO3S slightly to A+2 or A+3 and I colour erase the high-end blue spectrum to remove excess clutter. This has offered a crisp reading over our reefs and removes a lot of the mid water clutter and 'fluff' and leaves primarily fish soundings – which is what we're chasing. This offers unmistakable markings of fish – but like all electronics it's often a case of getting used to your unit to be able to interpret the reading offered, and every unit will offer a slightly different picture.
Aside from reef fishing we also do a fair bit of bread-and-butter fishing in our local bay system chasing King George and calamari. Our whiting can be fickle little creatures and can be quite substrate-specific at certain times of the year. I've been using the new unit to side scan weed beds in local bays, looking for sand holes and berry weed which our King George like to hold over.
In shallow fringes of the bay, you can visually pick sand holes to target, but as soon as you push into deeper water you lose that visual advantage, and that's where side scan has been a benefit. Using side scan I can slowly sweep through deeper water and mark sand holes and berry weed and can return to anchor up. This has been a great advantage in scouting some new grounds, and we have been rewarded with some good fishing.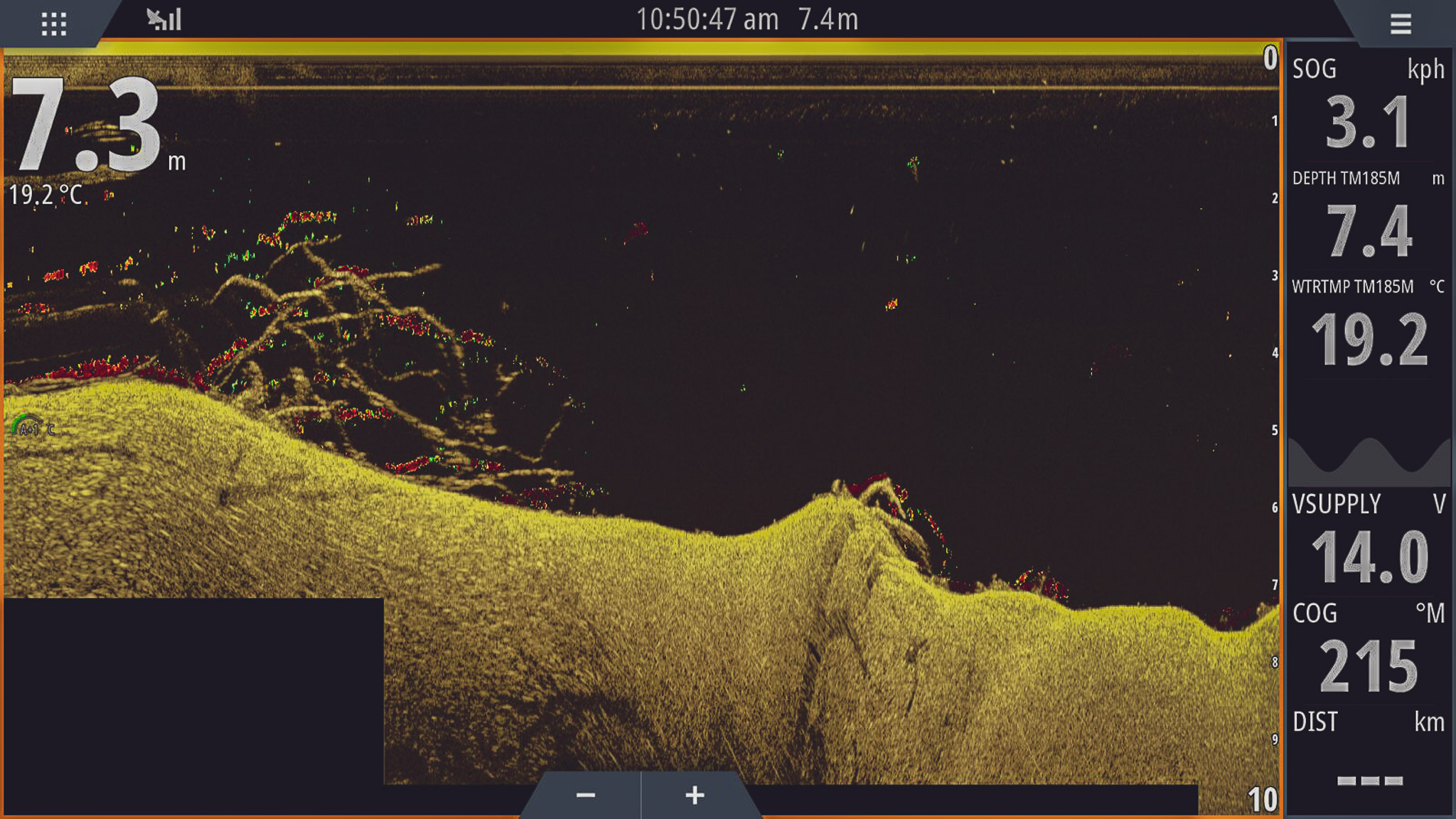 Back in May we camped on the boat for a week while chasing natives up the River Murray here in South Australia, and in this environment, we relied on our electronics every day for navigating as well as for fishing. In the Murray we primarily use side scan to scout for sections of heavy timber, rock bars and deeper holes where we can troll some lures as well as to stop and bob baits for goldens. Rivers, lakes and impoundments are the perfect environments for side scan, and it's awesome to see just how much timber is lying along some sections of the riverbed – it's a picture that isn't painted with traditional echo.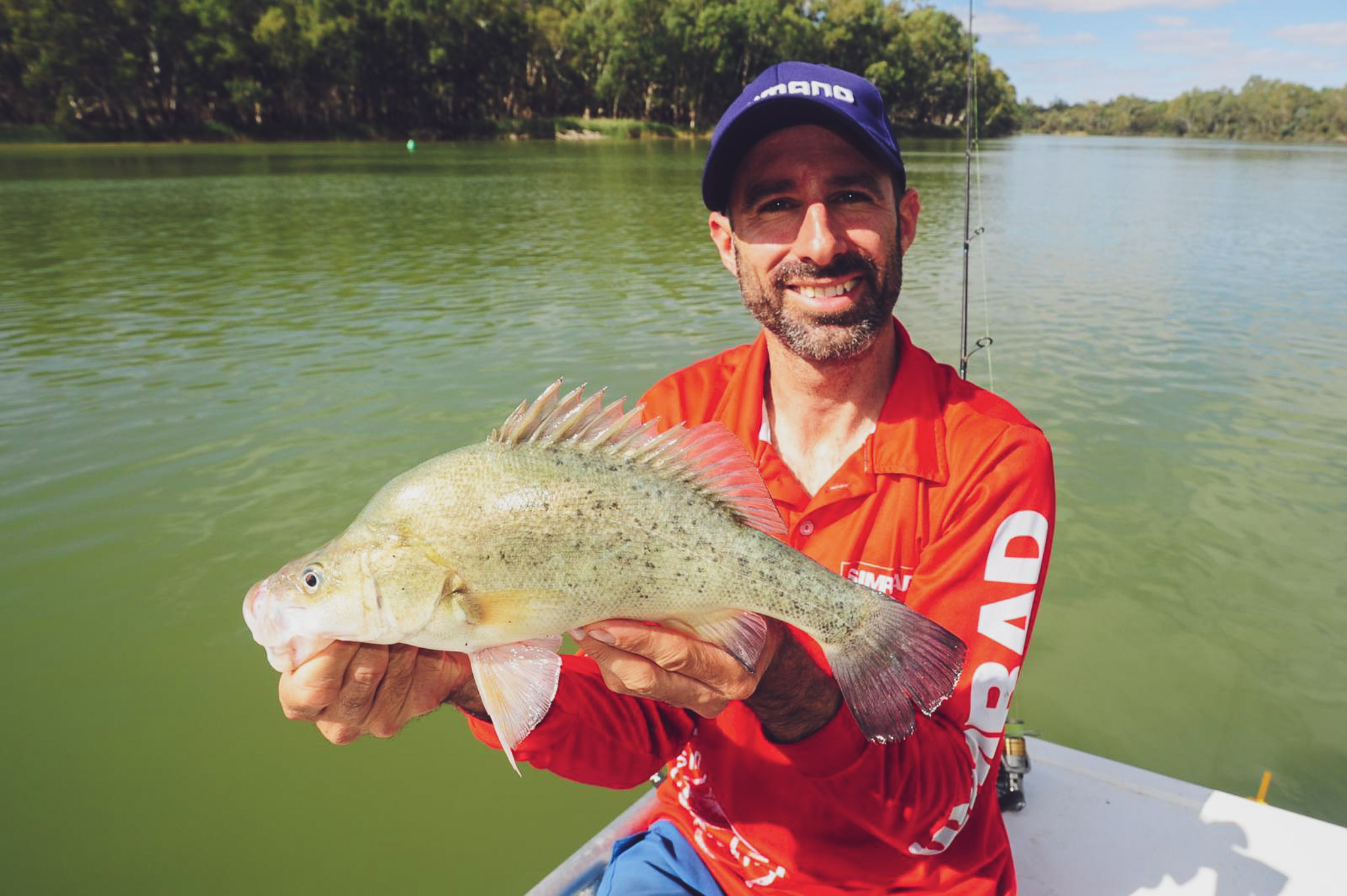 The image offered from the 2-in-1 Active Imaging transducer is sharper than from my previous LSS skimmer, but this may also be linked to the larger 16" screen. I have noticed I can't use the 2-in-1 AI skimmer at speeds over 12km/h while my previous skimmer would continue to read at speed – albeit at reduced quality. The structure scan has also been a benefit in our local bay where gummy sharks move into the shallows during Autumn and early Winter – the image of a gummy over the flats is quite obvious.
Aside from reading the bottom, I rely heavily on my chart plotter for navigating in and out of bays and rivers, and for accessing the fishing grounds, especially at night when visual bearings are lost. On a recent overnight mission with my two young girls on board the wind swung in the early hours of the morning, creating sloppy conditions where we were sleeping. At around 4am I made the decision to up anchor and move 3km to a more protected lee shore.
Having confidence in your electronics is so important in a situation like this, and I relied solely on my plotter to navigate around a couple of small islands to find our way to the new anchorage. The EVO3S has a built in GPS receiver which does a superb job for what we do. I know some fisho's opt for an external GPS antenna like the GS25, which improves speed of positioning and vessel heading – more important for tight environments like tidal rivers I would say.
The EVO3S offers loads of functions to the user – some are new, while others are proven applications carried over from previous models. FishReveal is one of the new functions and offers CHIRP overlay integrated through DownScan. This image offers clear CHIRP fish arches over the sharp structure resolution of DownScan imaging – a very cool function.
While the new NSS EVO3S is an exceptional unit and has been an awesome addition to my boat, I haven't been immune to glitches which often come with new electronics. On a trip out wide chasing bluefin, the head unit lost communication with both transducers. I still had chart plotter, but didn't have echo, side scan or down scan. I couldn't resolve the problem back on land and called the Simrad helpline.
In short – the EVO3S had a software glitch with the new TM185M transducer I had mounted. After a couple of phone calls to problem solve the issue, I was emailed a software update which resolved the issue immediately. It's reassuring to know Simrad offer that after-sales support to resolve such issues if or when they arise.
Simrad are also on the front foot with smartphone functionality, having recently released the new Simrad App last month (at the time of writing). The free-to-download updated app includes nautical charts, marine weather forecasting, and allows you to synchronise your waypoints and routes from your Simrad multi-function display onto your smartphone or tablet. The latest software updates and user manuals are also offered through the app.
In wrapping up, the Simrad NSS EVO3S multifunction display is a top-of-the-shelf unit offering exceptional depth readings and high-resolution images. The display is offered in an easy-to-use format delivered through a crystal-clear high-definition display. One is left to wonder; how much more can multifunction displays be improved from here?