After eight years fishing in one boat it was crunch time – buy bigger or look at other options? MICK FLETORIDIS reports.
IF you've been reading Fishing World regularly you've probably seen a number of pieces on my Webster Bassmaster 4.3. Bought new in 2000 from a Canberra dealership, the little alloy cat's been a project boat of sorts and undergone a number of changes to improve fit-out and fishability.
After getting the boat to its most fishing-functional level, I thought about upgrading to gain weather protection and do more regular offshore trips. Unfortunately, limited budget and garage space meant a bigger boat wasn't an option.
Shortly after, a conversation about outboards with BRP's Riley Tolmay proved timely. He suggested fitting a new E-Tec outboard onto my Webster for some long-term testing. Running a new "clean" technology outboard on the Webbie seemed a great way to revamp the boat. Re-powering is becoming more and more popular these days – as a way to reduce fuel costs, noise and engine vibrations. Changing to new DI two-stroke and four-strokes over old carby two-strokes also lessens the cost involved with buying a whole new boat/motor/trailer package.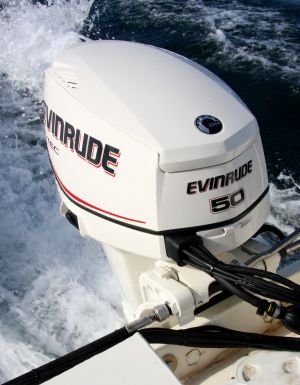 I made a call to Webster Twinfisher Enterprises in Orange to assess if the boat could handle the new engine. Webster's Daniel Schofield had me towing the boat to Orange a week later for a facelift or, more aptly, "bumlift". Anyone who knows the history of these single-engined catamarans will recall early versions sagged at the bum when the first generation of heavier four-stroke outboards were fitted.
Webster founder Ron Webster added extra buoyancy chambers to his hulls to lift the stern, an addition that's now a standard fit on Websters.
With my boat built prior to the hull update, the re-power provided an opportunity to fit these chambers, effectively updating the hull's rating to 60hp; E-Tec's 40/50/60 DI two-stroke is also around 21kgs heavier than the pre-existing Tohatsu 50 and one of the lightest "clean" technology engines available.
Daniel and his crew at WTE did a neat job of welding on the buoyancy chambers, which effectively extend the sponsons and overall waterline length. After I sprayed on a bit of paint it looked like the chambers had always been there.
Engine change-over
Technician Jayson Ginn did a first-class job of the outboard change-over at BRP's Sydney workshop in Bankstown. That was no mean feat thanks to some of my electrical handiwork under the console; the result of eight years of changing sounders, GPS units, electric motors, charging systems, lighting and more. While the electrics worked reliably, the wiring loom looked like a tangle of spaghetti.
Jayson kindly tidied it all up and in the process relocated the console's battery to the portside rear quarter and the isolator to the battery shelf starboard aft. Both batteries now charge via the E-Tec's 75-amp alternator and supply power to all electrics on the boat (apart from the Minn Kota bow-mount electric that has its own 12v battery supply).
Jayson also installed two I-Command gauges for monitoring the engine. An NMEA cable he connected between the boat's Raymarine A65 sounder and the I-Command system unfortunately wasn't compatible as the set isn't NMEA 2000 rated like the new models now available.
After completing the installation Jayson and fellow BRP technician Paul Armstrong water tested the boat with different props before settling on a 15″ pitch Viper stainless steel three-blader.
In the interim I'd advertised my second-hand outboard on eBay where it received a lot of interest before selling for an amount I was more than happy with.
Initial impression
The Tohatsu 50 two-stroke had been very reliable and given sterling service over hundreds hours of use. On the downside, it was a carburetter model and didn't start easily when cold and smoked at start up. While I'd thought of upsizing to a 60hp outboard after the hull's upgrade, Riley Tolmay suggested I stay with a 50hp for more direct comparison with the pre-existing outboard.
Evinrude's E-Tec 50 is an inline two-cylinder DI two-stroke with a bore of 91mm and stroke of 66mm – specs shared across the 40/50/60 E-TEC range. Weight ranges from 109-113kgs depending on shaft length; an indication of the heavy manufacturing used in componentry such as gearboxes for longevity.
As an example, E-Tec's 50 uses the same piston, connecting rod, main bearings and injectors as the 60 degree V-6 200hp model.
According to BRP specs, the 40 E-Tec supplies 40hp @ 5500rpm and the 50 and 60hp models 60hp @ 5750rpm. Riley Tolmay says the 60 varies from the 50 via a raised exhaust port for improved top end and a water injector that improves scavenging and exhaust tuning for improved planing power.
The E-Tec's power trim operates very quietly via remote up/down buttons below the cowling or on the throttle grip.
The most notable feature after four trips out with the new outboard has been its instant starting when cold (or hot) – there's no messing around with chokes and fast-idle levers. I love it.
The two-cylinder 50 idles very quietly And with no smoke emitted whatsoever it's easy to forget it's a two-stroke; the closest thing to smoke are occasional whisps of exhaust "steam" on a couple of very cold mornings fishing Botany Bay. To an average boatie like me, the E-Tec seems state-of-the-art in regards to low exhaust emissions and ease of use.
On the water, the hull's extra buoyancy has lifted the stern, and changed the boat's overall feel – something I didn't really expect. The first time out I found too much positive trim dug the sponsons in, which was unsettling and something I'd never experienced on the boat before. It took a couple of trips to work out the best trim settings for optimal running. I'm now a lot more comfortable with the new and improved Webster.
The 50 E-Tec is responsive at the throttle and delivers fast holeshots. Once over the initial hump the smooth delivery of power has the little cat moving quicker than ever before. A couple of knots have been added to the top speed at WOT which is now around 22 knots @ 5500 rpm.
With I-Command a huge number of useful engine and fuel readouts are at your fingertips. Via the push-button menus a number of custom readouts – e.g. engine hours (currently 9.44 hours) , engine temperature and rpm readings straight out of the management system – can be displayed depending on user preference. I plan to expand on this down the track.
Fuel flow readings via I-Command provide an accurate indication of fuel usage across the rev range.
Here are some typical readings: At idle speed of 750rpm the engine uses 0.39 litres of petrol per hour. At minimum planing speed of nine knots and 3300rpm, usage is 6.6l litres per hour, dropping off the plane, fuel usage goes up slightly to 8.0 lph. At 4500rpm and 16.2 knots the boat is running at optimal cruising speed, with fuel usage at 10.2 lph. With these sort of figures I'm expecting good fuel economy and range via the boat's 45 litre tank.
So far the days out with the E-Tec have been typical fishing trips. That often entails a run across Botany Bay and around the heads looking for salmon, tailor and signs of pelagic feeding. The rest of the day usually sees the Webbie at various spots around the bay – depending on tide – to target bream, trevally or flatties – or simply to get out of the wind. In these sessions the outboard does a lot of stop-start running and may not get used for long periods while fishing off the electric motor.
Average fuel used has been 12-15 litres, a cost of $20-$25 (@ $1.60+ a litre) per trip; unfortunately I didn't keep accurate fuel bill records previously but have noticed a saving of a few dollars at the bowser each time. Oil usage has been frugal considering extra oil is automatically mixed in to the system during the initial 10-hour break-in period. I've been running Evinrude's XD 100 synthetic oil and around half the oil tank's capacity (about two litres) is still left after four trips.
And while E-Tecs feature a self-flushing cooling system that purges any debris when running I still feel better about flushing it with a hose at home after each trip.
Stay tuned for further updates in the coming months.