Estuary Sportfishing
Don't waste your time flogging dead water with all the other tourists. Head "up the back" to find some superlative small creek action. By BEN CADDAYE.
DID I have the fish or did it have me? It was probably the latter, I concluded, as my kayak skidded across the water towards the snag. Seconds earlier, my little Strike-Pro Pygmy had been engulfed at the base of a log in water less than 30cm deep. At first I thought I'd connected to a big lizard as the fish stayed close to the surface, displacing a great deal of water in the process.
As it turned and made a beeline for the log, I caught a glimpse of the fish. It wasn't a flattie but rather a hulking black bream well in excess of 40cm. Controlling a big fish on light gear from a kayak is a challenge. All I could do was keep my rod tip up and do everything in my power to keep the beast at the end of my line away from the timber. As the fish made a series of short but powerful runs towards the undercut bank, I expected the 6lb braid and 8lb leader to part ways at any moment. Happily, everything held together and I was able to slip the net under the fish after a couple of minutes of the best light tackle scrap I'd had in a while. The 5cm minnow looked tiny in the peg-toothed mouth of the big, old fish. At 44cm on the brag mat, it was a personal best bream for me and I was more than happy to let the fish, which probably wasn't much younger than me, swim back to its lair to live out its days in this small NSW South Coast backwater.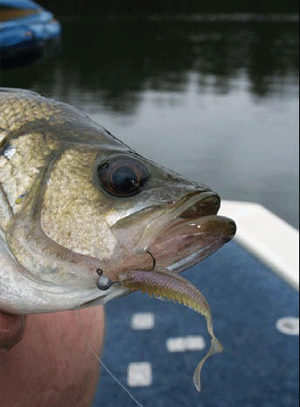 Up the Back
For lots of seasoned saltwater anglers, estuaries are usually broken up in to two distinct sections: "up the back" and "down the front".
Down the front means near the entrance, the lower reaches close to the mouth where tidal influence is strong.
The term "up the back" is usually a little more ambiguous. But when someone tells me "they're biting up the back", I immediately think of the narrow, brackish sections which feature timber-lined banks and minimal tidal flow.
In fact, when people say "they're biting up the back" my mind immediately switches to big, snag-dwelling bream, powerful, tackle-busting bass and elusive but electric estuary perch.
You can keep your river mouths, crystal clear water and clean sandy bottoms – up the back is where it's all happening.
I've recently become obsessed with fishing the creeks and backwaters of the upper reaches of the small and medium-sized NSW South Coast estuary systems.
These locations are picturesque, fish-rich and, because they're off the beaten track, you often have them all to yourselves. These areas are also often the first to fire after long, cold spells. Water temperatures increase faster in the shallows and there's less influence from icy ocean currents that regularly snake their way down the NSW coast.
If fishing is about getting away from it all, then flicking lures in the far upper reaches of any NSW South Coast estuary epitomises the sport.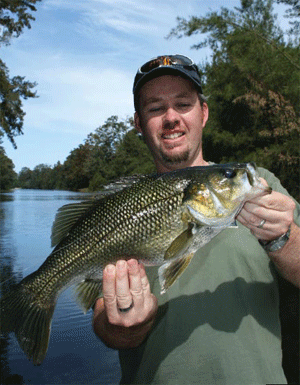 Spice of Life
South Coast creek fishing is all about variety. Depending on the prevailing conditions and the species you're targeting, anglers can flick soft plastics in amongst drowned timber, work suspending minnows over shallow weed-beds, fish sinking vibes in deep holes and retrieve poppers and walk-the-dog style lures over sandflats.
Beating around the Bush
In any creek system, snaggy shorelines are the logical place to start prospecting for fish. Twisted tree roots, submerged logs and overhanging vegetation are all reliable forms of fish-holding structure.
Snags can be fished in a number of ways, but small soft plastics rigged on lightweight jig-heads are the most effective lures for tempting fish from the timber. Flicked deep into the snag, plastics can be bounced through the timber in a manner imitating a fleeing prawn or baitfish. Big black and yellowfin bream respond extremely well to this technique, as do bass and EPs. I've also caught flathead, tailor, pinkie snapper, trevally, leatherjacket and blackfish by employing this method.
The trick is to work the plastic in a painstakingly slow fashion. Let it sink all the way to the bottom, give it a subtle flick, then allow it to waft through the water column once more. Lightly-weighted jig heads will allow you to do this without snagging up too often.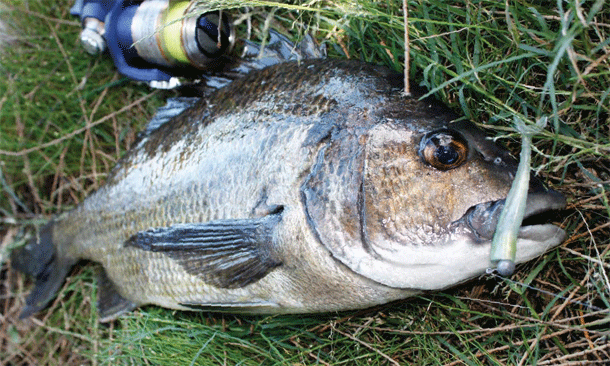 Need for Weed
Creeks and weedbeds go hand-in-hand. Areas where the water is shallow and tidal flow is minimal are often carpeted with weed and these are havens for bream, flathead and other species. Weedy locales are not always easy to fish. Plastics, deep-divers and vibe lures become fouled in the weed, making the new breed of trendy Japanese suspending minnows the ideal choice for this sort of terrain.
I must admit to having a genuine soft sport for these little hard-bodies. They look superb, are fun to use and, most importantly, are irresistible to fish. Given their neutral buoyancy, they sit just below the surface. When retrieved in relatively shallow water (between 60cm and 120cm deep is ideal), they tend to swim safely above the weed-beds yet remain close enough to the strike zone to tempt bottom-dwelling bream and flathead to hit with gusto. I favour a stop-start retrieve, allowing the lure to hang motionless in mid-water for a few seconds before twitching it with a couple of revolutions of the handle.
Anglers employing this technique in open water will catch a lot of bream and a surprising number of flathead. Tailor and even whiting are on the cards, too.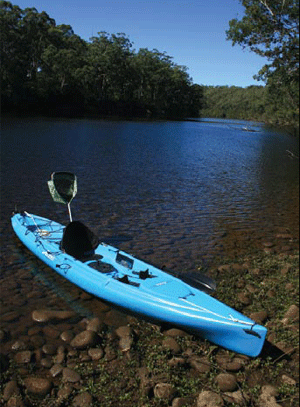 Holes & drop-offs
Deep holes in shallow creeks are fish magnets – especially during the day. But fishing the holes and drop-offs can be a bit of a hit-and-miss affair, particularly if the fish are hanging ultra-deep or in a lethargic mood. To fully explore a hole's potential, there are few lures more effective than the range of sinking vibes and blades.
Anglers have been extolling the virtues of vibe-style lures for the past couple of years – and with good reason. They work – regardless of whether you're using the traditional resin vibe or the newer, metallic blade.
Because they sink rapidly, vibes and blades can be used to target fish sulking in the depths; fish that would be impossible to reach with a standard diving minnow.
Dropping a vibe or blade in a backwater hole will yield bream, estuary perch, flathead and perhaps the occasional little pinky or chopper tailor.
Shallow flats
The shallowest sections of any estuarine backwater are always teeming with life. Crustaceans and tiny baitfish in turn draw larger fish, with surprisingly sizeable models prepared to enter extremely shallow water in search of a feed.
The hype surrounding surface poppers has died down considerably since the "whiting on poppers" phenomenon swept the saltwater fishing scene a few years back. But that doesn't mean that poppers have suddenly lost their effectiveness – far from it. "Blooping" 4-5cm surface poppers across the flats remains, in my opinion, the most deadly method of fooling fish in shallow water.
Bream and flathead are the mainstays when "poppering" and, at times, will attack surface lures with relish in less than 30cm of water. Use a stop-start retrieve, with a few aggressive "bloops" followed by a pause. Whiting prefer a constant, less aggressive retrieve.
Getting there
Half the fun of backwater fishing is getting there. I have detailed maps of some of the systems I regularly fish on the NSW South Coast and love looking for new, out-of-way locations to explore.
Often off limits to all but the smallest of craft, skinny, shallow creeks are the sole domain of kayaks, canoes and modest-sized trailer-boats. In fact, the stealthier the craft, the better your results will be. Personally, I love exploring my local creeks under paddle power. I use my little 2.7m Fish Bandit kayak to drift parallel to the snags, giving me the option of firing casts into the structure or out over the weed-beds. A small boat fitted with a bow-mount electric will allow you to do exactly the same thing.
Tackle
Light spin tackle is tailor-made for fishing the creeks. Outfits should be light enough to cast small lures long distances with accuracy yet robust enough to keep 1.5kg of angry black bream away from structure.
I use a 2-4kg spin rod around the seven-foot mark mated to a 1500-2000 size threadline reel.
With line choice, use a "horses for courses" approach. If you're casting tiny plastics at flighty bream, use 4-6lb braid with 4lb fluorocarbon leader. If big, toothy critters like flathead and tailor are about, or if there are gnarly snags in the vicinity, you might need to upgrade to as much as 8-10lb braid and 15lb leader. I tend to favour the middle ground, opting for 6lb braid and 8lb leader – a combination that has enabled me to land many sizable flathead, big bream and large EPs and bass. As a rule, though, you should always fish as light as possible.
FACT BOX:
Up the Creek – season-by-season

Autumn: Autumn is prime time in the NSW Far South Coast creeks. The overlap of winter and summer species means there are fish on tap regardless of where and how you are fishing. Early autumn in particular is a great time to pepper the snags with plastics or hard-bodies for big bream and flathead. EPs school in the upper reaches of many systems during autumn and are suckers for a precisely presented lure.

Winter: Cold water spilling in from the ocean often kills off a hot bite in the lower reaches of the South Coast estuaries. Up the back, though, it's often a degree or two warmer, especially in the shallows. Yellowfin and black bream are readily accessible in the backwaters throughout winter, with the creeks also often visited by schools of big chopper tailor.
Spring: Bass anglers get excited during spring as fish school up in the brackish sections of many tidal creeks in September. The first warm, sunny days of the season also heat up the shallows, making them excellent places to explore for flathead and even early season whiting.

Summer: My favourite time to fish the NSW South Coast creeks. Not only is there a plethora of species available, it's also a great way of avoiding the school holiday crowds. At this time of the year, I love working a plastic or suspending minnow for a bass or EP or poppering for surface-feeding bream.

Lures for creeks – at a glance
•Soft plastics for the snags: Squidgy 70mm Wriggler, Juro Firebait Longtail Minnow, Berkley Powerbait three-inch Bass Minnow, Berkley Gulp two-inch Shrimp.
•Suspending minnows for the weed-beds: Ecogear SX-40, Strike-Pro Pygmy, Bassday Kangoku Shad.
•Vibes and blades for the holes: TT Switchblade, Ecogear VX35, River 2 Sea Baby Vibe, Koolabung X-Ray Prawn Blade.
•Poppers for the flats: Rebel Pop-R, River 2 Sea Bubble Pop, Surecatch 5cm Popper.