Rockfishing
Winter is the best time to target hard-pulling drummer and blackfish off the ocean rocks. GREG FINNEY offers some good advice on tackle, rigs, baits and safety to help increase your success with these great wash-dwelling species.
THERE'S nothing like getting back to basics. These days my average weekend involves chasing gamefish out on the blue water. It may be jigging for kings with Stella threadlines loaded with braid or switch baiting striped marlin with teasers and circle hooks. My Evolution boat runs a 150hp Evinrude E-TEC engine and we've got all the bells and whistles in electronics and entertainment to keep us amused. But you know what? I still get a buzz out of fishing the local rocks for blackfish, drummer and bream. If the big boys aren't around or we can't get out wide to chase them, my thoughts usually turn to fishing the rocks and catching a feed. I especially like fishing the rocks in autumn and winter.
I started fishing the rocks at an early age when I tagged along with my old man and I've never drifted away from it, despite enjoying a lot of other fishing over the years. I still get a big kick out of getting up early and driving out along some dirt track and walking into various platforms as the sun comes up. Mixing up some bread berley in a bucket and baiting up with a royal red prawn, cunje or cabbage has always held a special place in my fishing heart. Same goes for watching a float or bobby cork while chasing blackfish under the suds. A lot of younger anglers don't see the attraction because they've grown up chasing estuary species with electric motors, flash lures and $1000 rod and reel combos. I hope we never see a day when the art of rock fishing is lost.
Chasing drummer and blackfish in autumn and winter is as good as it gets so let's have a look at both species and discuss a few techniques and tips to get you started or even improve your results if you're a rock fisho already.
Drummer
Drummer, or rock blackfish, inhabit most of the NSW coastline and will even venture into large bays and harbours at times. They inhabit the most turbulent areas of the coastline where the water is generally more white than green. They love that washing machine water found where waves crash over shallow reef or into small pockets and gutters. They rarely venture out into open water and will usually be found right in tight around shallow reef or hanging close to bommies. They have a reputation for heading straight back into cover when hooked, which makes catching them quite a challenge – even on medium to heavy tackle.
We hook the odd drummer if we drift too close to reefy areas while chasing blackfish. With 3-4 kilo tackle we land very few and usually lose a float or bobby cork into the bargain. To chase drummer seriously you need the right gear. That means 10 to 12 kilo line, solid hooks and a powerful rod. I'm still using the same tackle that I have for the past 15 years and it still works well. The rod is built on a Pacific Composites FSU4120G blank and I fish a seven-inch Alvey sidecast reel over it. The reel is loaded with 12 kilo mono and I can easily pull the kinks out of that line class on a large drummer. We're not talking gentle fishing here. When a drummer eats the bait the rod goes down and from then on it's a slugfest for a few minutes until the fish is landed. Alternatively, it's all over in a few seconds if a big fish makes it back to cover.
Drummer fishing from the rocks is really the domain of heavy tackle with rods of around 3.5m long matched with sidecast or large threadline reels. Forget about your high tech braid lines and fluorocarbon leaders. Ten to 12 kilo mono is the way to go; just tie it directly to a heavy duty No.1 or 1/0 hook with a small ball sinker on top. Use just enough lead to get the bait out there and let it wash around unimpeded. You don't want it sitting on the bottom in the one spot. Let it wash around in the turbulence because that's where the drummer will be feeding and how they expect to come across your bait.
I normally use a couple of different techniques when fishing for drummer. If I'm fishing a good wash or gutter that I know holds fish I'll usually concentrate on that one area and throw some mashed up bread and cabbage berley in to attract fish. Get some old bread from your local bakery and just add some saltwater and cabbage (sea lettuce) to it in a large bucket to make up some berley. Throw a handful in every five minutes or so – you'll be surprised how many drummer you'll catch that have the bread berley in their stomachs.
The other technique is to cover a few washes and have a throw in any likely area of white water and reef. Fishing the white water around bommies and exposed reef systems is ideal but don't forget right under your feet. You'll be surprised how many fish you'll hook in tight against the rocks, particularly in the white water where waves run back down over the rocks and into the water. Drummer will sit there waiting for the water movement to wash food to them. Just use a tiny pea sized sinker and let the bait wash around like it would naturally. The drummer will have no trouble finding it in the most turbulent of conditions.
You won't mistake a drummer eating the bait. The rod usually just pulls down slowly and the fish hooks itself. You'll get the occasional hard hit that nearly pulls the rod out of your hand but mostly it's just a steady pull before all hell breaks lose. No drummer just gives up and lies on its side. They all pull damn hard and they always head for the nearest cover in the form of an underwater cave or ledge. Give them any more than a metre or two of line and they'll reach cover and shred your line in the process. Pull too hard and you'll pop the line trying to stop them. I usually keep the rod angle up and give them a few feet of line if I think the line is at breaking point. Keeping steady and firm pressure on at all times is the trick to beating large drummer in the 3-4 kilo size range.
I only use two different baits for drummer these days. If it's low tide I'll collect some cunje but if not I'll use peeled royal red prawns. I get these from the local trawlers who work the shelf in winter. They're cheap, can be frozen in zip lock bags for each trip and the drummer absolutely love them. With a few dozen royal reds and a bucket of bread I can usually count on coming home with a couple of drummer most trips. I normally like a run up tide that coincides with early morning or late afternoon when the sun is down low.
Drummer are one of the best eating fish around. Fish from 1.5 to two kilos are the best with anything much larger being a bit tough and dry. To get the best results, fillet the fish and then skin it before cooking it. Leaving the skin on while cooking will ruin the flavour so be sure to remove it. We do our drummer in egg and breadcrumbs or beer batter but it's also very nice just brushed with a 50/50 mix of olive oil and soy sauce then lightly grilled.
Blackfish
In a direct opposition to drummer fishing, chasing blackfish is all about finesse and a very gentle approach. There's a definite art to fishing for blackfish and it can take some time to get the hang of it and a lifetime to perfect. Blackfish are a smaller version of the drummer but they normally school up mid water or on top around white water and gutters or washes. They eat the green cabbage that grows on most rock platforms and they don't fight dirty like drummer. You'll catch the odd blackfish while fishing for drummer with prawns or cunje baits but the most common technique is to use cabbage bait on a small hook and light trace suspended under a float or bobby cork. The way I fish is fairly standard so let's have a look at what I do as way of explaining the tackle and technique.
I fish a light and fairly sloppy 4m rod matched with a Baitrunner 3500 spinning reel. I also fish an old Avon Royal centrepin reel at times but the Baitrunner is much easier to use and fight fish with. I fish four kilo fluoro coloured Platypus Pre Test on the reel so I can see the line and control the float easier. If conditions are calm I use a small bobby cork about 35mm long and 20mm in diameter. These are just store bought ones in styrene foam from Todd Fishing Solutions. The model is 19060.
If conditions are a choppy I'll fish a float with a bright orange top that's easier to see. I fish both of these as fixed units and never fish a running bobby cork or float. I normally fish around two to three metres from the float to the bait.
I fish a one-metre trace of six-pound Tortue under the float or cork and simply slide the line up or down through the float to adjust my depth. With a bobby cork I use a small bug sinker on top of the swivel that joins the trace. My floats are weighted but I still use one small piece of sheet lead on the trace to keep the bait down. My hooks are Daiichi model 2171 in size 6. I also carry size 8 but rarely use them. I wipe some Vaseline over the first 50m of main line before fishing to help it float on the surface and make it easier to control.
I fish a lot of different water for blackfish. Some locations involve fishing a wash that just runs back out to sea from the rocks while others are a gutter and nearby wash system. Others are simply a platform near a bommie or reef system that holds blackfish. If blackfish are around and feeding it won't take long to find out where they are. I normally just drift around a few likely areas until I start to get downs or hook fish. Then it's a matter of fine tuning things to maximize your results. This may involve fishing deeper or shallower or using smaller baits to hook fussy fish and maybe even kicking a bit of cabbage berley over the side to attract the fish or keep them on the chew. I'm not usually a big fan of kicking in heaps of berley. If the fish are there and feeding when I arrive then I don't see the need to add any. Even if I do I keep it very minimal.
When a blackfish eats your bait the cork or float will go under. That's what's called a "down". Give it a few seconds and strike to set the hook. If this doesn't work then give the next fish a bit longer to get the bait down. Alternatively,  you could shallow up a bit or go to a smaller bait. I'm always experimenting when chasing blackfish from the rocks. Every day can be different so don't just fish the same depth and technique every day and never change. Pay attention to what's happening and adjust your technique
to suit.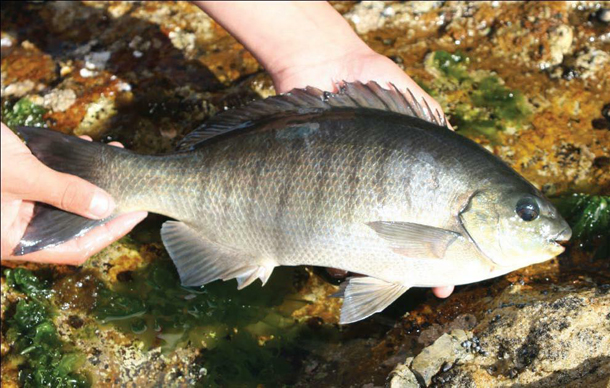 This shot of a nice blackfish also shows the cabbage weed it favours as food.
Comfort & Safety

Fishing the rocks in winter can be cold so make sure you take suitable clothes and the proper footwear. I normally wear warm clothes and joggers and change into shorts and cleats when I start to fish. This way I have a dry set of pants and footwear when I'm finished. I also take a thermos of coffee and some sandwiches and fruit. If the fish is slow there's nothing better than to sit back at the gear with some tucker and hot coffee while coming up with a change of plan.
If you're fishing close to the water, don't fish in waterproof pants or gumboots. These will make it hard to swim if you go in.
Safety should be a very high priority for all rock fishos.  Follow these basic rules: never fish alone, wear a PFD, check the water and the platform before you start fishing and always find a safe exit strategy in case you do go in.
Always keep an eye on the water when re-rigging or baiting up. If you aren't comfortable with the look of things, then DON'T FISH!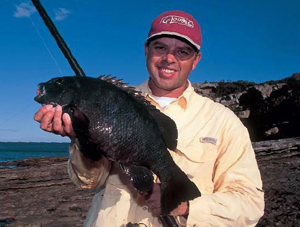 Finney with a three-kilo drummer taken on blackfish gear. You get lucky sometimes.