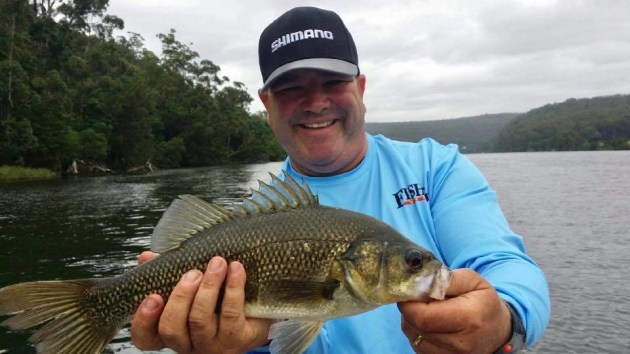 DEPRESSION will have affected many of those who read this, but not many truly understand this sometimes brutal disease that has claimed so many lives. Just look at funny man Robin Williams, who appeared as if he was on top of the world.
Having battled depression myself for many years, I was gutted when learning of the passing of all-round nice guy inspector Steve "Jonno" Johnson a few years back.
Jonno was one of the community's finest down here in Nowra. A dedicated husband and father and an absolute die hard fisherman.
Jonno was also a member of the local Police force, as well as a tireless worker for the local Indigenous community and a passionate member of Fish Care here on the South Coast. Everyone down this way knew and loved Jonno. He quite often put others needs before his own, which shows what sort of a bloke he was, not only to his workmates, but to the needy in the community.
A cheeky grin was Jonno's trade mark and as he walked toward you, you'd be thinking: "What fishy tale does he have on his lips today?". Jonno lived and breathed fishing 24/7. His efforts to teach fishing made him Mr Popular with aboriginal kids and elders not only at Culburra, but all along the South Coast.
Sadly, Nowra lost one its most caring and dedicated persons to suicide just on two years ago. The whole community was shell shocked because Steve Johnson worked so hard to help fight depression and the effect it can have on some people including himself.
Remembrance
One of Jonno's close friends and one he confided in, retired police officer and premier rod builder, Mark "Fish" Fisher, wanted to do something to not only honour Steve, but add to his legacy of helping those doing it tough, in and out of the force.
Fish got around some of the lads who knew Jonno and organised a catch & release bass and EP fishing day on Jonno's beloved Shoalhaven River.
He kept it small with only seven boats and two or three anglers to a boat. Jim Harnwell from the NSW DPI went through the correct way to handle and release these beautiful native fish and handed out official brag mats for all captures to be photographed with the angler's personal tag beside it. Fish were to be released where captured.
A 5:30 am start saw boats going in all directions just on dawn. We had officially been told it would "blow the dog off the chain" by 9am and for once, the weather gurus got it right – sadly.
The comradery was amazing and I believe most would have given Jonno a thought at some stage of the event. Jewfish, bullrout, flounder, tailor and bream were all caught – oh and I'd better mention bass and EPs also!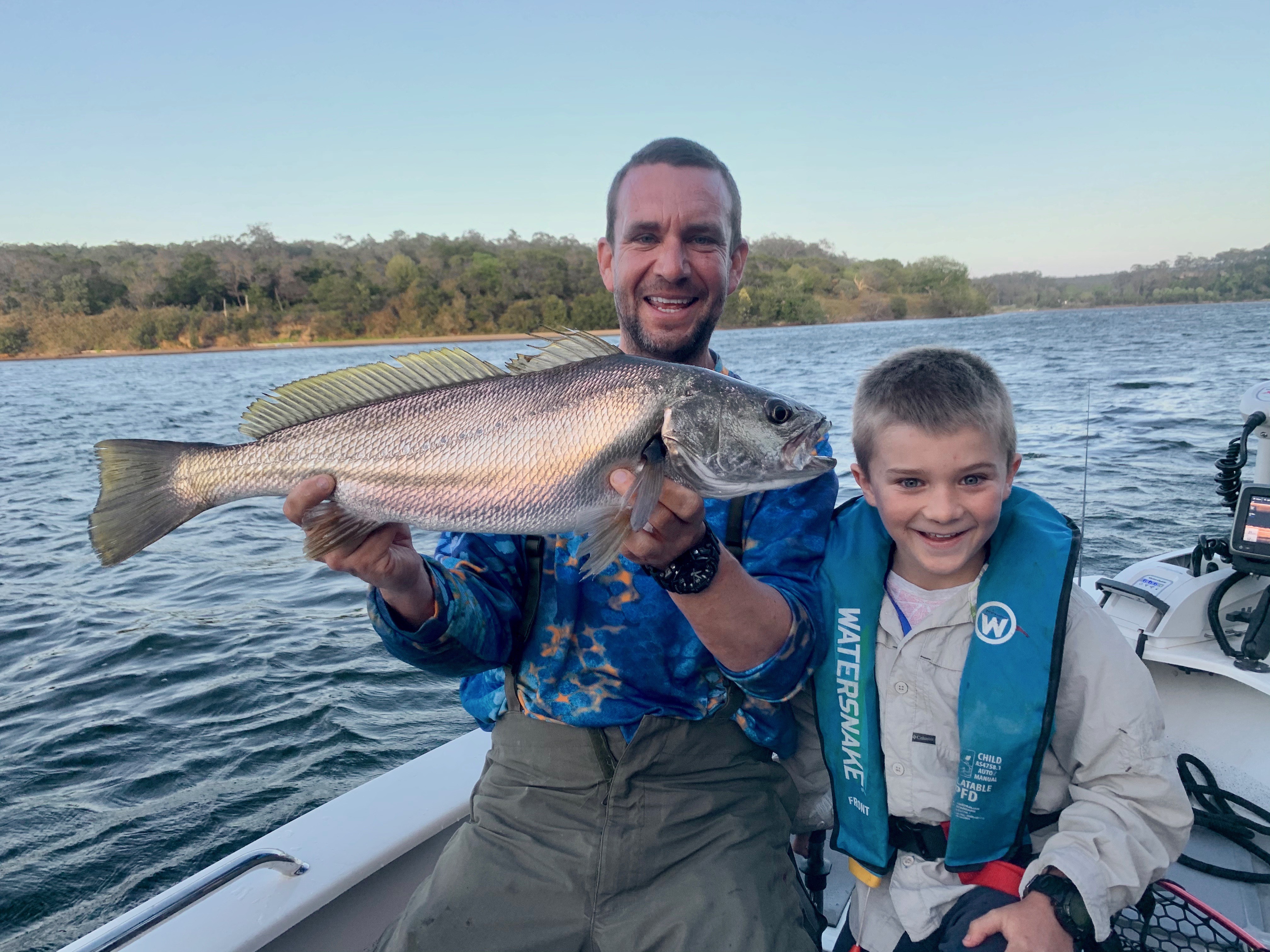 What a fish fest – pardon the pun Mark Fisher. What a great day to remember a great bloke. Fisho's standing as one, "Brothers in Arms", to remember a great bloke whose life was cut too short.
Each boat paid a $50 entry fee and all moneys raised was donated to Suicide Awareness Foundation by Mark Fisher. Mark also donated one of his amazing custom rods as well as getting trophies made in the form of medallions and a special one for Best Junior. Hobie also supplied two pairs of quality polarised sunglasses as prizes.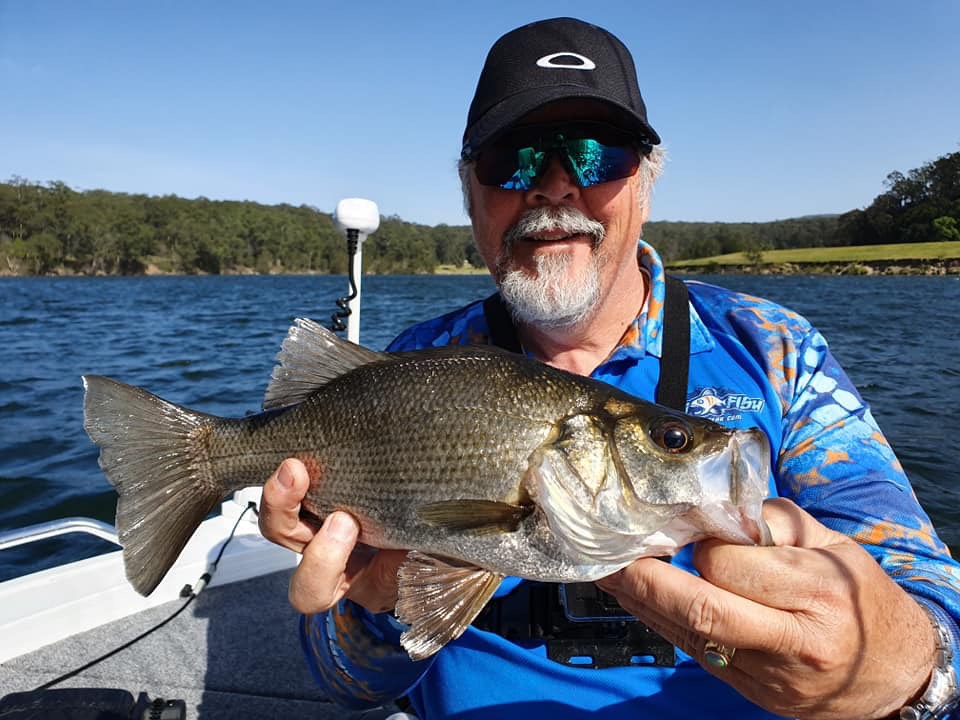 Jonno's parents John Snr and Carol presented the prizes and Carol even shared some funny moments she remembered Steve being involved in.
This will be an ongoing event, and maybe the boat numbers will be increased? Something for Mark Fisher to adjudicate on.
Someone Special
There is one very special person whom I haven't mentioned as yet and that is Marks beautiful girlfriend, Trish Armstrong. Without her input, dedication and time organising lanyards, sorting out computer programmes to allow for automatic updates via mobile phones (and not to mention, getting up at 4am to help Mark at the boat ramp) it wouldn't have happened.
On behalf of all who took part – thank you Trish. You are a LEGEND.
"Brothers in Arms" standing by one another, that's how life should be. It is too short to hold grudges.