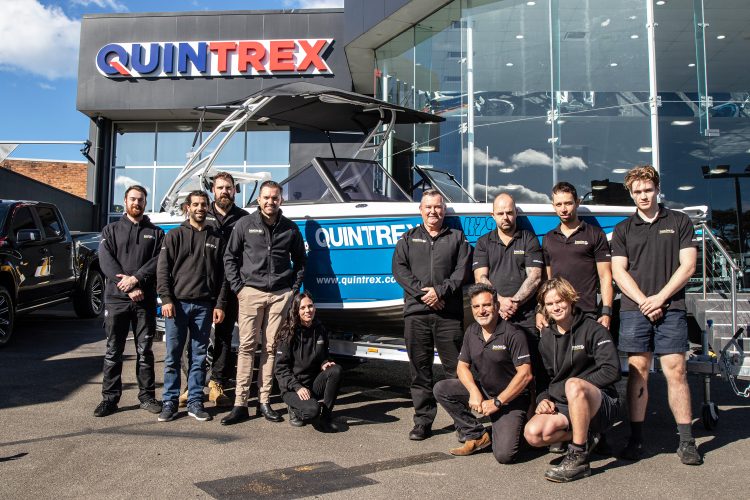 BEACHES Quintrex now holds title as the newest addition to the brand's line-up of top-level dealerships, bringing accessibility to the local Australian community.
The dealership is said to have been cherry-picked simply for its outstanding business approach – showcasing impeccable business etiquette and instilling the same values as the Quintrex brand.
"Beaches Quintrex is ultimately a testament to our brand, encompassing what we're all about in delivering exceptional customer service, bestowing industry expertise, promising ease of access for all local community members, plus showcasing a hunger for innovation and passion for all things boating," said district sales manager Eric Steele.
"We are proud to bring on the Beaches Quintrex powerhouse as we deliver people within the Sydney community the opportunity to enjoy Australia's best aluminium boats."
Ski-Doo, Lynx, Sea-Doo, Can-Am, Rotax, Evinrude, Manitou, Alumacraft and the BRP logo are trademarks of Bombardier Recreational Products Inc. or its affiliates. All other trademarks are the property of their respective owners.
Family is at the heart of the business, with Beaches proudly backed by father and son duo; Simon and Chris Kendrick.
Their experience together with a commitment towards delivering utmost customer experience has seen the dealership go from strength to strength and, it is only just the beginning.
Quintrex is championed as an exciting new addition to their portfolio of BRP brands, already specialising in Sea-Doo personal watercraft and Can-Am off-road and on-road vehicles, whilst wearing the title of National Sea-Doo Dealer of the Year.
It is a strong relationship through and through, with Quintrex's reputation said to be one that aligns with Simon and Chris' reputation for selling only the highest quality and market-leading products.
"It was a clear progression for us. The Northern Beaches has been in need of a Quintrex dealer for many years," said Beaches Quintrex owner Chris Kendrick.
"With BRP's recent acquisition of the brand, it was only natural to bring on Quintrex to our leading range of products."
More info at https://www.quintrex.com.au/Dealers