Humminbird has added "Down Imaging Sonar" to the Side Imaging technology it developed in 2005.
Like Humminbird's innovative Side Imaging Sonar, Down Imaging is claimed to present picture-like images of the bottom. Down Imaging views are focused directly beneath the angler's boat, giving a detailed look at structure and the water column.
Together, Down Imaging and Side Imaging are claimed to give anglers an incredibly detailed, full 180° view of the bottom. Split-screen viewing options provide the ability to view Side Imaging, Down Imaging and traditional 2D separately, in groups of two, or all three at once.
Tim Morgan, product manager for Australian Humminbird distributor, BLA, believes that this new upgrade illustrates the benefits of investing in the Humminbird brand.
"Customers with sounders from as far back as 2005 can receive this upgrade for free, making their sounder one of the most up to date and comprehensive on the market", Morgan said.
A free software upgrade to install Down Imaging will be available in January 2010 to current owners of Humminbird models with Side Imaging (except 797 CX) by simply registering their product at www.Humminbird.com or by contacting their local Humminbird dealer (no new hardware or transducer is required).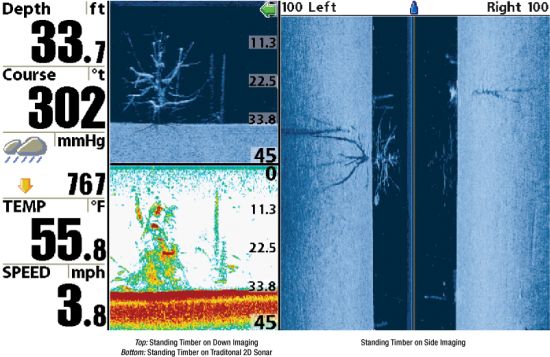 Down Imaging will be added to the new Humminbird Side Imaging units released in early 2010.
For more info visit: www.bla.com.au.