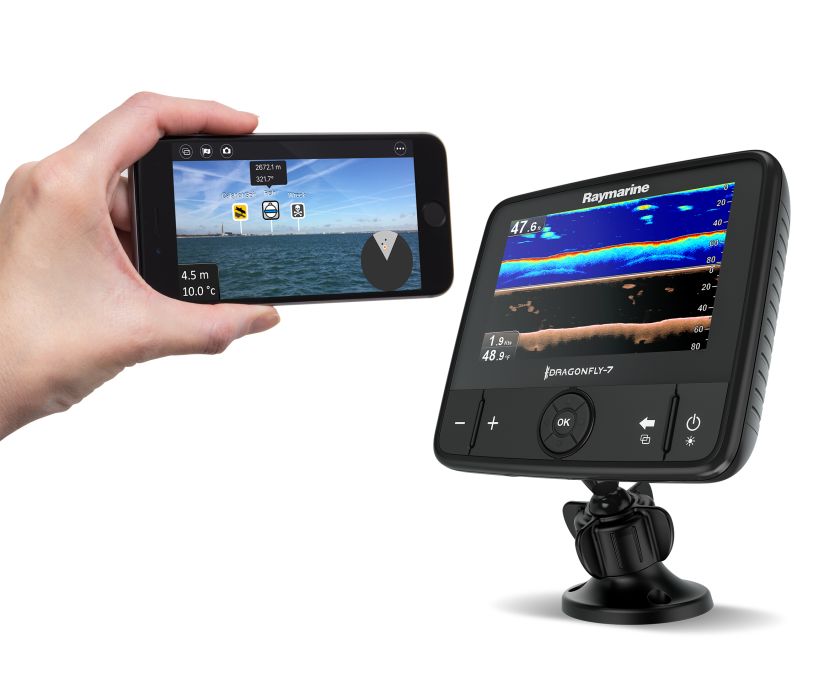 RAYMARINE has announced an all-new version of its popular Wi-Fish mobile app for use with Dragonfly-PRO and Wi-Fish CHIRP Sonar systems.
The app has been expanded and now includes Augmented Reality Viewing of your saved waypoints and fishing hot-spots.
The app works with the GPS, compass and camera in your smartphone or tablet to show precisely where you are in relation to your saved waypoints. The name, symbol, bearing and range to each waypoint is displayed as a dynamic overlay on a real-time view of the waterway in front of you.
Simply pan your smartphone or tablet 360° across the horizon, the precise positions of your waypoints are shown on the live camera feed. This makes it easier than ever to locate your favourite fishing spots and navigate right to them!
Raymarine has also added a mobile-friendly mapping view to the app. You can now see a bird's-eye view of your location with all of your waypoints plotted, right on your smartphone. You can easily select your destination and view it on the map or in Augmented Reality mode.
The app also now synchronizes your stored waypoints using the Dragonfly-PRO's Wi-Fi connection so your waypoints are always available – even when you are away from the boat.
Finally, the improved Wi-Fish app contains a new View-Switcher menu with an expanded selection of ways to look at your CHIRP DownVision, fish targeting sonar, augmented reality view, map view, and combination views. Like always, you still have the ability to pause and rewind the sonar as well as capture and share screen shots right from your mobile device.
To use the Augmented Reality mode, you must be running the new Wi-Fish app on a GPS enabled smartphone or tablet. Tablets without built-in GPS will still be able to access all of the sonar features of the app, but won't be able to switch into Augmented reality mode.
The updated Wi-Fish mobile app is available now in the Apple iTunes App Store for iPhone and iPad devices. Android versions of the app will be available in their respective stores shortly. The Wi-Fish App is free and works with Dragonfly 4-PRO, 5-PRO, 7-PRO, and the Wi-Fish Wi-Fi sonar system.
More info can be found on the Raymarine website.