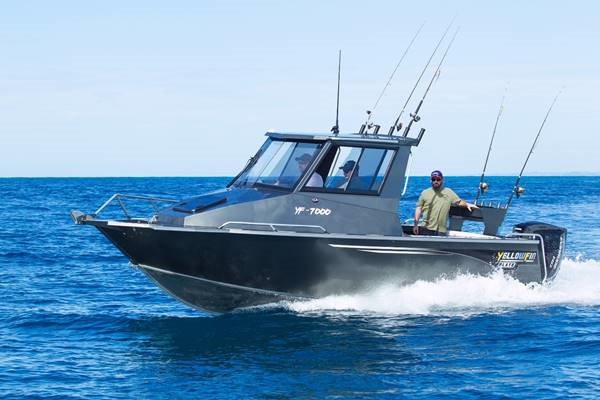 THERE will be over 10 hand-built Yellowfin plate boats at the Sydney International Boat Show from August 1 to 5, 2019.
Yellowfin Plate boats are built in a specialised plate factory and according to the manufacturers are safer, stronger and smoother than any other plate boat.
Yellowfin offers 27 models to suit the specific needs of anglers. Those on display in Sydney will include the all new Folding Hard Top and Centre Cab as well as the ever so popular Southerner Hard Top.
The all new Folding Hard Top is a manoeuvrable fishing machine that is easy to fit in most standard garages and is available in 5800, 6200 and 6500 models. The manufacturers say this boat provides the best of both worlds: the 360-degree fishability of a centre console with the protection of a cabin.
For those that want to go to new destinations faster, the Yellowfin Plate Southerner Series could suit. Fishers can choose between the 7000 and the 7600 Southerner, the most popular boat in Yellowfin Plate's range.
"Yellowfin Plate has raised the bar and stepped up to the plate," said Drew Jackson, Yellowfin Plate Account Manager .
"We have worked over the past months to select the perfect range of boats to show NSW boaties at the Sydney International Boat Show."
"Yellowfin Plate are the best riding plate boat on the market, and now that the range has expanded, there is a boat that suits all NSW fishos. They can get exactly what they want," said Jackson.
"Come and see the new Yellowfin Plate boats at the Sydney International Boat Show, and talk to TR Marine and Hunts Marine about what sets them apart."