NEWCOMER to the competitive kayak fishing scene in 2013, Patrick McQuarrie has continued to make an impact by taking out his second event for the year in Round 7 of the 2013 Daiwa-Hobie BREAM Kayak Series.
McQuarrie weighed in his 2.71 kg bag last for a good reason as he had overtaken the entire field and jumped to the lead with a three fish bag that was over 500g heavier than his closest competitor. McQuarrie put together his bag with a Jackall Chubby borrowed from fellow angler Bryce Beechey; the lure was later returned to the Bryce after Patrick found the Atomic Deep in Muddy prawn was favoured by the larger fish. Apart from lending Patrick a lure Bryce also funded Patrick's trip and paid his entry fee to give his friend a chance to fish a totally new waterway.
Patrick found himself fishing the windy water and definitely caught his fair share of by-catch like a large majority of the field. The bite started early and finished when the wind came up.
Patrick said "I was starting to work my way back to the weigh in at 12.30 when I sounded a sand bank". This bank was in an unexpected area of the bay he was fishing. The sounder showed the bottom quickly rising from 4 metres to 1 rapidly. Knowing that this area could have been holding fish Patrick changed his bearing and started to fish this newly discovered hump.
The observation definitely paid off with Patrick turning his bag over and upgrading all of his earlier fish in around 30 minutes. The purple patch produced some quality fish on each pass. Patrick's three fish bag consisted of a 35cm tip, 37cm tip and 47cm tip.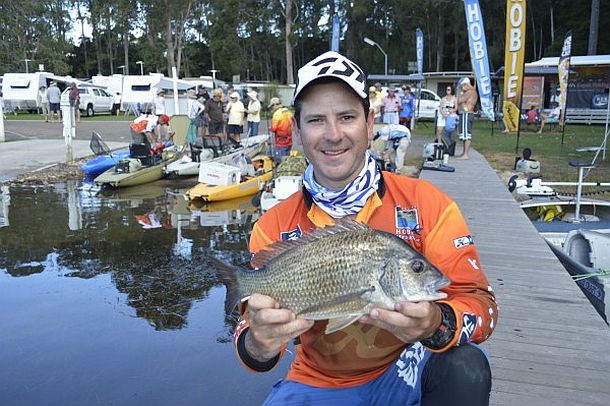 Round winner Patrick McQuarrie with a 1.22kg beauty.
After a top twenty finish last week in the Narrabeen round Ronnie Sonter was holding on to the top spot till the very end when fellow central coast boy McQuarrie came to the scales.
Ronnie's three fish bag was made up of fish caught on the windy edges from around about 9.00am. The windy edges definitely produced fish but sadly no upgrades. Ronnie was fishing edges in around 80cm of water.
Event winner McQuarrie also claimed the Hogs Breath Boss Hog Big Bream with a 1.22kg monster. The $100 fish fell to Patrick's now favourite Atomic Deep in Muddy Prawn.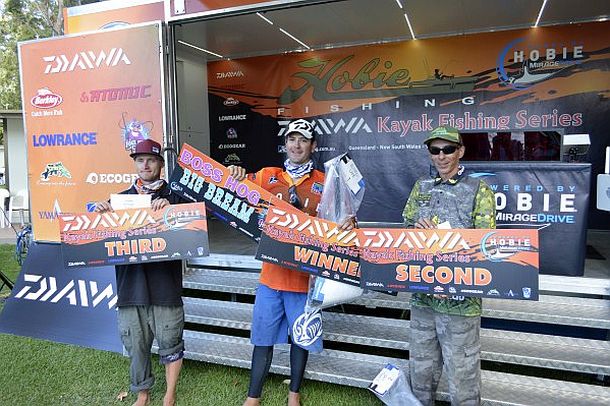 More at: www.hobiefishing.com.au