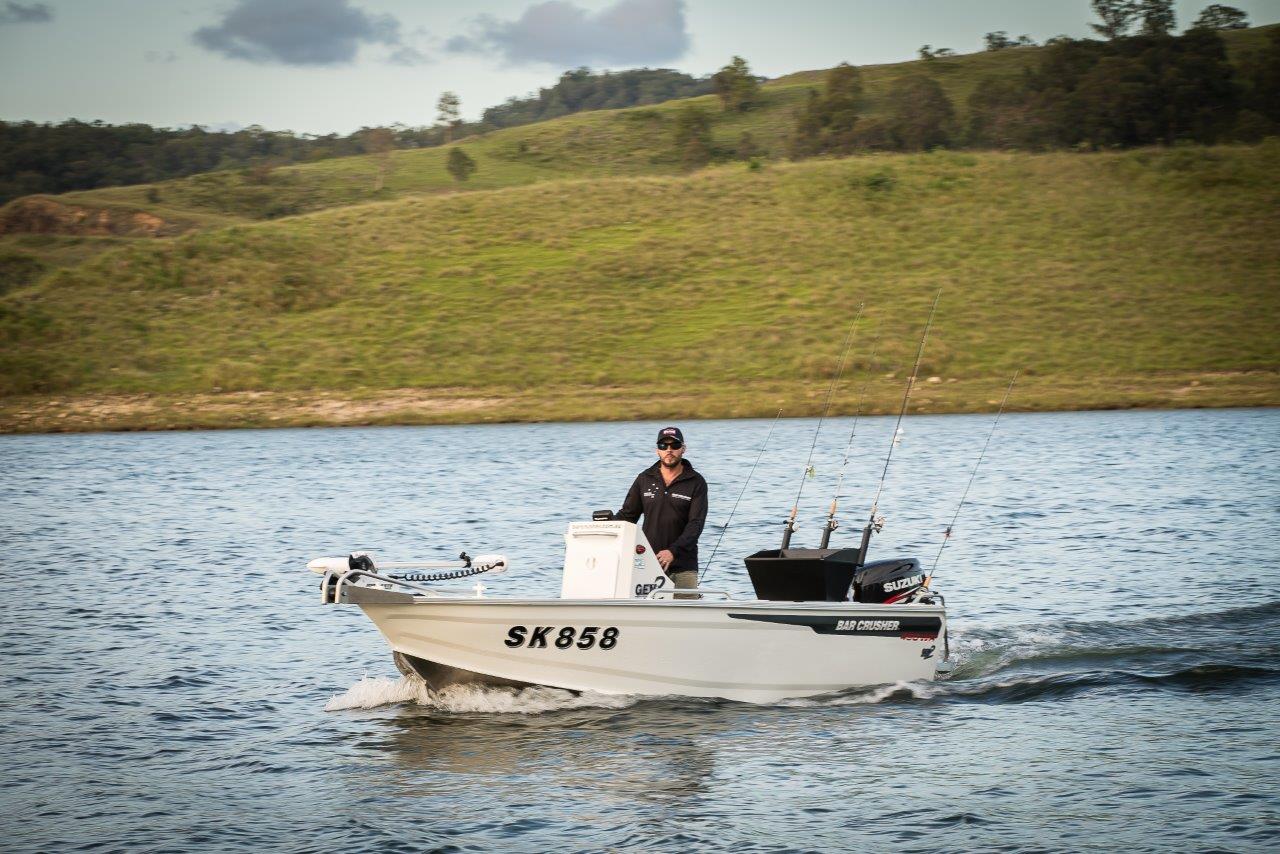 Bar Crusher's 490WR is a small and tough centre console which punches above its weight in performance and fishability. SCOTT THOMAS reports.
BAR Crusher's 490WR is one of the latest models from the Melbourne-based plate boat builder. While Fishing World has previously reviewed the 490C, a cuddy style boat based on the same hull, I was looking forward to getting on board the open configuration version for an extend length of time.
The team at Bar Crusher were kind enough to loan Fisho the new 490WR for several weeks and we sure made the most of it… During that time the 490 was put through its paces in the salt and the fresh while fishing solo, two-up, three-up and even with a couple of kids on board. This extended test gave us a genuine opportunity to determine whether the boat lived up to its reputation as a serious pint-size fishing machine.
All the small things
The 490WR basically looks like a smaller version of the larger Bar Crusher models. It's constructed of heavy duty 4mm aluminium and 3mm sides and features extra wide gunwales and tough chequer plate flooring. For this reason it's a unique boat and it feels overbuilt, in a good way. Having extensively used a similar size centre console fibreglass boat, I was keen to see the difference in performance and fishability.
The first thing I noticed was the generous freeboard and wide gunwales while fishing. Even in rougher water I felt incredibly safe. Bar Crusher's Waveslicer deep-V hull and Rigideck sub-floor structure provide the boat with a safe ride when conditions get rough. The 490 also features a ballast system, which floods the keel with water at rest and adds to to the stability. Given its excellent stability and aforementioned freeboard, it provides a snug feel at rest.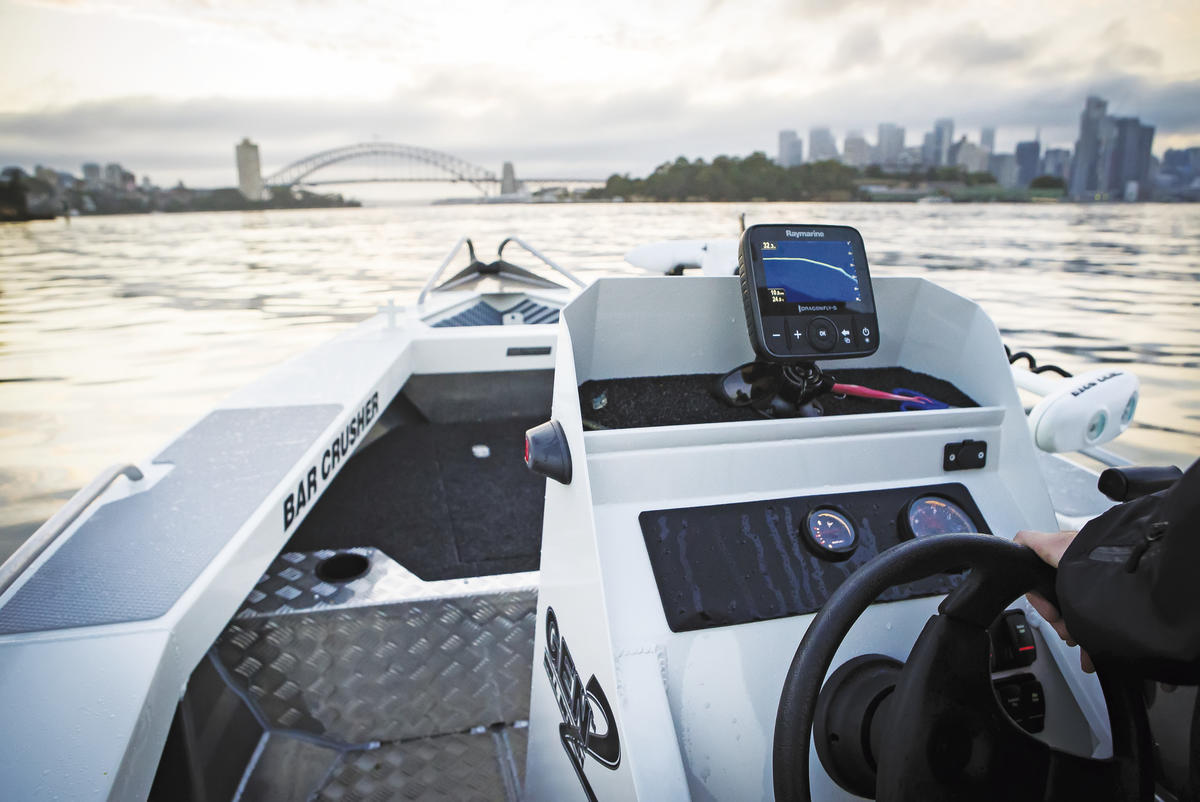 Features
Since Fisho's last test on the 490C, Bar Crusher has installed a clever bait board/livewell at the transom. This was in response to the lack of built-in transom livewells featured on Bar Crusher's larger models. Given its small size, it can't have every feature built-in, so the fellas at Bar Crusher did a good job adding this livewell to such a small and already feature-packed boat.
Moving forward and there's a deep ice chest which doubles as a seat and accommodates two people. I opted to use this area for water tight and lockable storage, although there is plenty of storage space elsewhere if you wanted to turn this into a functional kill tank. The top features a cushion and works well as a seat behind the console.
The console is relatively low and allows an average height driver to sit or stand. In calmer water I preferred to sit and without a windscreen it gives a clear field of view at all angles. I prefer to stand in rougher water and around busy waterways and this console makes it easy. There's space on top to attach a large sounder and other accessories. The test boat featured a 5-inch Raymarine Dragonfly, a capable unit and perfect for most applications in the fresh and salt. If you wanted something bigger, you could easily go up to a 7 or maybe 9-inch unit. The only thing missing from the console was a grab rail. I found the passenger regularly looking for something to grab while driving across rough stretches of water.
In front of the console there's enough space to fish one person, or two at a squeeze. There's an elevated carpeted casting platform which features good storage underneath. The test boat also contained a second battery in this compartment to run the 12-volt Minn Kota trolling motor on the bow. Even with the battery mounted, there was plenty of space to store fishing gear. Centre consoles are often lacking in storage. This one with its large ice box, casting platform, plus generous side pockets under the wide gunwales and at the transom, provides more than enough storage for a sub-5 metre boat.
As mentioned, on the bow Bar Crusher mounted a 12-volt 55lb bow mount Minn Kota electric. This came in handy chasing bass in the fresh and bream, whiting and flatties in the salt. It's an option I could never live without and turns this boat into something truly versatile.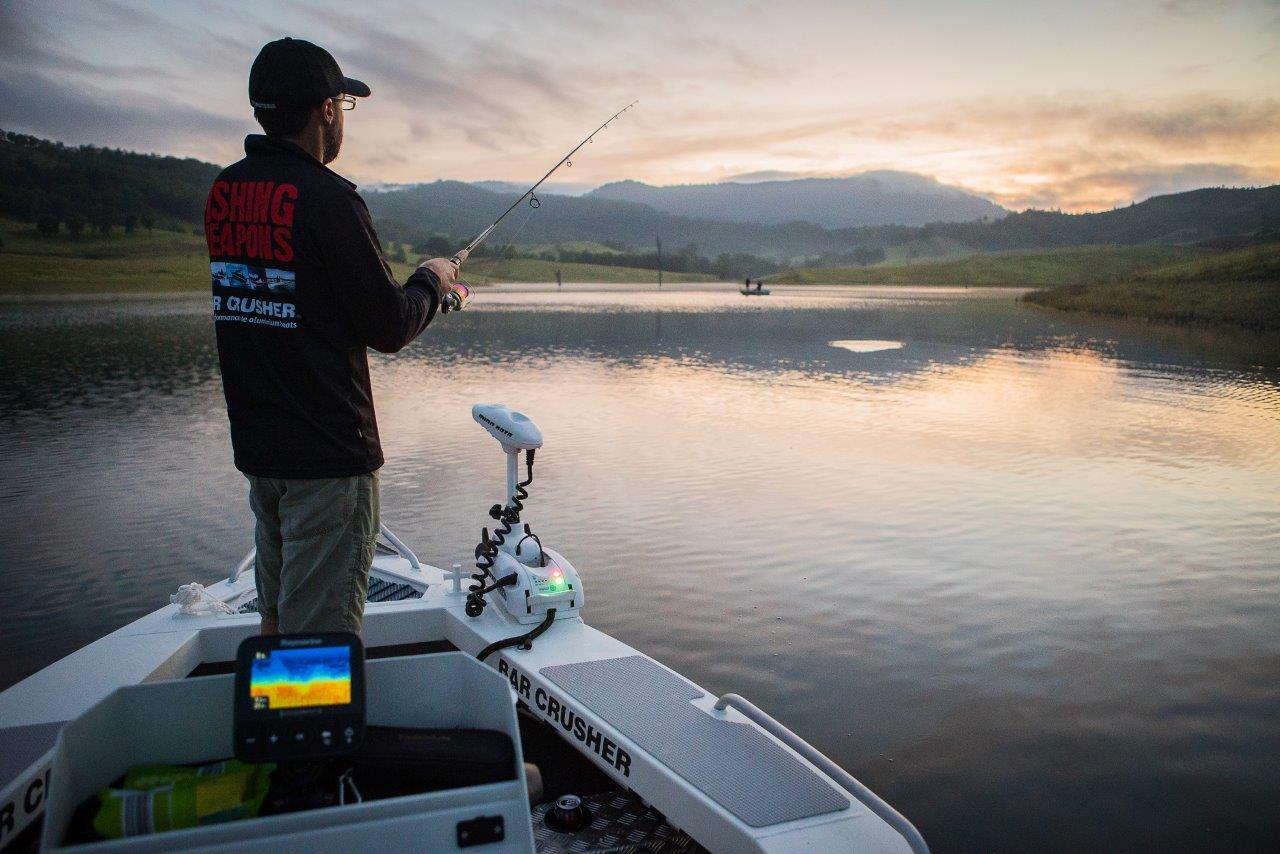 Fishing
There's no mistaking the 490WR as anything but a great fishing boat. It accommodates up to three anglers, and while I preferred to fish with only two people onboard, we did have one productive session chasing kingfish on Sydney Harbour with three without any problems. At one point I even broke out the fly rod and caught a few fish while the other two used lures up front.
It's also a very versatile boat. Over the past month we fished everywhere from Sydney Heads to small saltwater creeks and large freshwater impoundments to freshwater rivers. Finding a boat capable of doing these things without too much compromise isn't easy. The 490 did it all surprisingly well. During a trip to Lake St Clair it was launched off the grassy bank. We fished into the night and early the following morning with the electric motor catching bass. The smallish size of the 490 made this finesse fishing easier and the rough nature of the boat had my mind at ease around all the hidden timber.
Back in the salt and the small boat handled itself surprisingly well in rougher conditions. And while some salt spray is hard to avoid in all centre consoles, it was a relatively dry boat on the slop often experienced on Sydney Harbour. Back at home and it's small size and relatively light weight meant I could easily handle it solo and push it around the garage. That's a big plus and meant more time fishing and less time stuffing around at home.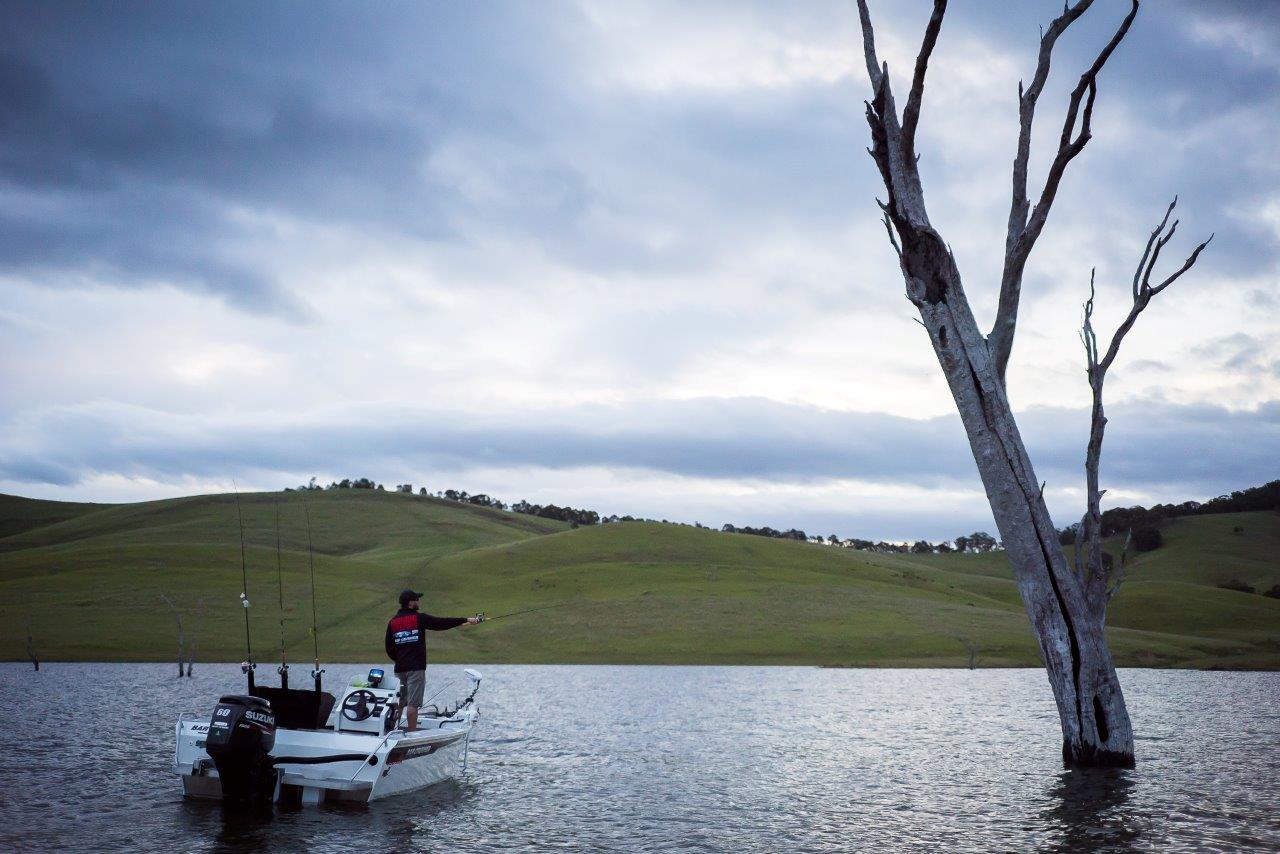 Power
The 490 was fitted with a 60hp four-stroke Suzuki. It's a very quiet and fuel efficient engine and suited this boat without feeling over powered. Bar Crusher recommends engines between 40-70hp for this particular boat. If you enjoyed slightly more top end speed, a 70hp may work well. However, I found with a top speed just under 30 knots, the 60 was more than adequate.
The 490 features Bar Crusher's latest Gen2 hull design which includes a wider chine aft and the company's Delta Flare. This, according to the brochure, delivers more hydrodynamic lift for efficient planing and fuel efficiency. On the water this really works! The transition from idle to plane is simple. It almost seems to glide onto the plane.This unique hull design, its light weight and the fuel efficiency of the four-stroke meant costs were kept to a minimum at the fuel bowser. While we didn't have any gauges hooked up to accurately record fuel economy, anecdotal evidence suggests the 60 litre tank went a long way.
Over the course of several weeks we took the 490 through its paces and fished a variety of locations. It's an impressive boat and really punches above its weight when it comes to performance and fishability. It feels and acts like a bigger boat. If you're in the market for a small open centre console without compromising on fishing features and sea worthiness, it's worth checking out at barcrusher.com.au.