US-BUILT Cobia Boats offer a quality, well designed fishing centre console with all the bells & whistles, plus a few family-friendly features to keep everyone happy. 
Scott Thomas reports.
Cobia boats are built in the US state of Florida. The brand is part of a larger company which produces a few other well-known flats and bay boats – Hewes, Maverick and Pathfinder. Together with Cobia, these brands have a reputation for producing some of the finest sport fishing boats money can buy. Up until recently I was only familiar with these brands from brief visits to the US and via international magazines and websites. Now, with the distribution of Cobia Boats into Australia, fishos down under have the option of another first class centre console option for offshore sport fishing.
The idea of using a centre console for game fishing isn't everyone's cup of tea. In the past, these open boats were reserved for tropical climates and calm waters only, however that's all changed over the past decade or so. Fishos are starting to realise the trade-off in an open boat is more fishing space and greater versatility. These days value for money means everything and having a boat which can fish several styles of fishing and entertain the family is an attractive option. The other reason for the spike in centre console sales has been the evolution of boat design. Locally, some of the plate boats, and even a few of the mass produced pressed alloy hulls, are incredibly capable boats in centre console configurations. But if it's a glass boat you're after, some of the options coming from the US are hard to beat and this Cobia is no exception!
The 261 is presently the largest Cobia model that importer, Bluewater Power Boats, is bringing into the country. And while it's a big centre console, they tell me there's still demand for larger spec'd up models. Bluewater Power Boats is based at Pittwater on Sydney's Northern Beaches, which is where I met Mike and Bruce for the boat test. 
A strong westerly was blowing, promising a good testing ground around Broken Bay.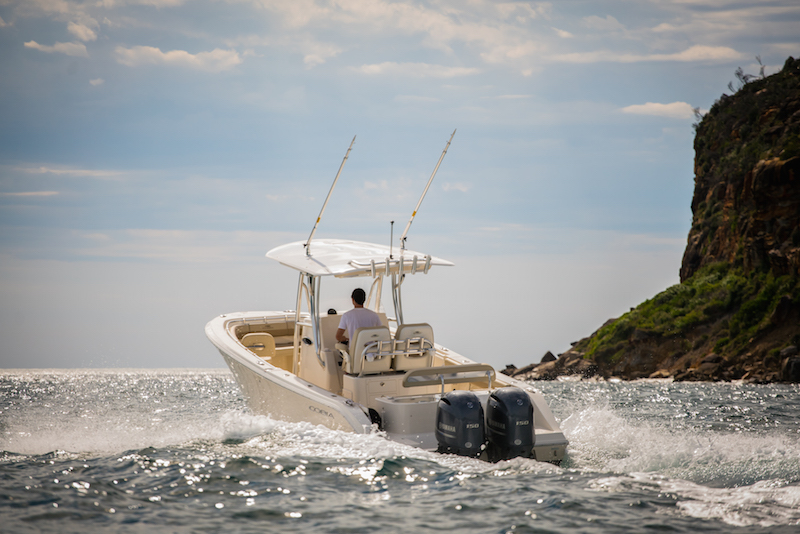 Features
Starting from rear, the transom offers walk around space near the twin engines. It's a sensible design which allows anglers easy access to the engines while on the water, yet it doesn't impede too much on fishing space. That said, fishing off the sides and bow is a better option and being a centre console, there's loads of space to move around an fish. Sitting on the transom is a large and deep (110litre) livewell with clear lid. It's positioned in an ideal spot in my opinion, much better than the centre of even floor liveable positions I've seen in similar US imports.
A switch allows the transom to raise up giving access to a spacious area which houses bilge pumps, wiring, water separators, etc. 
It's a great feature, especially if you, like me, 
are used to having no access to wiring, resulting in time consuming retrofits. Also at the transom is a fold down cushioned seat. It's not just any seat mind you. The weight and solid build of this seat is a far cry from the flimsy transom seats found on some boats.
Either side of the boat features a deep kill tank. The gunwales are wide enough to sit or stand on and grippy so you won't take a spill. There are also plenty of rod holders – some in the gunwale, the back of the seat and on top of the T-Top. There are also horizontal rod holds built under the gunwale for spring longer rods out of harm's way. It's pretty obvious this is a serious fishing boat!
There are two elevated bolster seats sitting behind the console and underneath is a compartment which neatly stores four batteries. Again, this ease of access is a clever use of design for changing batteries or wiring. 
I'd imagine it also has a positive impact of 
the boat's weight distribution.
The console itself is huge! While the test boat didn't have any sounders installed, there's enough space on the front panel for at least two large displays. Plus, in addition, the top provides ample space for additional accessories. There's also the usual space directly above on the underside of the T-Top, plus a large storage area for bits and pieces. The test boat featured a Yamaha gauge and console also features an abundance of switches. Setting up a console is personal thing; some people like gauges, others would rather use the multi function display. 
At least the generous size of this area allows for any preference to be satisfied.
The T-Top itself is an option I deem essential in a boat of this size. While they impede on space a little, the amount of cover they proved is worth it. The test boat had Rupp outriggers connections (minus the actual outriggers) fitted on top of the T-Top.
Under the floor is a 600 litre fuel tank. That's a big tank and typical of this style of American boat. It's a great feature if long offshore or remote runs are your thing.
Moving forward and a large hatch allows access inside the spacious console. There's 
a toilet inside and plenty of space to store a 
few other bits and pieces. It's surprising how much room was down there. The addition of 
a toilet makes this boat much more family friendly option. Ahead of the console is a deep storage area in the floor for keeping gear out of harm's way. Storage is sometimes a problem in centre consoles… not this boat, it's abundant.
The bow configuration features a U-shaped seat with removable cushions and removable backrest at either end. Again, it adds more storage and provides a great place for other passengers or kids to sit. If you enjoy fishing at an elevated position, it also makes a great casting platform. However, the seat does impede on fishing space somewhat and would make it tricky to fight big fish from the bow. Even so, with so much extra fishing space and features elsewhere on board, this small family-friendly feature doesn't take much away from the overall positive fishability of the Cobia.
On the water
As mentioned, a strong westerly usually not conducive to boating makes for great boat testing conditions. The westerly was howling down Broken Bay head on to a strong incoming tide. We pushed through the chop around Barrenjoey headland at a reasonable cruising speed of around 18 knots. It was a comfy ride and no water came across the bow; with a small adjustment of the trim tabs, we remained bone dry. At rest, the boat felt stable and safe, although given its 21 deadrise it did roll a little. That's standard for this style of boat and the trade-off you get from such a good performing boat in big seas. The boat weighs about 2000kg and felt solid as we pushed through the slop.
In a following sea coming back into Broken Bay, the Cobia felt safe and allowed me to increase the speed over 20 knots with confidence. As the swell dropped, yet the chop remained, I opened it up to 30 knots. The ride was superb and not a drop of water entered 
the boat.
There's no denying, at some point in a centre console, you will get wet. Long runs 
in big seas and strong winds will always see water come onboard. Even so, the combination of weight, deadrise and hull design in the Cobia 261CC means you get an open 
boat which performs exceptionally well in most conditions.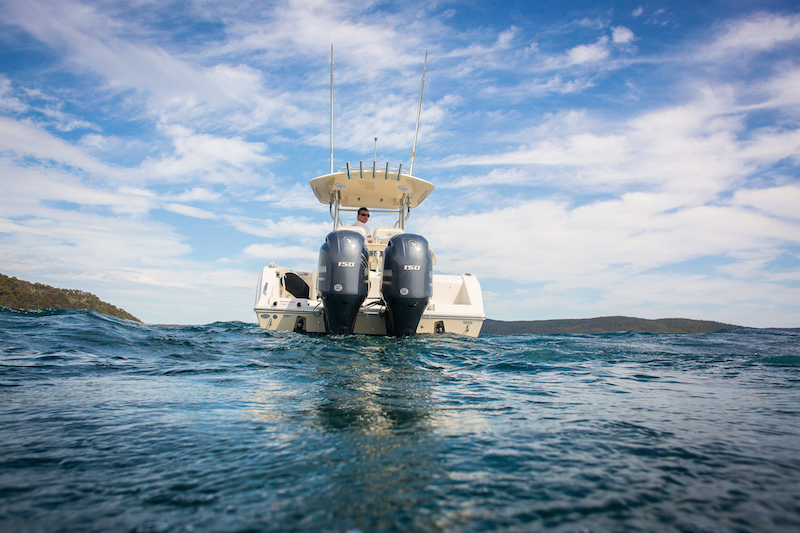 Power
These big US-built centre consoles have a reputation for having big engines and reaching scary speeds. This boat featured twin 150hp Yamaha four-strokes. The maximum horsepower rating on this boat was 400, giving an option for more grunt if desired. Does it need it? The acceleration was pretty good, although not exactly "throw you from your seat good".
We quickly reached a comfortable 30 knots along the calm waters in Pittwater. Given we were in such a big smooth riding hull, it really didn't feel like 30 knots. Putting the throttle down and trimming out the engines, 
it reached just over 40 knots at 6000 RPM. 
It maybe had a few more knots left in it if the wind wasn't so strong. This speed is more than enough for most people and I'd be perfectly happy with twin 150hp engines on a boat of this size. If you want the absolute fastest and want impressive acceleration, you could always put twin 200s on the back, but in my opinion it's not really needed.
Overall
There's no doubt this is a quality boat in its build and design. The internal features are cleverly thought-out, while the hull design leaves you with an exceptionally smooth riding, dry boat. It's worth noting, due to its size, trailering this boat is unrealistic. Mooring it or keeping it at a marina or dry storage centre would be the best option.