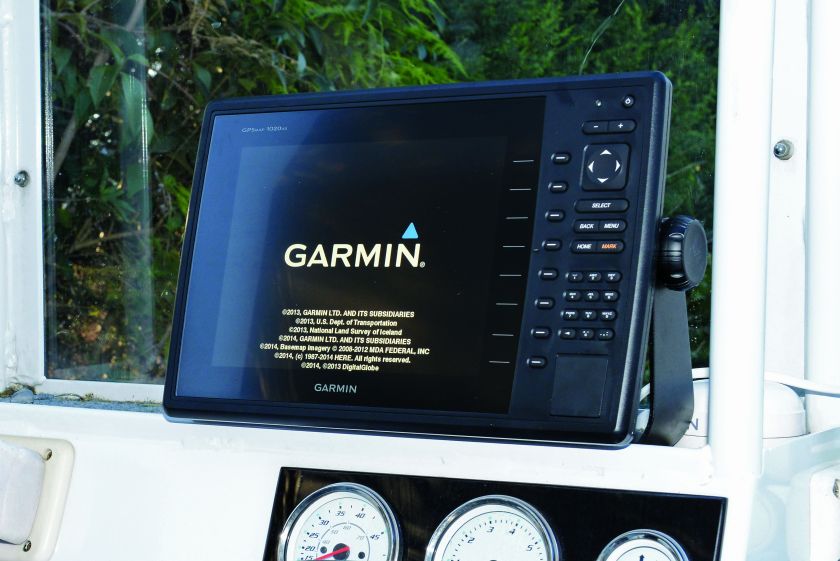 Garmin's 1020XS paired with a GCV10 sonar module is a high performance electronics package suitable for a wide range of estuary and offshore work. Sami Omari reports.
When I purchased my current boat five years ago, I remember looking through all the sounders on offer in the market. I ended up fitting a Garmin touch screen MFD. In an open boat the unit copped all that the elements have thrown at it. It has performed flawlessly with the sonar capabilities exceeding my expectations. One thing missing from the Garmin line-up, however, was the down and side imaging technology that has become increasingly popular in recent times.
All that has changed with the launch of the Garmin ClearVü range of high frequency, high resolution down and side imaging. I recently installed a new Garmin 1020XS, which was paired with a GCV10 sonar module for side and down scanning capability, along with G2 Vision card for enhanced cartography.
I mounted the CHIRP-enabled SideVü and DownVü transducer that came with the GCV10 along with an Airmar TM150M transducer for CHIRP-enabled standard sonar. My thinking was that I would use the high frequency photograph-like Side and DownVü for estuary and inshore waters with the traditional CHIRP sonar used in rougher offshore waters.
After installing the unit (which was detailed in a previous DIY feature for Fisho), it took a couple of slight adjustments of the elongated SideVü transducer to obtain optimal performance; however, after a short amount of testing I was able to get a clear bottom trace while running down Sydney Harbour at just over 30 knots. Performance of the unit was impressive straight out of the box with all default settings used. The sounder has proven relatively simple to operate without needing to read the instruction manual.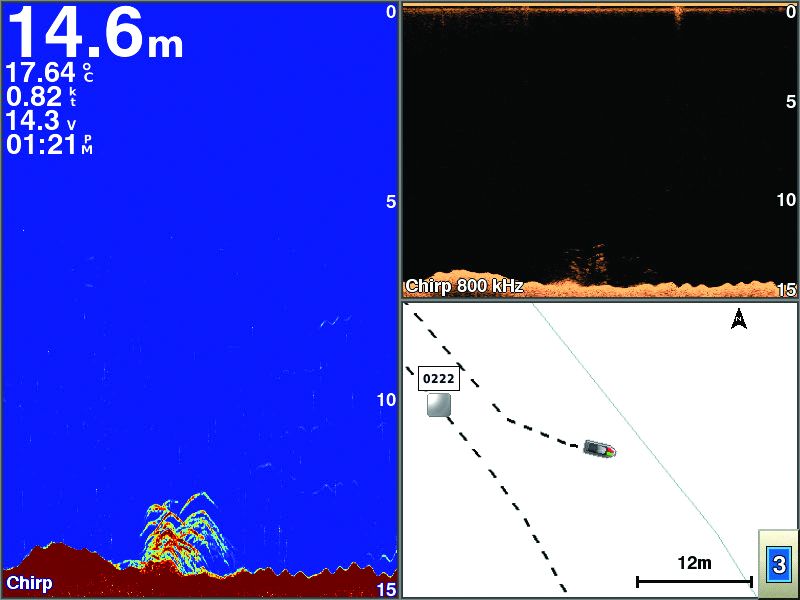 The CHIRP DownVü/SideVü transducer has three elements, one to scan each side and one to scan downwards. These have a have a power rating of 500 W per element giving 1500 W total – it's this higher power that helps with the high speed performance and also translates into greater reach, especially in deeper inshore and offshore waters.
Switching the unit on brings you to a home screen with a standard list of menu items to display charts, sonar, engine gauges, tides/weather along with other networked devices such as radar that are linked to the system. There is also a combination menu item, which is what I primarily use. This allows you to easily customise a number of pre-defined displays available at the touch of a button.
I have six custom layouts to cater for the fishing that I'm doing which display a mix of DownVü, SideVü and traditional sonar along with the GPS plotter display. In addition to the custom displays, you can overlay data onto the screen based on the networked information available. I have my sounder connected to my Suzuki outboard via NMEA 2000 and have configured the overlay data to show engine fuel flow, total fuel remaining and engine temperature along with the current time of day and distance to selected waypoint. I usually show the data bar when running to a spot, and hide it when fishing. Having a large, configurable screen like that on the 1020XS allows me to cram in a number of different displays along with data options to provide meaningful information at a glance.
The real test of modern marine electronics comes from ease of use, the ability to withstand the harsh saltwater elements and, most importantly, ability to help anglers catch more fish. All of the boxes have been ticked with the sharp imagery Down/SideVü allowing me to uncover interesting detail that I would have otherwise missed.
For example, I recently clearly marked two frustratingly difficult to catch jewies in a shallow spot adjacent to a mark that I've known to hold a few fish previously. As you can see in one of the adjoining images, I have a jewie spot to the left side of the boat and sure enough on the SideVü and DownVü screens you can clearly see two jewies sitting tight on the bottom. A nifty feature is being able to measure the distance between two points on the SideVü screen to accurately gauge how far fish or structure are away from each other and from the boat. You can also pause and view sonar history along with taking screen shots for future reference as you'd expect from units of this calibre.
While fishing in offshore and in deeper waters, the unit has demonstrated clear target separation that has allowed me to differentiate schooling kingfish from adjacent schools of bait or smaller fish along with the characteristic soundings of snapper feeding off the bottom on the offshore reefs out from Sydney.
Garmin's cartography has always been strong with the G2 vision card giving a number of different charting options – I use the fishing chart with detailed contour lines most often and also use the satellite overlay to scout out sand flats, rocky points and shallow kelpy areas if fishing unfamiliar waters.
Overall the Garmin 1020XS and GCV 10 combo has performed well and I am thoroughly enjoying the high definition SideVü and DownVü capabilities that Garmin now offers. The units have been exposed to the elements without fault and tested in many varied scenarios from river and estuary work to well offshore while being a breeze to install and use. Well worth checking out!