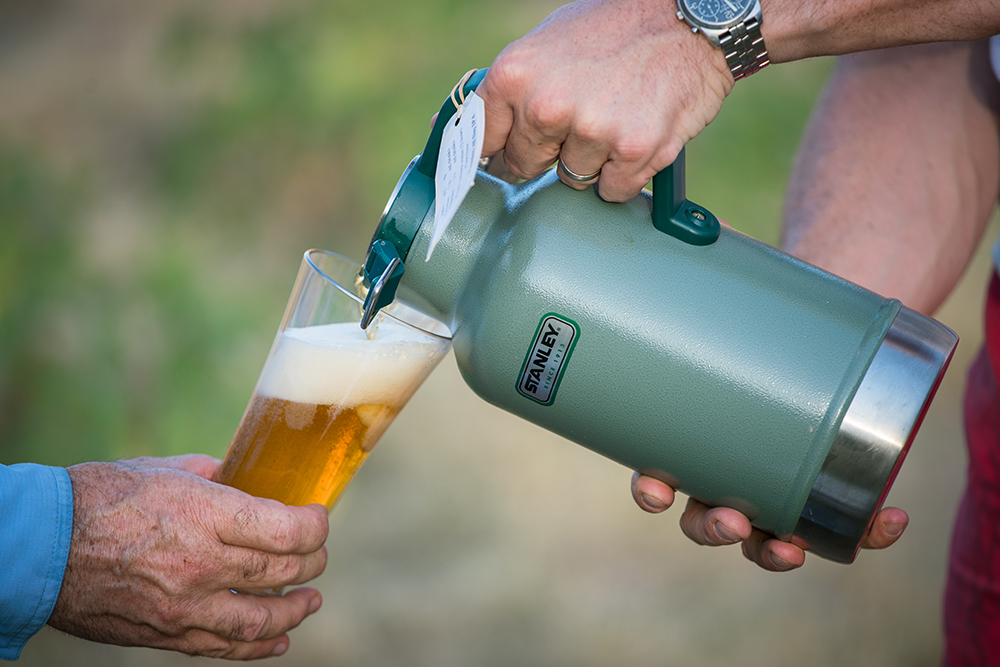 MOST fishos I know enjoy a cold beer, and I'm no exception. Nothing quite matches a good beer to wrap up a day's fishing. It tastes even better when you're off the beaten track camping. Up until now, camping and fishing trips involved carrying an esky full of bottles or cans. Cans are preferred; they don't break and can be crushed to minimise carry-out waste. However, I may have found an even better option!
The popularity of craft beer over the past few years has spawned the rise in re-usable beer bottles. These bottles, often referred to as "growlers", usually hold the equivalent of five beers, or just under two litres. Sold around inner-city hipster breweries, growlers are usually just jug-shape bottles which can be washed out and refilled with your favourite craft brew. Glass isn't much good for taking on a fishing or camping trip, so Stanley, along a with a few other outdoor brands, has come up with an unbreakable insulated growler.
This classic Stanley themed growler came with me a late summer cod fishing trip into a wild river.
On the way out west we filled the Stanley at a local bottle shop. They had two or three speciality beers on tap, in this case a IPA from the US. Admittedly, it wasn't cheap. The equivalent of five schooners worked out about $7 a beer.
We kept driving and launched the canoe before paddling downstream. The Stanley sat on top of the swag in the hot sun for about seven hours until the sun disappeared and we decided to set up camp. I brought along some unbreakable schooner glasses and we cracked the seal and poured our first beer. To my surprise, it was still icy cold with a full head and plenty of fizz. Actually it was very similar to something you expect at a pub – fresh and delicious! Unfortunately five beers between three thirsty fishos didn't last long, but we had a few cans stashed in the cooler as an emergency backup.
Of course, being an insulated Stanley product, it does more than hold beer. I've used it to hold hot water for coffee and cold water, which I leave in the car when returning from fishing. The insulation keep it cold regardless of the extreme temperatures often found inside a parked car. Not all insulated bottles are created equal and many don't stand up to their claims. Stanley, however, make a quality product with outstanding insulation!
If you enjoy a cold beer at the end of a long day fishing, and have access to a "beer refill station", the Stanley Beer Growler is worth checking out.
RRP: $129.95.
For further details on Stanley's products visit shopstanley.com.au.