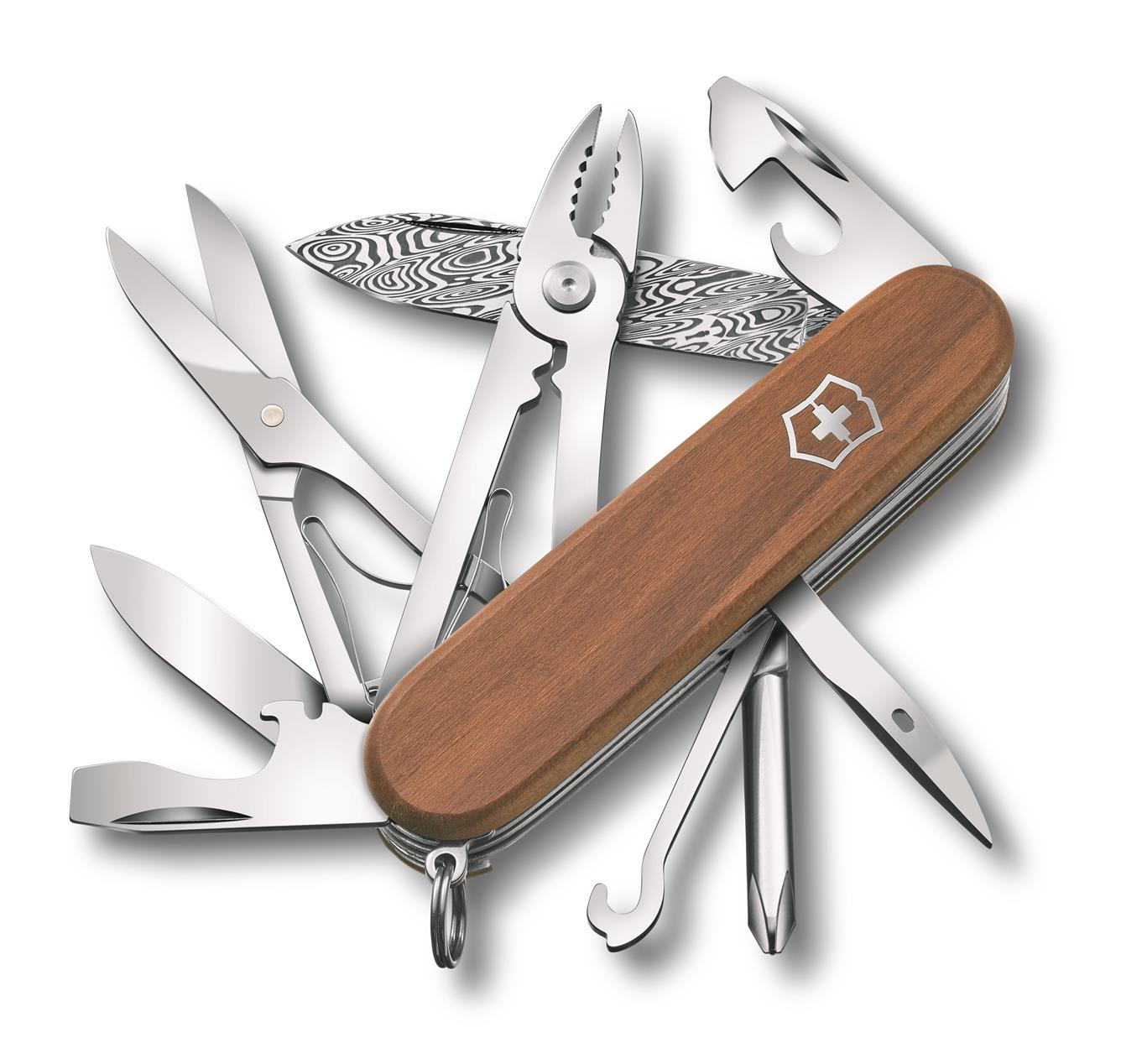 SWISS knife manufacturer Victorinox created the Damast Limited Edition for people who love and collect high-quality knives, and is proud to present another very special model for 2018.

The Victorinox Deluxe Tinker Damast Limited Edition 2018 is the luxury version of the Deluxe Tinker and boasts 15 functions. Along with the two sharp blades, the highlights of the knife include the versatile screwdrivers and standard tools such as the powerful reamer, precision scissors and sturdy pilers.
Only 6,000 of these collectable knives will be available worldwide. Each knife has its own unique serial number engraved on the blade of the Phillips screwdriver.
Unlike the standard edition, the large blade of the Victorinox Deluxe Tinker Damast Limited Edition 2018 follows the tradition of being made from best-quality Damast steel. A technically complex procedure is used to forge the DS93X™ steel from the RWL-34 and PMC-27 steel alloys. The impressive "ladder" pattern of the Damast steel is formed from a total of 333 layers of steel.
Mechanically, the advantages of this Damast steel are its outstdanding corrosion resistance, its fine-grained microstructure and high wear resistance – the blade stays sharp for a long time, but is still easy to sharpen. It is exceptional steel for the highest-quality cutting tools.
The uniqueness of the Deluxe Tinker Damast Limited Edition 2018 is underscored by the material used for the scales – plum wood. No two knives are alike. Plum wood has reddish brown colours and is very hard, making it highly prized by carpenters for use in high-quality furniture, and it has a wonderfully natural feel to it.
The Victorinox Cross & Shield is inlaid on the front of the scale. The 120-gram knife is supplied in special gift packaging that makes it ideal as a presentation piece.
That leaves only one question – is the Victorinox Deluxe Tinker Damast Limited Edition 2018 too good to use? That is up to each individual to decide. One thing is for sure, however – with its high-quality, extraordinary blade, beautiful wooden scales and smooth mechanism, the Deluxe Tinker Damast Limited Edition 2018 is designed for everyday use – and is quite simply a knife to enjoy.
Range of functions:
large blade made from Damascus steel

small blade

Phillips screwdriver

can opener with

small screwdriver

bottle opener with

screwdriver

wire stripper

reamer, punch and sewing awl

key ring

scissors

multipurpose hook

pliers with

wire cutter

crimping tool
Availability
Available from July 2018
Stockist:www.victorinox.com