HAVE you noticed that spin and casting rods are getting longer over the past several years? If you're a keen lure fisho you will have noticed that most spin rods that used to be 7 old fashioned feet and now going out to 7'6" or 2.1 metres and even longer these days.
This has been a slow transition over the past several years and for several reasons. I jumped on the longer rod band wagon about five years ago when I had most of my 7 foot spin rods extended out to 7'6" and took the opportunity to add split grips at the same time. The advantages where immediately obvious with just 6 inches added in length offering slightly longer casts and more action imparted to various lures with rod tip sweeps, tweaks, rolls and lifts.
After several months fishing with the longer rods I was very impressed and never once thought I'd made a bad decision or ruined a good rod. I was getting 5 to 10 metres extra in casting distance and in many situations that was making a difference in getting more lure eats and hook ups. All of the modified rods felt better with extended butts and the craftsmanship carried out by the late Bobby Russo made the factory rods look like custom sticks. In some cases, new runners were fitted along with cork split grips. I still fish two of those rods. Sadly, the other two were high sticked on fish by mates and broken.
A couple of years later I started to think that maybe going longer again might be worth exploring. I didn't have any spin rods that could carry a 30 to 50 cm extension and work so I looked around at what was available. I managed to come across a couple of NS BlackHole rods that were demos used on a promotional trip. One was a Cabin II S-822L at 2.49 metres and rated at PE0.8. The other was a Sea Bass Final S-902L at 2.7 metres and rated for PE1.5. I fished a Sustain 2500 with 8 pound braid on the S-822L and a Stradic 5000 with 20 pound braid on the S-902L. The first trip with the S-822L was a flathead trip on St Georges Basin with a mate who was fishing a 7 foot spin stick. We both fished 3/8 ounce heads and 100mm paddle tail plastics. I was casting a good 10 – 15 metres further than him and the results were a 30cm flathead to him while I landed six flathead to 65cm. Several of those fish were hooked in the extra 15 metre casting distance that he wasn't reaching. I suspect part of the reason was I was reaching it first with longer casts but also because it was further away from the boat and any subsequent noise we were creating. The second rod I fish for snapper and mulloway with plastics and vibes. It works just was well with longer casts that have produced better results over the past 12 months.
My most recent long rod addition is based on an old Loomis Mossy Back baitcast rod I've had for years. It wasn't getting used so I stripped it back, cut an inch off the tip and lengthened it out by 30cm. I got ex Fisho columnist, Mark Fisher to build it up with a split grip butt and camo EVA along with a set of Fuji SIC guides. It came in at 7'11" and teamed with a Stella 4000 and 20 pound braid is a gun snapper on plastics stick.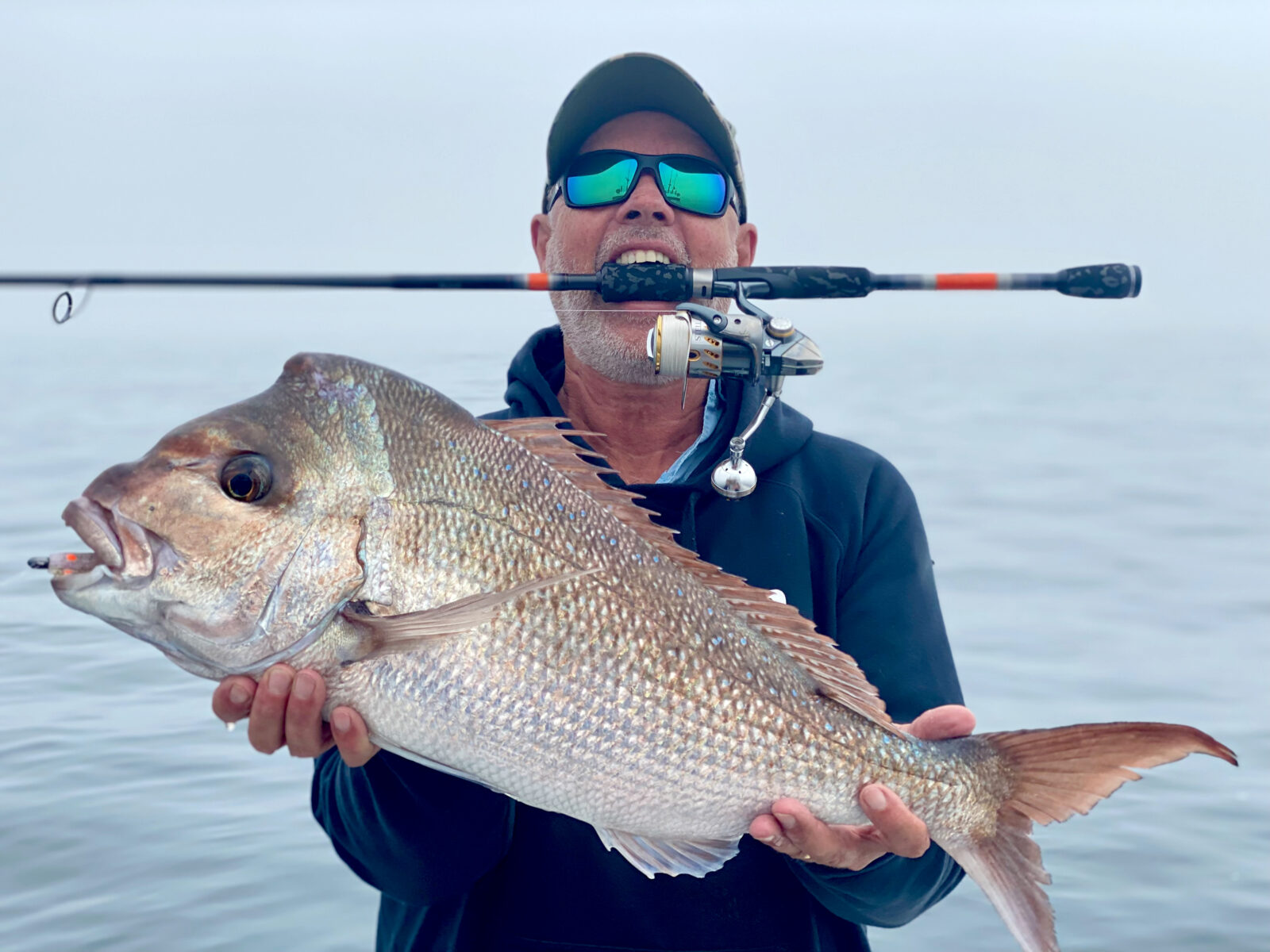 While longer rods offer the advantage of longer casts and better lure action, they do have a few minor drawbacks. I'm used to fighting fish on 9 foot fly rods so while tackling fish on an 8 foot spin stick wasn't a problem for me, it may take a bit of getting used to if you've fished 7 foot rods. That's not a big problem in most of my fishing situations but if you fish out of a 4 metre tinnie or a kayak it's be a major issue. Landing fish on the longer rods is also more difficult and especially if you fish solo. Trying to get a fish within net range using a long rod can become quite comical and the potential of snapping a rod tip is very real. Possibly the reason why two of my lengthened spin sticks where high sticked and broken. I haven't found a practical solution to that one as yet and usually fish 7 foot rods when going solo. Another issue is transporting one piece 8 and 9 foot rods. It's very easy to break one so consider 2 piece rods like my mine or be very careful.
The longer rod concept may be developing in Australia but it has been the norm for years in Japan and globally where popper and stickbait casting rods are all custom built in that 8 foot range purely because they cast a lot further and work lures much better with rod tip sweeps. Yes, we'd all rather fight a 40 kilo GT or 70 kilo tuna with a 6 foot rod but the long cast advantages of the 8 foot rods outweigh that tenfold. Getting that lure in the danger zone and as far away from the boat has big advantages in getting the eat and subsequent hook up. Having to fight and land the fish on an 8 foot long rod is inconsequential after seeing a barrel yellowfin eat your stickbait. Same applies to getting a flathead, snapper or mulloway to eat on a plastic albeit on a much smaller scale.