IT doesn't matter whether you're an angler or not, rock walls are fascinating places.
On any given day, my favourite wall, the Moruya Breakwall on the NSW far south coast, arguably plays host to just as many non-anglers as it does keen fishers.
People seem to simply get a buzz out of walking along the wall and observing the constantly changing nature of the sea. Fishing is often the furthest thing from their minds.
On some days, it's dead-flat, and visitors strolling to the tip keep their eyes trained on the horizon for pods of dolphins, passing whales and the occasional fairy penguin, seal and whaler shark.
During powerful storms driven by East Coast Lows, the wall disappears under gigantic green waves, which shift boulders weighing tonnes and mercilessly carve up the concrete footpath.
From a fishing perspective, the most attractive feature of a large rock wall like Moruya's is the access to deeper water it affords; water that would normally be out of reach to land-based anglers.
The Moruya wall juts out several hundred metres from the beach, making it one of the largest walls on the south coast. It puts fishers in prime angling territory.
For decades, the tip of the wall has been a popular spot to chase passing pelagics like salmon, tailor, frigate mackerel and bonito. And the next person who hooks and loses a 10 kilo kingfish from the wall certainly won't be last.
The cunje-encrusted boulders closer to shore harbour drummer, groper, trevally, blackfish and bream.
A cast into the constantly changing channels and gutters, in behind the surf break, puts you in classic salmon, tailor, bream and mullet country.
And it's not just the churning waters of the ocean that are accessible.
Most big walls, Moruya included, are at river mouths, so there are always estuary options such as bream, blackfish, trevally and flathead, which relish the habitat created by the giant granite stones.
As an interesting aside, the stones at Moruya were mined from the same quarry that supplied the granite for the Sydney Harbour Bridge pylons, so you're treading on rocks with some pretty rich history.
While the angling options are plentiful, another thing I love about big rock walls like the Moruya wall is that they provide opportunities to fish in almost any weather or stage of the tide.
If the seas are large, you can fish the river side; if there's a strong southerly, you can fish the northern side; if the water is discoloured, you can access cleaner conditions at the mouth; and if tide is pumping there are nooks and crannies where the current is calmer.
So you can see why I have a soft spot my local breakwall – and there are walls up and down the east coast that are very similar.
Whether you're into light tackle luring for bream and flathead, high speed spinning for pelagics, or hand-to-hand combat with drummer and groper, rock walls have got the lot.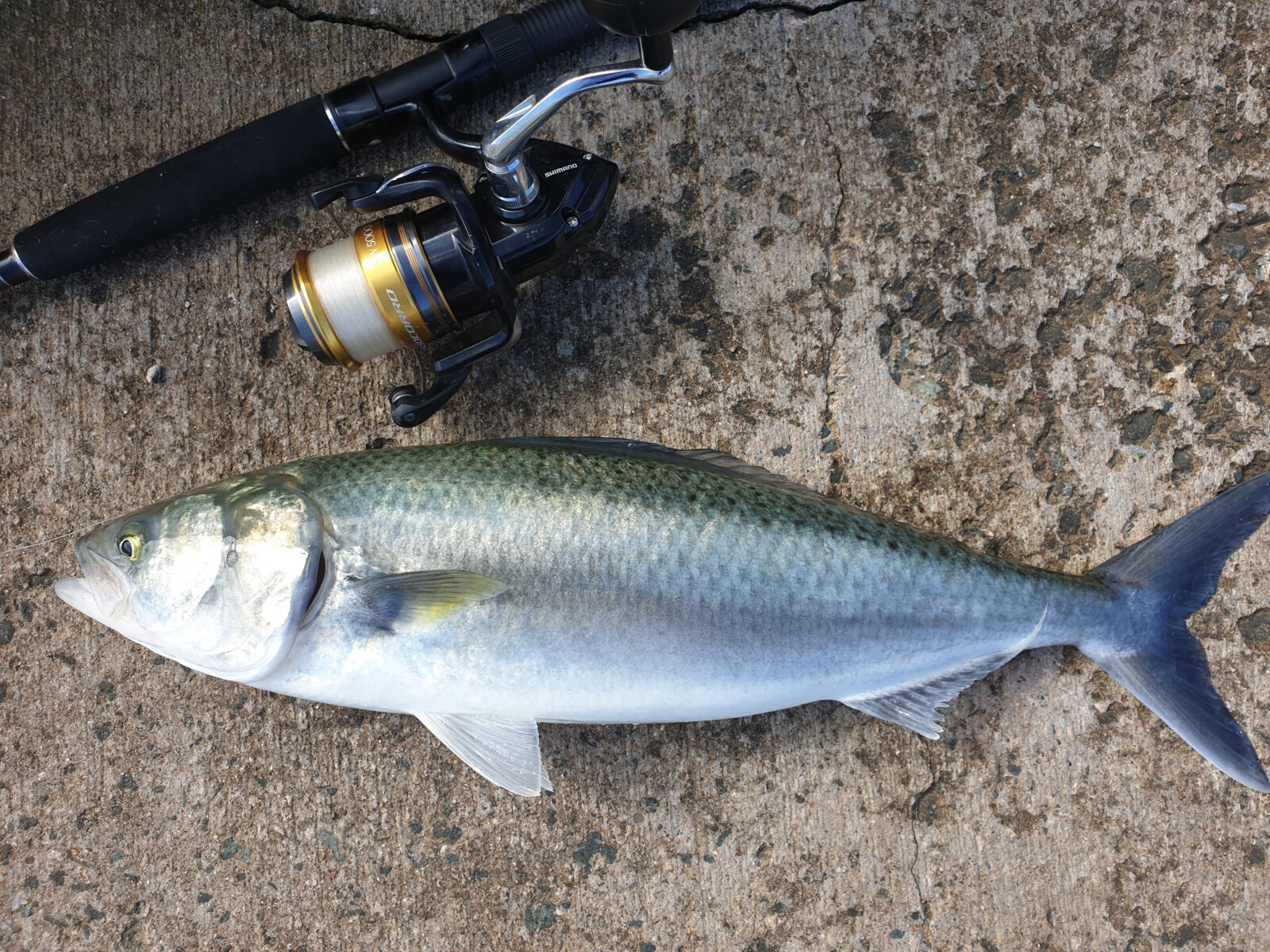 Salmon and tailor
When I think of breakwall fishing I think of lure and bait fishing for salmon and tailor.
In the halcyon days of the late 80s, when mammoth schools of tailor were a mainstay around any south coast beach or headland, we enjoyed some once-in-a-generation breakwall sessions, with fish-after-fish climbing over our offerings.
We kept too many back then, too. Every angler did! It was greedy and foolish in hindsight. Sadly, we haven't seen the fish return in similar numbers over ensuing decades, but there's certainly enough choppers around each season to keep fishers happy.
Salmon have been a constant for many years. In fact, I feel their numbers are healthier than 30 years ago, and we catch far more salmon than tailor these days on the NSW far south coast.
Thirty years ago, whole pilchards on ganged hooks fished on heavy surf tackle was the order of the day.
These days, my salmon and tailor fishing is done with light gear and metal lures – and rockwalls provide the perfect platform.
My preferred location is the tip of the wall, adjacent to the river mouth. I find pelagics like salmon and tailor relish the chance to feed in and around the entrance to estuaries, moving in and out with the tide and bait.
I like to fish the change of tide. The first of the run-out in particular often prompts fish to feed as water spills from the estuary, bringing with it baitfish, prawns and other morsels.
Spinning provides you with mobility and flexibility so you can easily move up and down the wall in search of fish.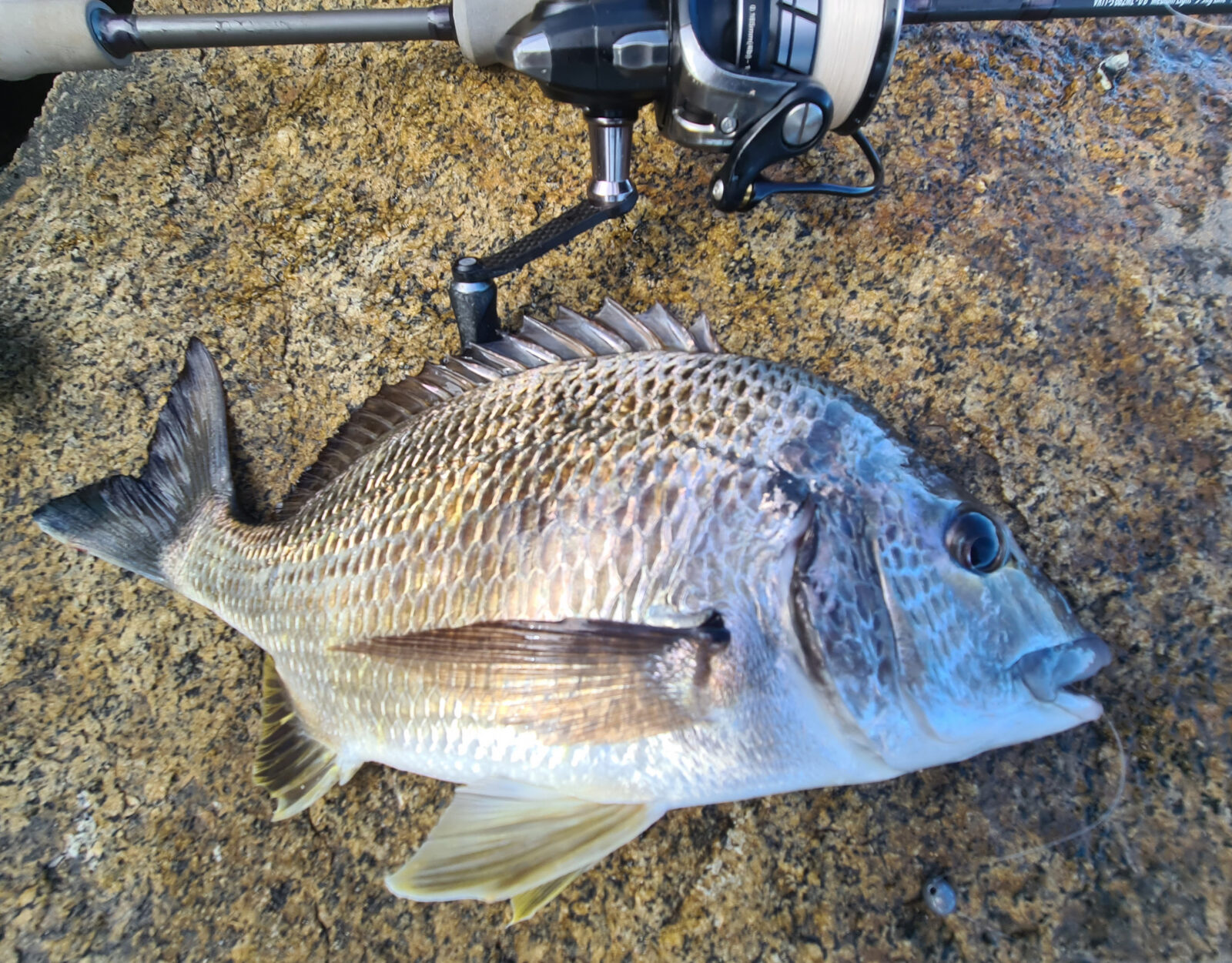 Bream
Bream and breakwalls go hand-in-hand and some of my biggest specimens have been wrestled from the boulders.
I fish for bream exclusively on the calm, estuary side of the wall. Rock wall bream almost always hang in close to structure – I'm talking within a metre of the stones.
Working lightly weighted baits or soft plastics in the 'strike zone' is risky but rewarding. Hooking a legal sized bream at such close quarters is seat-of-your-pants stuff; hooking a 40cm model is about as challenging as light tackle fishing gets in the southern estuaries. It almost always ends in tears.
Given the weather so far this year, I've had a lot of practice fishing turbid water. While a number of species go off the bite when the water is coffee-coloured, breakwall bream don't seem to mind it at all. I'd even argue the fishing improves when the water clarity declines.
Bream are ultra flighty in clear water. Murky conditions give anglers the opportunity to get close to fish without spooking them.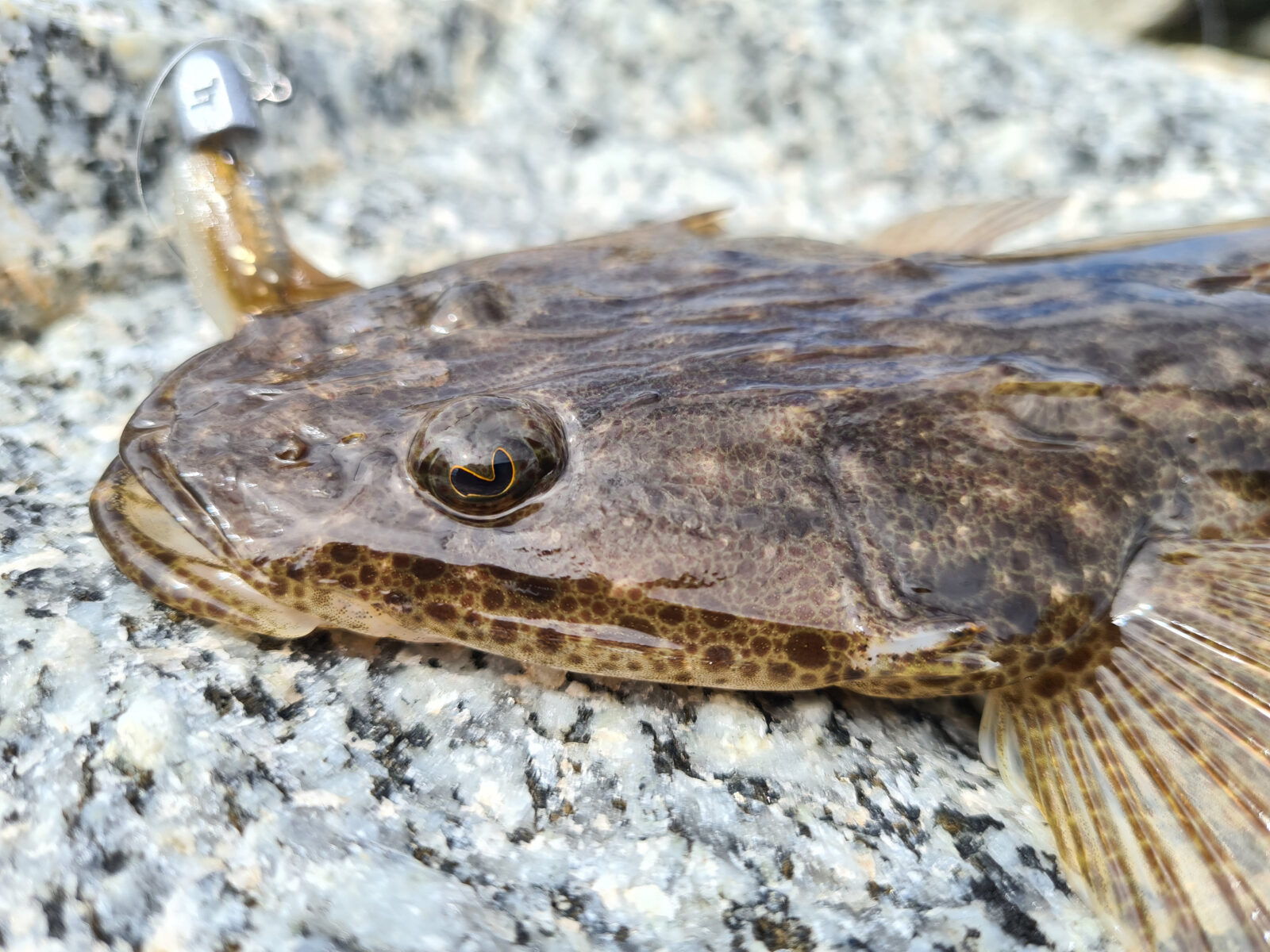 Flathead
Flathead aren't traditionally associated with granite boulders but I can absolutely assure you they love lurking around rock walls.
I fish extensively for dusky flathead from my local wall and it's arguably the most productive land-based flattie spot I know of!
Using light spin gear and soft plastics, I methodically work my way up and down the wall, fishing the estuary side exclusively.
The number of flatties I pick up in and around the submerged stones is quite startling. Often they're lying right in close to the wall, and smack the plastic at my feet.
Casting from the wall, I am also able to access channels, drop-offs, weed-beds and sandflats. Fanning casts out over a variety of terrain gives you the chance to gauge where the lizards are residing and fish accordingly.
The run-out tide, especially the last 3 hours of the ebbing tide, is my favourite for breakwall flattie fishing.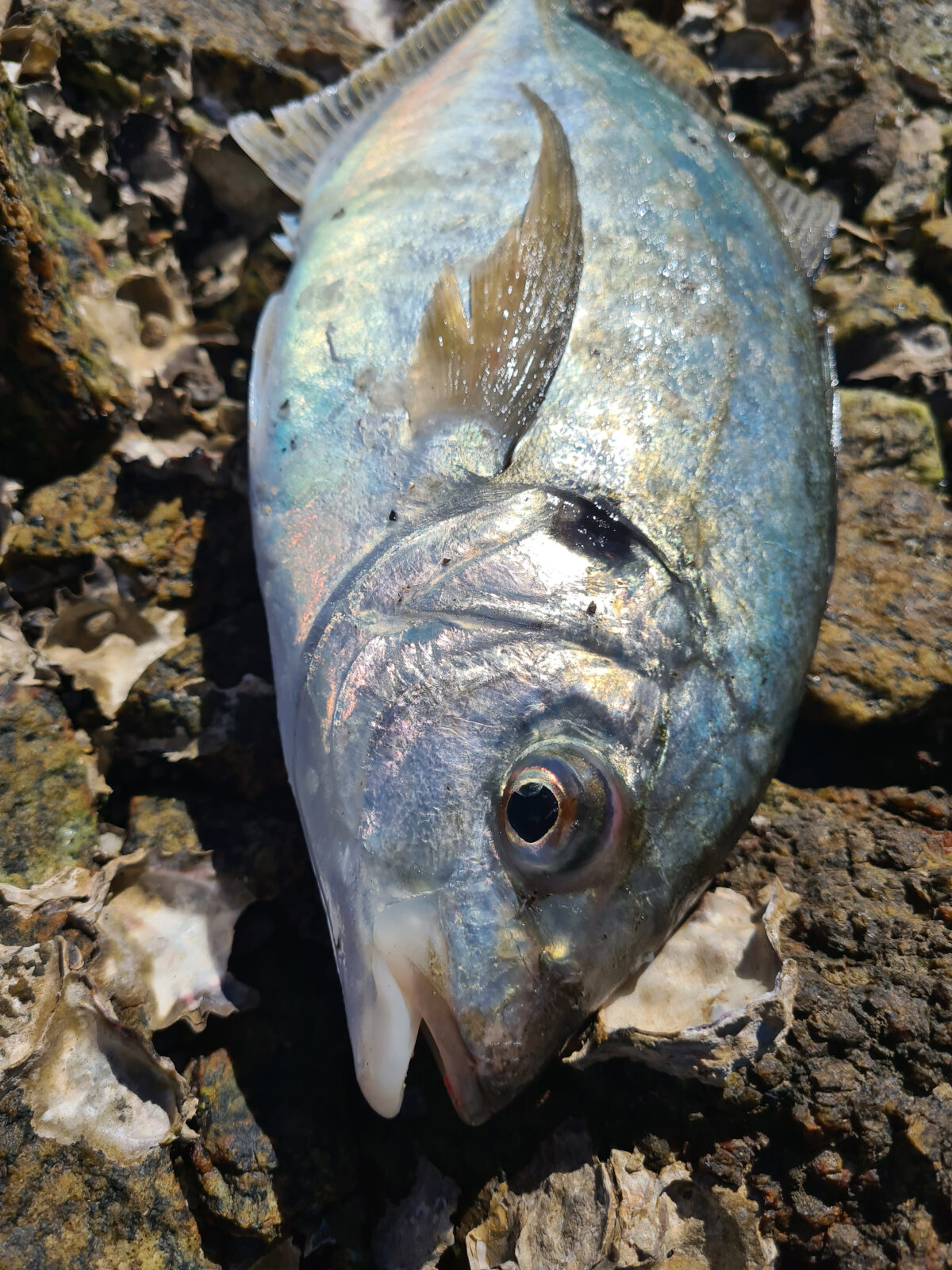 Trevally
Silver trevally are a species that well-and-truly go 'under the radar'. They're never mentioned in the same circles as southern sportfish like bream, bass or tailor, yet they go harder than all of them, and probably taste better, too.
I have noticed a marked increase in trevally numbers in my favourite south coast systems. They're also of good average size – plenty in the 30-40cm bracket and few bruisers nudging 50cm
Walls are terrific places to target trevors. They reside in the estuary and out in the ocean wash, but I prefer to target them in calmer waters with soft plastics.
Trevally move up and down the wall on a constant basis, stalking bait and driving it into shallower water. You can intercept them by throwing plastic wrigglers, minnows and grubs on light jig-heads around likely looking terrain. The great thing about this style of fishing is the by-catch you'll pick up in the form of plenty of flathead and the occasional bream.
Trevally, as I touched on, pull like few other species on light gear. They also always make a beeline for the closest snag so you have to be on your toes. A 40cm-plus trevally hooked on bream gear from the rocks is about as fun as fishing gets!
Other species
That's just a run-down of my favourite rock wall target species – there are many more options.
Other species I've caught – or seen caught – from my local wall include drummer, blackfish, groper, snapper, mulloway, kingfish, bonito, frigate mackerel, sharks, John dory, flounder, whiting, mullet and leatherjacket. That's an impressive list in anyone's book – all from the one wall!
So pay your local rock wall a visit soon and explore its potential. There are few better land-based fishing structures that offer so many year-round angling options in almost any weather.