THE coastal strip running north from Byron Bay to the Queensland border is known as the Tweed Coast. This once quiet area it is rapidly transforming into an upmarket residential area as well as a popular holiday destination. Apart from the recent addition of several modern housing sub-divisions and shopping precincts, a major hospital is in the final stages of construction which indicates the area is looking at further expansion.
The Tweed Coast is about 40km in length and is bounded by the Billinudgel Nature Park to the south. The Tweed Shire southern boundary lies between Byron Bay and Wooyung. To the north Tweed Heads and Coolangatta straddle the border. The "Twin Towns" have long been tourist meccas with clubs, bars and shopping malls catering to Queenslanders who wanted a flutter on the 'pokies' in the days when that was not available in the northern state. Further north lies the Gold Coast. A major airport located at Coolangatta makes reaching this region easy for travellers from interstate and overseas.
Inland, the Woolumbin, Mt Jerusalem and Mooball National Parks (NP) offer an opportunity to see what the coastal forest looked like before settlers cleared the land. Mt Warning is a dominant feature (Woolumbin NP) that is well worth visiting but check the status of the summit track. For most of the region, sugar cane and cattle grazing predominate.
The Tweed Coast is a great holiday destination for the travelling fisherman. Fishing, kayaking, surfing, cycling and walking are just some of the activities available. A fix of high-end shopping, fine dining, or luxury accommodation is on-hand or only a short drive to the north while the Gold Coast theme parks are an hour away. Byron to the south also offers an alternate experience. This part of the northern NSW coast offers pretty much everything you could want either on hand or nearby.
Those keen to explore this region should look at the Visit NSW web site for details including accommodation. In this article we will concentrate on the region's fishing options.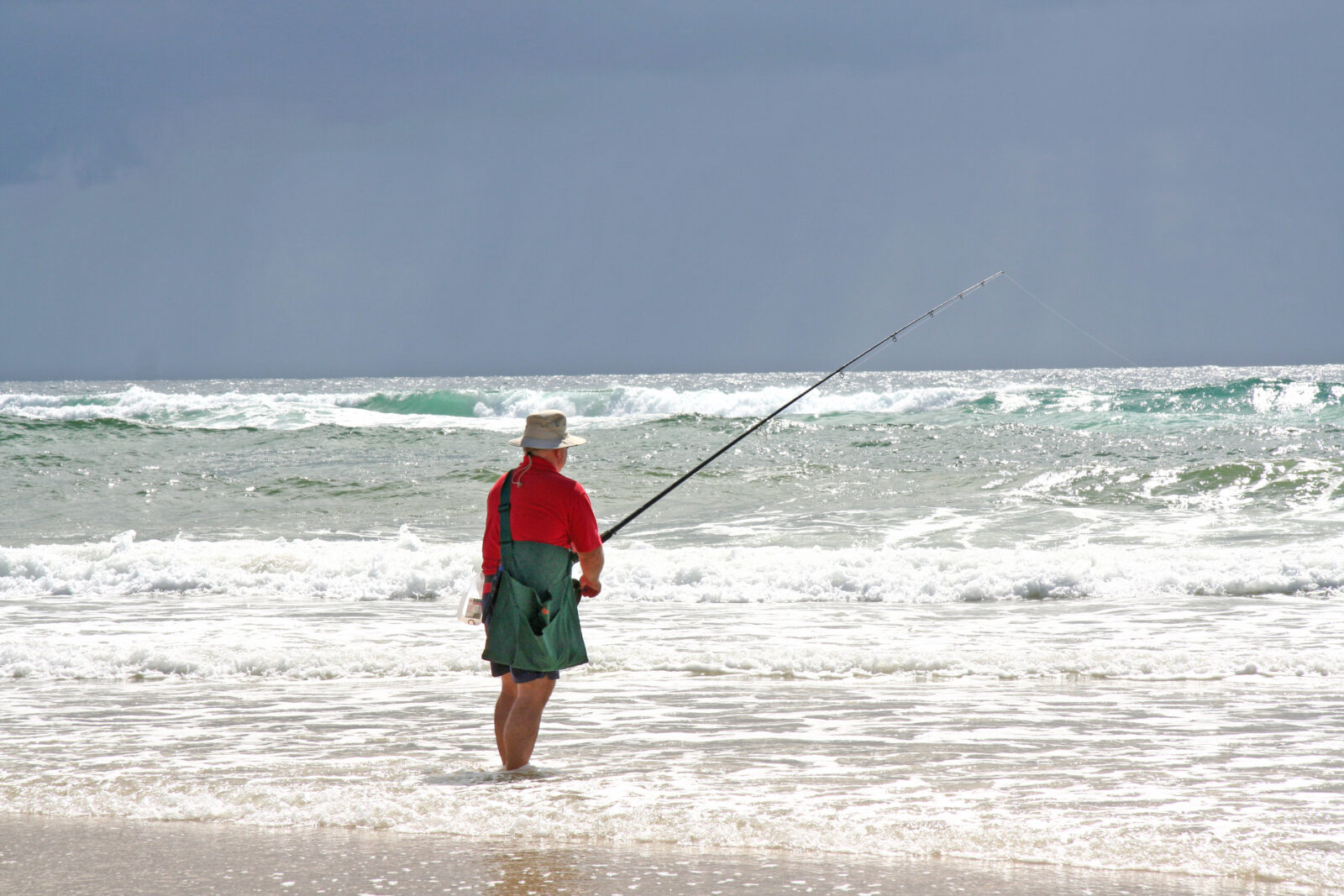 Beach
Surf beaches stretch from Byron to Tweed interrupted only by creek entrances and a few headlands. Those that love the seaside with its fringe of dunes covered in casuarina (she-oaks) and tea tree will appreciate this area. The beaches here are open to the full force of the Pacific Ocean and change rapidly as waves shape the surf line. For most of the year it is a surf anglers paradise.
Anglers can find dart for most of the year. There are plenty of smaller fish, but some big ones patrol the surf and eagerly take a worm or pippie. Locals take the larger fish for food and bleed them on capture.
Bream and whiting are also present but can find it hard to beat the dart to a bait. Tailor are common in the cooler months and can be caught using pilchards or lures. Arriving an hour before last light or dawn and throwing a weighted stick bait or metal will often be all it takes to get a feed. Try gutters and holes and be prepared to walk until a school is found.
Flathead are also taken as the water cools. Beaches with plenty of features including holes and gutters seem to hold better numbers. Casting a soft plastic will take a few while others will fall to methods aimed at other species. The last half of the run out tide is best.
Jew are also present particularly when the mullet run in autumn and winter. Using fresh tailor or mullet fillets for bait, anglers can connect with fish up to 20kg or more. Again, concentrate on holes and gutters, particularly those that hold mullet schools. A high tide just after dark is a popular time to target.
Bait can be gathered on most beaches. Pippies, a bivalve shellfish, can be washed out of the sand on half to low tide using your feet. Beachworms are also common and taken using a bait such as fish frames, swung in the receding wave. Worms will pop up when the scent runs over them and can be pulled using fingers or worming pliers. Half tide is the best time to try for them. Both make good baits.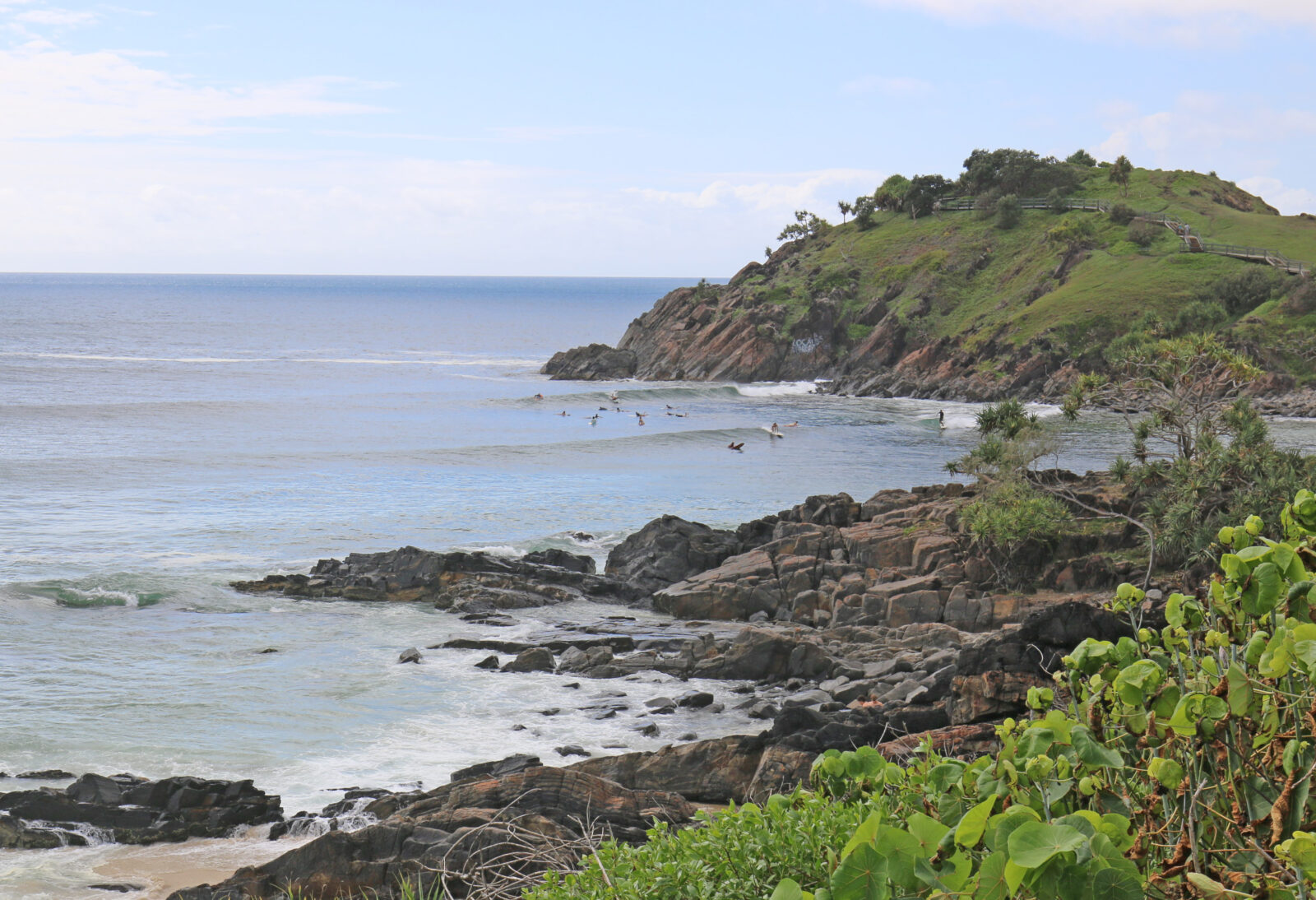 Rocks
While this part of the coastline is not a renowned rock fishing area it does have some interesting ledges at Hastings Point, Cabarita and Fingal Head. An experienced fisherman will find these spots as he or she walks the trail along the top of the headland. Black Rock at Pottsville can also come into play when the sand builds up and anglers can wade out to the rock.
There are also small break walls at the mouth of creeks at places like Pottsville and Kingscliff. These offer opportunities for anglers to fish the run-out tide and connect with species feeding on bait being washed out of those systems.
Jew and tailor are spun from headlands in this area while luderick and bream can be prolific during the cooler parts of the year. Cabbage for luderick can be hard to find as it is quickly grazed down by fish on each high tide.
Ledges with deep water access are also reputed to produce mackerel in late summer and autumn. Longtail tuna are sometimes present too and can be seen racing past the ledges from higher vantage points. Some locals have used drones to drop baits to these fish and then played them from the beach.
Flat seas are required to work the lower ledges safely. Like many rock ledges, it is the presence of bait that dictates what comes into casting range and autumn into early winter is often a better time to find schools of bait fish working along the coast.
Ledges giving an angler access to the area behind the break are also good locations to spin for jew. Use a large shallow running minnow or soft plastic and wind it slowly through the suds and churned up water. Low light periods are better for this activity and to avoid any surfers.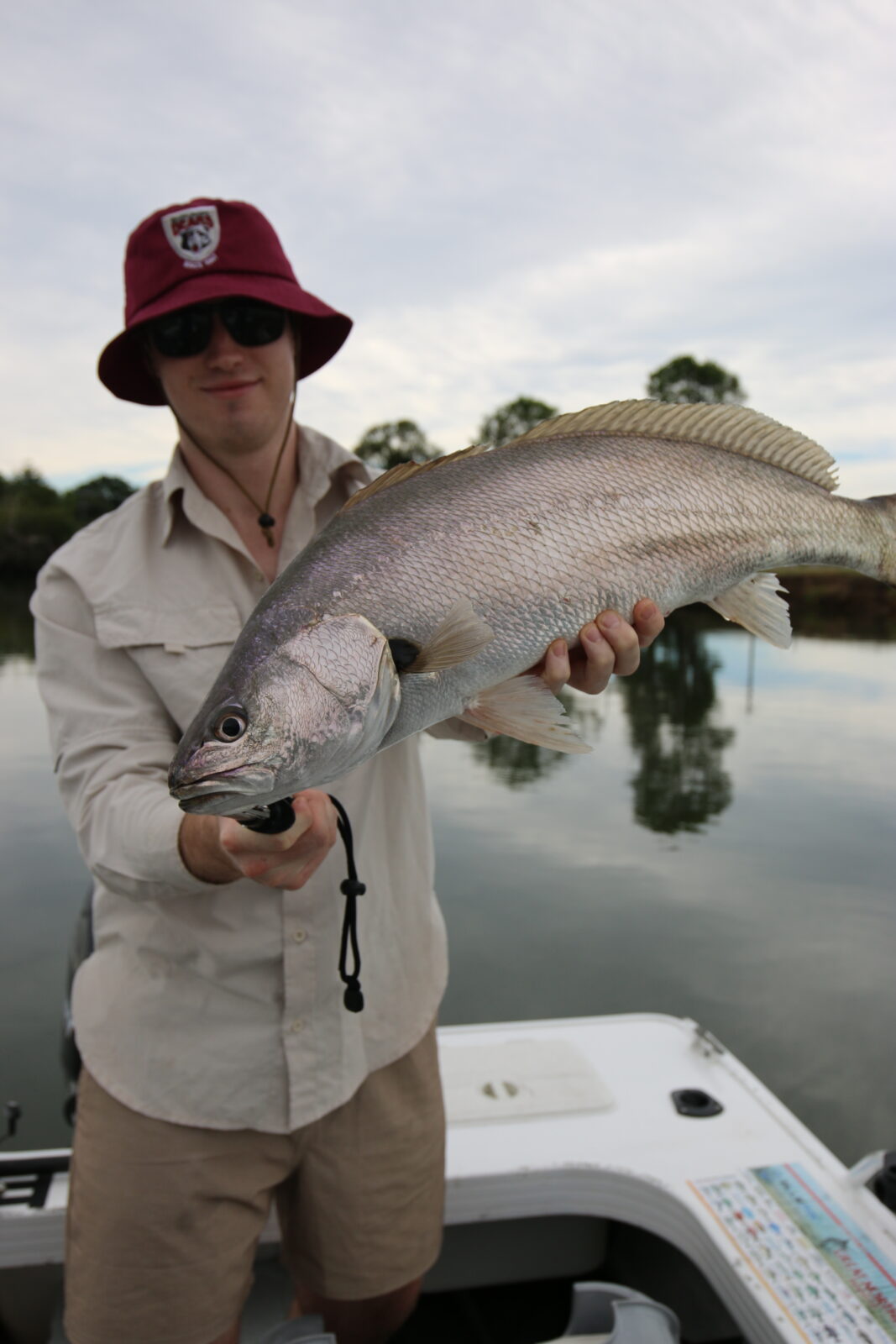 Estuary
The little creeks at Kingscliff, Pottsville and Hastings Point are ideal play areas for toddlers and smaller children. These creeks are also great for paddleboarders and kayakers. Older kids can fish for whiting and bream in the creek. Nippers can be pumped in the lower reaches. Mangrove jack are caught further up each system and sometimes around bridges and other structure. The odd mud crab is also trapped but these small creeks see a lot of angling effort.
The Tweed River is a much larger waterway. There are boat launching sites along the Tweed including Fingal, Chinderah, Tumbulgum and Condon. In Summer it produces some great whiting and a few jacks. For whiting try sand banks between Chinderah and Condon and use fresh blood or beach worms or nippers for bait. Whiting are also taken on poppers and stick baits over the shallow flats.
Jacks are a popular species and plenty of locals specialise on them. Try lure fishing before dawn and work the mangrove margins with surface poppers, divers and soft plastic lures. Manmade structures are also worth trying with pontoons, bridges and boat harbours all providing an opportunity to tangle with a red dog. Live and strip baits drifted back to structure after dark is a very good way to take a few too. Poddy mullet, just legal whiting and garfish or herring work well as live baits. Some big jacks live in this system so be prepared.
Trevally, including big eye and giant, are common and can give you a solid workout on light gear. Fish range from runts to three to four kg and occasionally much bigger. Don't be surprised if your whiting popper disappears in a violent strike followed by a long fast run. In some cases, patience and pressure may reveal a large trevally or even a tarpon or giant herring.
In the cooler months, the Tweed produces good numbers of flathead as well as trevally, jew and luderick. Jew are taken working the deeper holes while luderick are common along deeper edges. Chinderah and the Boyd's Bay Bridge in Tweed Heads are popular spots. Weed for luderick can be gathered on ocean rocks at low tide or in cane drains. Don't hesitate to use freshwater weed either as it works well.
Bull sharks (aka river whalers) are sometimes common in this waterway and can be taken on cut baits like mullet. Use wire to avoid bite offs. Sizes range from small sharks to some well over a metre.
The Tweed is popular with wake borders and water skiers so an early start will avoid most of them particularly during weekends and holiday periods.
Houseboats are also available on the Tweed and anglers can anchor near their favourite spot and then use their own boat to work the area.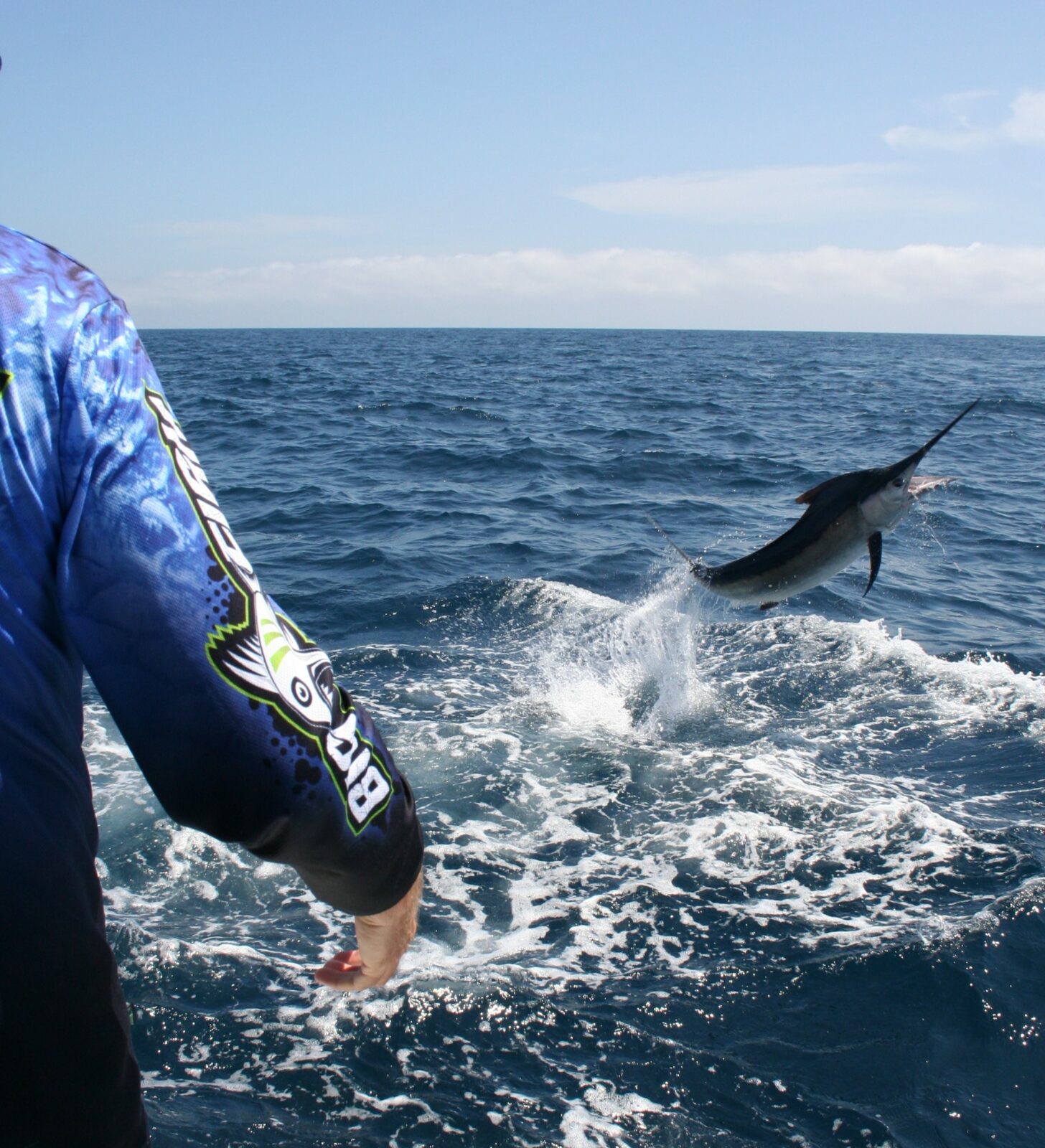 Offshore
Most visitors with larger boats launch at Fingal ramp on the Tweed. Smaller craft can get out at Kingscliff on higher tides, but this entrance is shallow, and wave affected. South, Brunswick Heads is also a popular launch site but has a well-earned reputation as a dangerous bar. Visit the south wall first and watch the swell for 10 minutes before deciding on a trip out.
Inshore reefs run along much of this coastline and hold mackerel species and cobia in late summer and autumn. As the weather cools snapper become the focus. Productive areas include reefs off Currumbin, around Cook Is, off Kingscliff, Wooyung and Ocean Shores. These can be trolled with dead baits, live baits or lures. A down rigger is handy on the deeper reefs like the 9 Mile.
Apart from mackerel in summer, a run of small black marlin occurs most years and starts around New Year. Trolling small skirts just off the back of the break can be productive and in good years you will see free jumping fish in the 15-30kg range right along the coastline. They are taken wider too often over reef and near bait schools.
The reefs that cluster around Cook Is off Fingal head include the 6 and 9 Mile and Fido's reefs. These are very popular and easily accessible reefs that see heavy pressure from local and visiting anglers. The recent mackerel closed season has also prompted Qld anglers to fish in NSW for Spaniards during the closures. Divers and spearfishermen are also prevalent on these reefs.
Those seeking larger fish run wide to areas including the Tweed Canyons and Wundarra Banks (aka Cod Grounds) off Brunswick. Wahoo, blue and black marlin and dolphinfish are all taken regularly along this part of the coast. Striped marlin are also taken in the cooler months. Those who want a feed of reef fish can also take good bags of snapper, kingfish and pearl perch when the current permits. Yellowfin tuna are also taken on the wider grounds but are harder to find than in years gone by. Plan fuel use carefully as the distances and current can increase a day's consumption.
Deep dropping is increasingly popular, and this area has a good range of deep-water species. In 100m to 250m snapper, kings, pearl perch, flame tail snapper and other good eating species can be taken. In 300m bass grouper, bar cod, blue eye trevalla and gemfish are targeted. Fishing is often better in the cooler months when the current abates.
Some also like to chase spanner crabs. Professional crabbers with their distinctive float poles work areas in 40-60m off this part of the coast and amateurs can also take good catches by trying areas in these depths.
Freshwater
The top end of the Tweed around Murwillumbah offers some good bass fishing for those with smaller craft. Clarry Hall Dam, on the headwaters of the Tweed, is also a good place to try for a bass and is a very scenic impoundment. You will need a canoe or kayak to fish it.
Some of the creeks in the southern part of this area also hold bass but are harder to access. Big carp are also found in some of these waters and will tow you around until you can overpower them. Most of these little gems are closely guarded secrets that take a fair bit of detective work to sort out.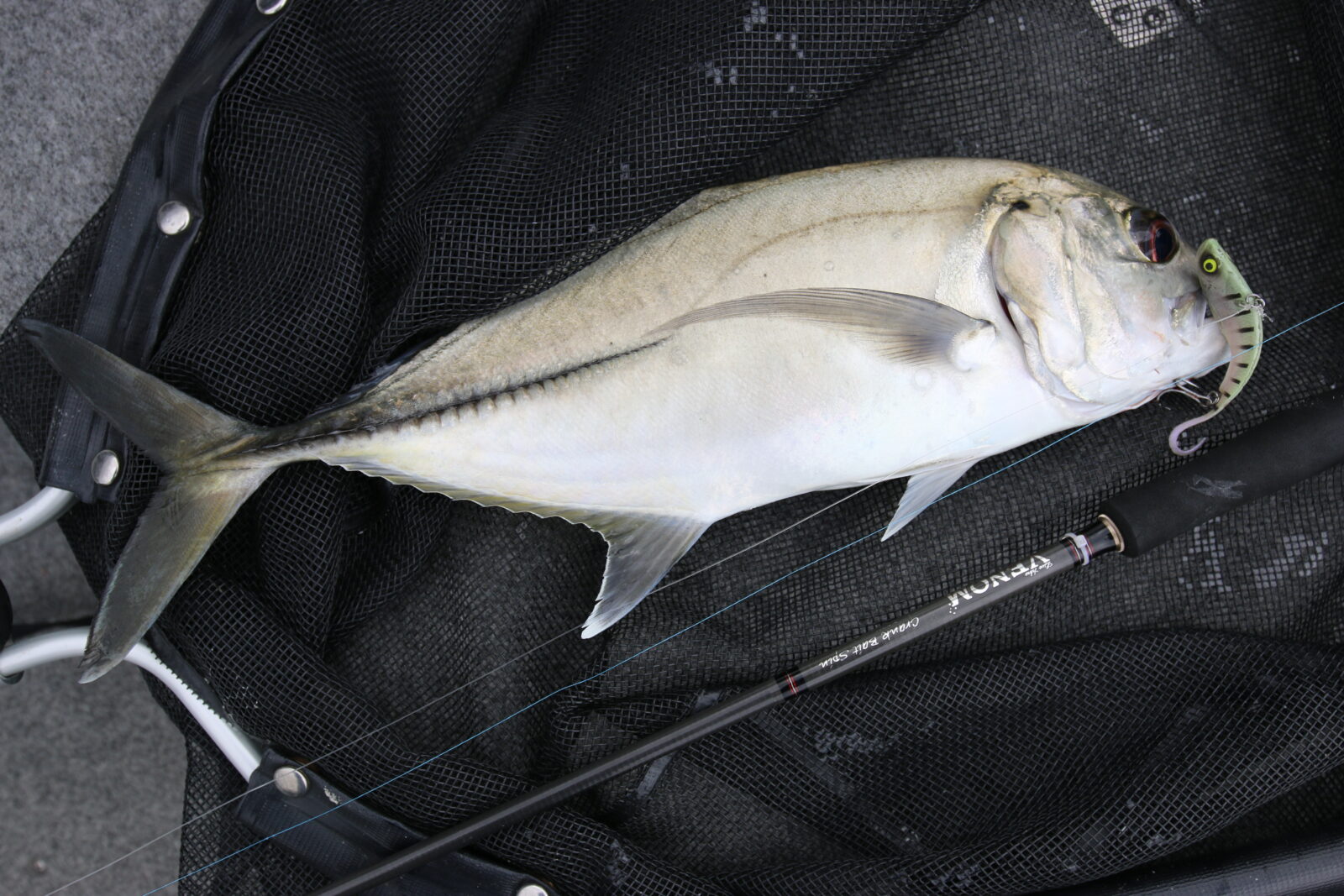 Weather
Weather patterns in northern NSW are user friendly for most of the year. Humid hot days can occur over Summer with blustery sea breezes cooling things in the afternoon. Autumn is often the best time of year with milder days and stable weather. It can get cold overnight in winter, but the days warm up and reach the low to mid-twenties. Spring is a fickle period with colder water temperatures and warm days.
Cyclones generate further north in late Summer and Autumn but rarely make it this far south. Nonetheless, the area can suffer from the effects of these storms with torrential rain and strong winds persisting for days. Floods have occurred in the last few years and holiday plans should be reviewed if this occurs. Heavy rain will colour the creeks and rivers which take a few weeks to clear.
Summary
The Tweed Coast is a beautiful part of the NSW coastline. It can provide a laid-back holiday with up market shopping and dining just a short drive away. Anglers who enjoy fishing the beaches will be spoilt for choice while fishermen in general will appreciate the variety. Fishing outside school holidays and weekends is a good way to go if crowds aren't your thing and although this area is well known it still produces some excellent catches.