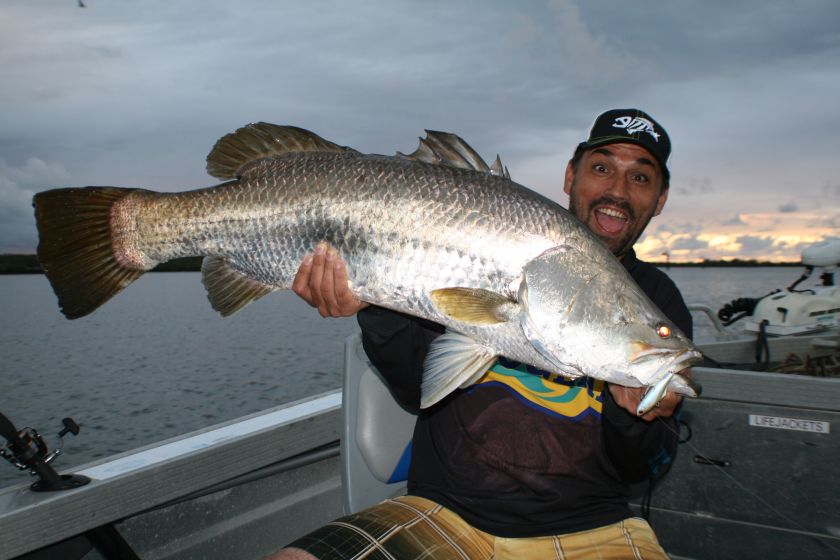 THE fishing options around the SE Queensland city of Bundaberg are truly diverse. A fantastic mix of southern and northern sportfish make this area a haven for keen sportfishermen. ROB BARRETT reports.
BUNDABERG is situated on the Queensland central coast just four hours drive north of Brisbane. The area was first settled by colonial farmers and timbercutters who arrived in 1867. By 1913 Bundaberg had become a fully fledged city. Bundaberg's colonial past is evident today via the historical buildings located around the town. Today much of Bundaberg's trade is farming and sugar cane. This is obvious as soon as you arrive in Bundy as the cane fields are spread as far as the eye can see. When most people hear the word "Bundaberg", they think of rum and ginger beer. Both beverages are still produced in Bundaberg with the factory holding daily tours.
One thing most locals and vistors come to love is Bundaberg's subtropical climate, which is considered amongst the best in the world. And if you can tear yourself away from the fishing, there's much to do and see in the region from watching turtles lay eggs on the beaches to boat trips out to the southern sections of the Great Barrier Reef. With so much to cover in the region, it's simply impossible to squeeze it all into a single article – or even an entire magazine for that matter – but I'll do my best to cover the more common fishing methods, locations and species so if you're lucky enough to visit this exciting place you'll be clued up and ready for action.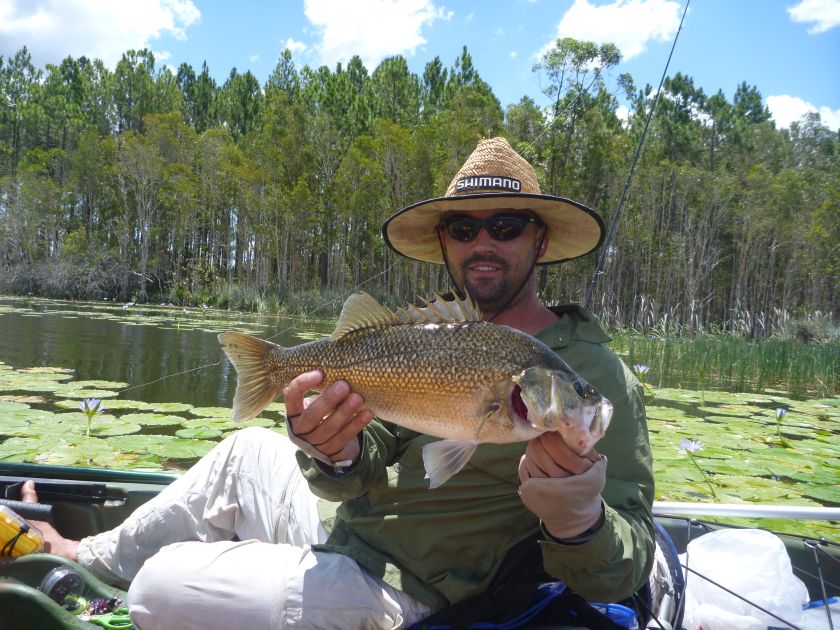 Impoundments
There are two main freshwater impoundments within an hour of Bundaberg. Lake Gregory is stocked with bass and saratoga and the famous Monduran Dam is home to the mighty barramundi. Before fishing these dams you need to pay a small fee for a compulsory fishing license which is available at most tackle stores in the region. This money helps stock these great impoundments.
Lake Gregory is one of the healthiest bass systems I've ever fished with great catch rates year round. Fish over the magic 50cm mark are caught regularly. Saratoga are not yet in huge numbers. Recent stocking have the locals excited but these fish still have some growing to do. The lake is simply stunning with green lily pads surrounding the shoreline and fields of standing timber.
Lake Monduran was famous for its gigantic barra and was once one of the jewels on the barra impoundment scene, much like its northern neighbour Lake Awoonga. Both these dams were devastated by recent flood events, one in 2010/11 and another in January 2013, the largest flood in the region's history. I was living in Bundy for the 2013 flood and it was an experience I pray I never have to endure again. As the dam levels reached 100 per cent and the water began to go over the dam walls so did the barra by the thousands, leaving Monduran with an extremely reduced number of fish. Thanks to some great stocking efforts, Monduran is making an encouraging comeback with anglers now landing numerous fish in a session, however not yet in the size the dam was once famous for. At the time of writing, the average fish was around the 80cm mark. If the region is not hammered by any more floods in coming years, I predict Lake Monduran will begin reclaiming its title as one of Queensland's best barra impoundments.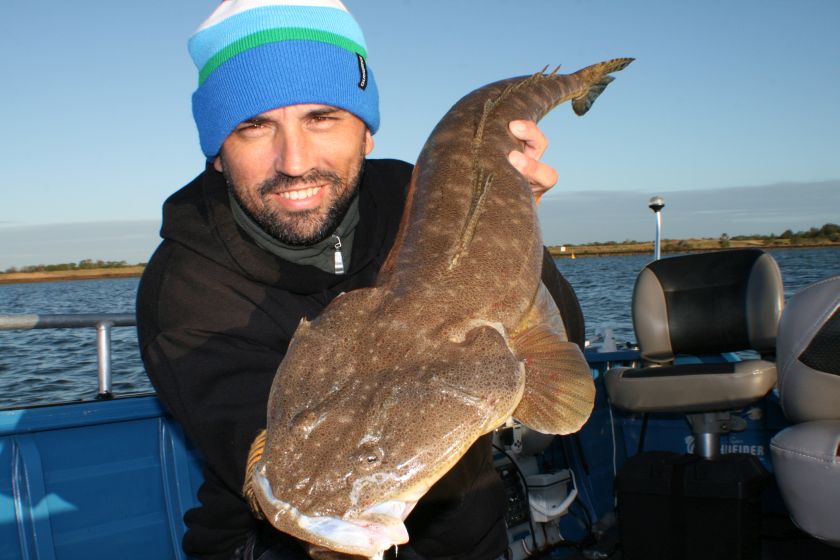 Rivers
There are three main rivers in the Bundaberg region, the Burnett, the Kolan and the Elliot. The Elliot is a pristine waterway with crystal clear water over white sand in the lower reaches. It's popular with both fishos and swimmers. The river has a healthy supply of whiting and flathead and as you venture upstream into its winding arms you can encounter mangrove jack, barramundi, cod and many other estuarine species. The Elliot offers passage to the sea and is a popular launching location for anglers wanting to fish the offshore artificial reefs only a few miles from the mouth. Care must be taken as the bar can get very shallow and rough at times and the river can have some pretty strong tides. Talking to locals, checking tide charts and daylight launching would all be great ideas for newcomers before attempting a bar crossing.
The Burnett River is a sizable system that begins at Burnett Heads and snakes its way through the countryside eventually passing the Bundaberg township before heading inland. The mouth of the Burnett always seems to have something worth chasing. During the warmer months pelagics such as longtail tuna, Spanish and school mackerel, huge queenfish and various trevallies can be caught. Bread & butter fishing is always a blast in the Burnett with plenty of bream and grunter around. You may be surprised to see the size of the flathead. These fish will snap at plastics and lures, however if you prefer bait, prawns, sprats and live bait are all successful. Lately I have been using heavier vibe lures such as the 30 gram Jew Candy lures made by Shads. These lures find bottom even in heavy current and feature a fish-attracting vibing action. There are excellent launching facilities at the mouth of the river accessed through the town of Burnett Heads.
In the freshwater reaches of the Burnett the mighty bass are the main target, if you can get past the plagues of catfish!
For lure fishing enthusiast the big draw cards in the Burnett are threadfin salmon, blue salmon and of course barramundi. The warmer months seem to be most productive but with persistence you can still bag a few during winter.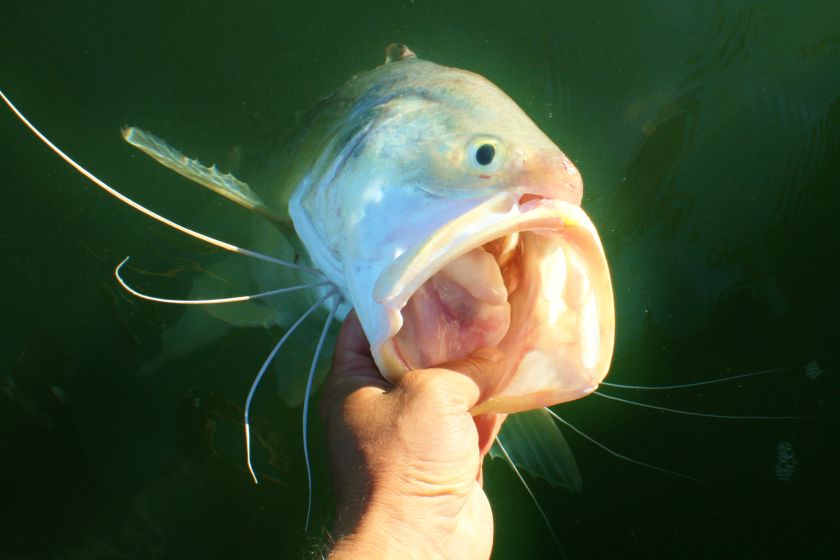 Threadfin are by far my favourite fish to target in the river and offer many challenges. Threadfin love prawns. Find the prawns and the threadfin are usually close by. Prawns will usually show up on a depth sounder along the river bed and how they appear will depend on your depth sounder. On my Raymarine Dragon Fly they show up as a light blue fuzz on a blue screen along the bottom and on a lot of the Lowrance units they show as a black fuzz on a white screen. Searching areas where shallow mud flats drop off into the main channel is the best place to start. Once you find the prawns, the threadfin shouldn't be far and will usually give a solid sounder reading. Threadies will take a huge list of lures and plastics but soft and hard vibes seem to have the best results with Shads Jew Candies and Thready Busters firm favourites.
Targeting barra in the Burnett can be very challenging as it doesn't seem to hold the numbers that the rivers to the north do; however, with persistence spectacular catches can be achieved. Many locals simply live bait for them or troll common barra style minnows. Most of my success has been on smaller vibes whilst targeting threadfin. Barra lurk around floating buoys and pylons or around the large bridges in the town's reaches so there are some great places to start. If live baiting is your thing, circle hooks will help prevent cut offs from the barra's gill plates and raspy mouths.
The Kolan River fishes much like the Burnett.It's a smaller system with the same species mix with more emphasis on barra. After the floods in previous years the majority of escapee barra made the Kolan their new home. Many have and still may move on but there's still a healthy supply in the river. Barra can be found from the mouth all the way up to the freshwater reaches that extend inland past Gin Gin and finish under the wall of Lake Monduran. In coming years this will become a very exciting fishery!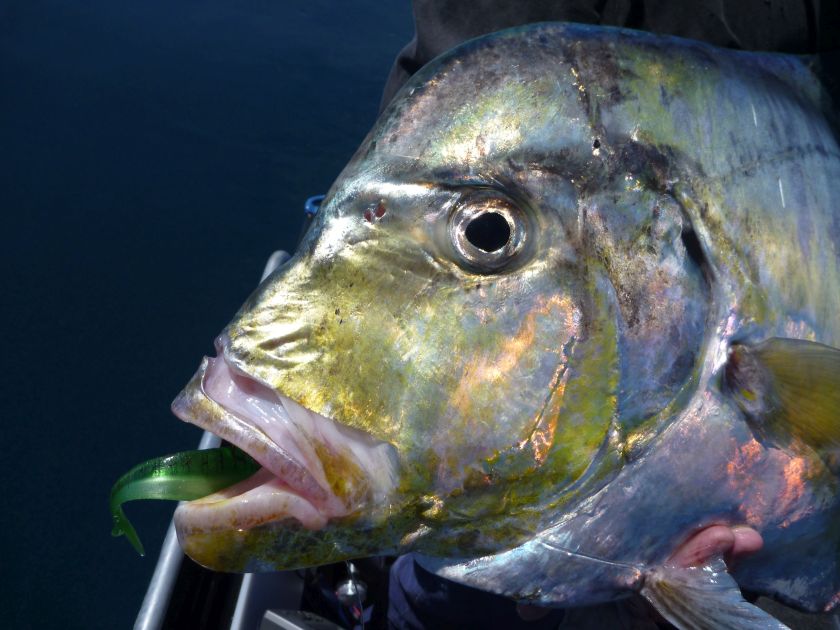 Offshore
The ocean surrounding Bundaberg is rich in species and offers many options for the keen fisho. The inshore grounds have many artificial reefs and sunken boats and as you venture further out there are bommies, gutters and more wrecks. The further out you travel the greater the list of species on offer. With a large vessel and decent weather you could access the southern reaches of the Great Barrier Reef system and even the northern waters of Fraser island. I'm a little restricted by only having a 5m tinny and have been enjoying the reef and wreck systems up to 18 miles out.
I've encountered Spanish mackerel, yellowfin tuna, longtail tuna, mack tuna, marlin, sailfish, cobia, barracuda and many different types of trevally. Bottom bashers target nannygai, emperor, cod and coral trout. An exciting and productive method for fishing the wreck systems is throwing soft plastics. Big jerk shads and curly tails with 1-2 oz heads and 5/0 hooks seem to do the trick. Trevally are suckers for a well presented plastic and the cobia don't mind them either, but generally almost everything on the reef will take a plastic and it's a fun way to spend the day. In the cooler months the area has a sensational run of snapper. Again, soft plastics will bring them undone. Fly casting is also popular in this area and heavy fast sinking lines and weighted flies worked over the wreck systems can produce some very exciting fishing.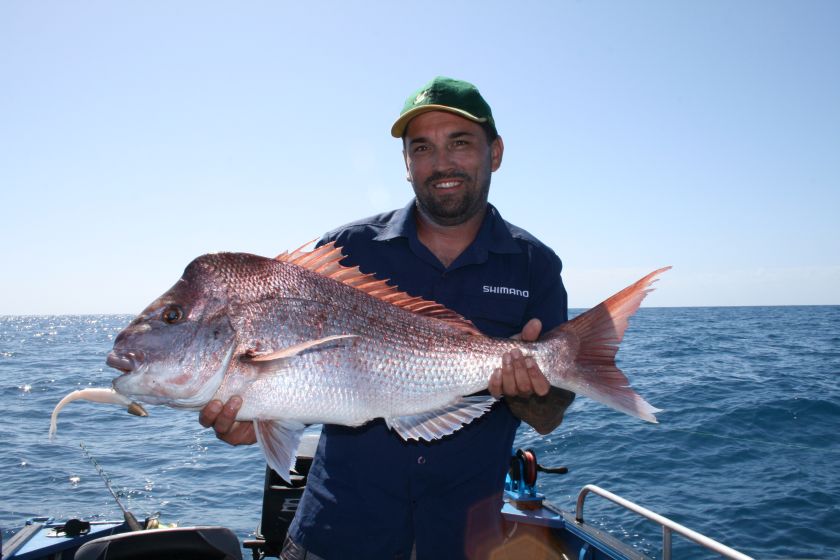 For the surface pelagics casting lures into the action always seems to end in screaming reels and big smiles. Keeping an eye out for splashing or feeding birds is the trick. When using this method, remember to cast ahead of the feeding fish – not into them. When small pelagics are surface feeding, sinking a metal lure below them then high speed retrieving it back will result in larger captures. For example, I've pulled big GTs and even marlin from beneath schools of tiny mack tuna.
Trolling is very successful around Bundy and a great way to target mackerel, tuna and billfish. I find best results at first light before all the other boats turn up and start whizzing around. High speed divers work best and I have had terrific results on Rapala X-Raps, Yo Zuri Hydro Magnums and Live Target divers. I try keep my lures down around the 5-8m depths and speeds between six and 10 knots. Quality lures that track deep and fast are a great advantage.
Whether you're throwing metals, trolling lures or even live baiting it's a good idea to run a wire trace – it can get a tad expensive when the local mackerel start biting off all your lures. I usually run a short 50 to 60lb single strand wire trace.
Probably the best advice I can offer for fishing offshore Bundaberg is to get yourself some GPS marks for the area before setting out. They are easily found on the internet and there is even a GPS book on Bundaberg you can buy. Local tackle stores may also be able to assist. There's a lot of area out there that is flat and lifeless. Being right on the wrecks and reef can be the difference between catching nothing and catching everything.
So if you have been looking for a holiday destination or fishing adventure consider a trip to Bundaberg ­– it has something to offer all fishos and is also a great family experience.
Editor's note: Originally from the NSW South Coast, Rob Barrett has spent some years living in Bundaberg with his young family. For more on visiting Bundy for a fishing holiday, check out www.bundabergregion.org.