I'VE been a little slow to appreciate the excitement of impoundment fishing over the years. It wasn't until I first chased golden perch at Windermere Dam seven years ago did I understand the enjoyment and nuance of fishing man-made fisheries.
It's such a different game to saltwater fishing and the environmental triggers to what make fish bite were foreign. It was a learning curve that has made me a better fisho and appreciate our freshwater sport fish. I mean who wouldn't like catching football sized "yellas" and monster Murray Cod? To that end, the prospect of trout fishing though had never really excited me. Fly fishing seems too gentlemanly, and I'd rather poke my eyes out with a fork than spend a day trolling Tassie Devils. So, when a good mate of mine and resident trout expert, Terry Swann, invited me up to his cabin at Buckenderra, nestled on the banks of pristine Lake Eucumbene, did I get to, again, realise what I have been missing all these years concentrating solely on saltwater fish. Since that first trip up to the cabin, I've returned many times. There is something magical about an alpine waterway. However, the best part is the fishing on offer. We have been developing a technique for catching trout on blade vibes and results have shown we are onto a game-changing system where catches of 20 trout a day isn't uncommon.
The size of the fish has been impressive too but without doubt, the best aspect of this technique is the simplicity of it. Anyone can go buy a few blades and with a few pointers on how to use them, catching trout has never been easier or more deadly.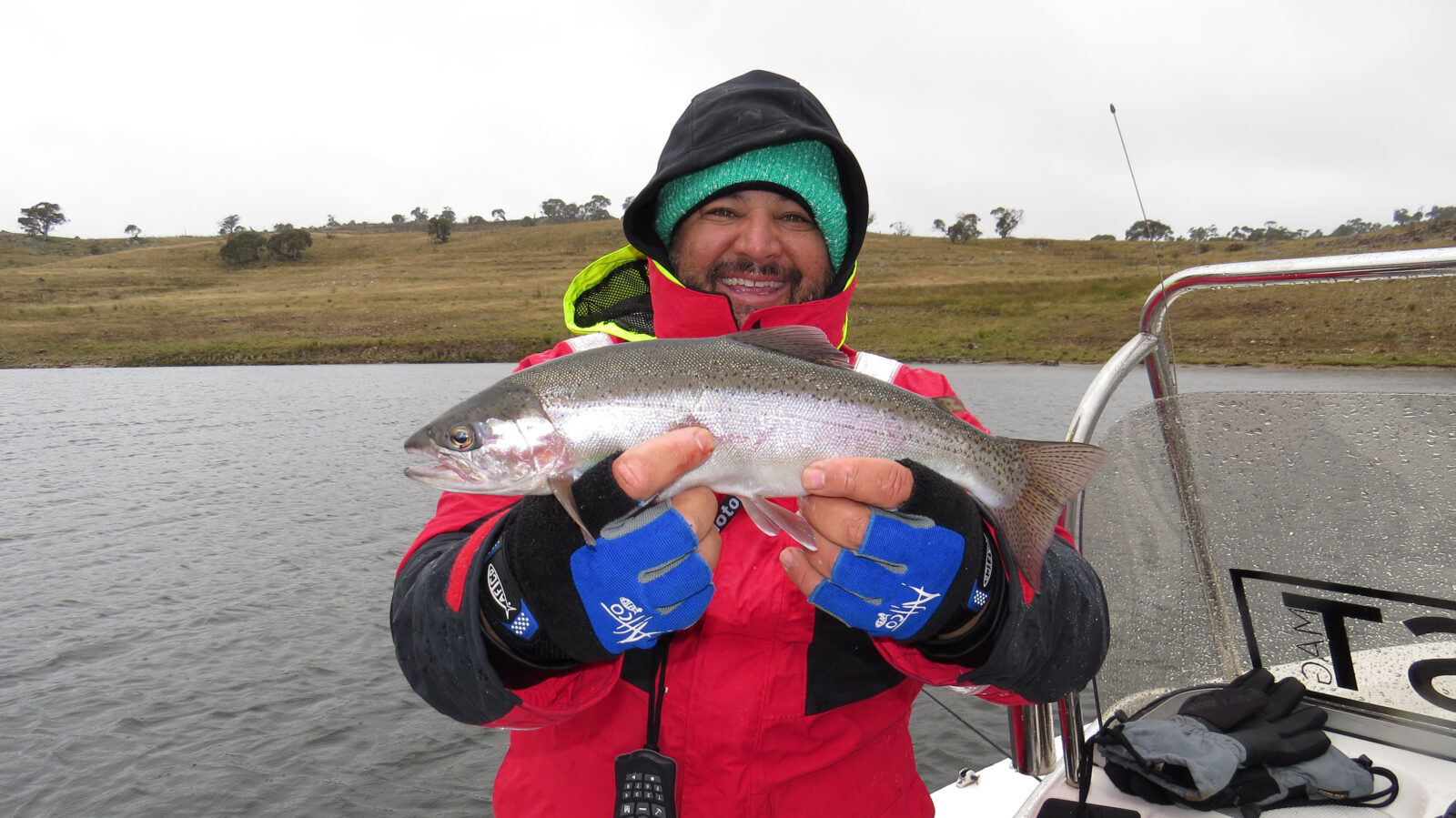 The Lures
How we stumbled onto this technique is quite interesting. On my first trip to the lake, having never fished it or fished for trout in anything other than a trickling stream, my focus was to junk fish my way through my bream lures until I found a pattern. For those who've never heard the term "junk fish", its tournament-speak for quickly cycling through lures until a pattern emerges. Once discovered, all efforts are then directed to the pattern to maximise the bite. It's a perfect approach if you've never fished a waterway and are trying to interpret what the fish want to eat. When we started, I tied on small plastics such as the 2" Z-Man Slim Swimz and slow rolled them out from the bank. At the same time, Terry tied on an Ecogear VX35 blade in 401 colour which is gold with a red eye. As I was cycling through plastics, hardbodies, top water and anything else I had in the bag, Terry was down the back casting in no-man's-land away from the bank and picking off fish. After he had three in the boat to my none, it was clear I needed to recognise there was a pattern emerging and tie on a blade. From about midway through my first day chasing trout in Eucumbene until now, I haven't tied on another lure – blades simply destroy any other method I've used or seen to catch trout. That's a massive statement! In relation to the lures there were things we worked out that were unmistakable.
The adage "match the hatch" holds true here and any blade that has gold mimicking the local goldfish stock will do the trick. We tried a variety of colours, but the fish only seemed interested in lures that were predominantly gold. The best available Ecogear colours were the 401, 405 and to a lesser degree the 428. The best colour of the lot is the discontinued 427 which is a real shame as it's also one of the prime bream colours we have success with. If you have VX35s in 427 or can source them from somewhere, they are as good a guarantee as you'll get to catch trout. Size of the lure is also important. We haven't had much success on the larger VX40s or VX45s as I expected so stick to the smaller VX35s. We tried to experiment on upsizing the lure to attract better class of fish however that theory didn't quite translate in our catches. The smaller profile 35 gets bit by undersize fish right through to a few 7-pound browns, and everything in between.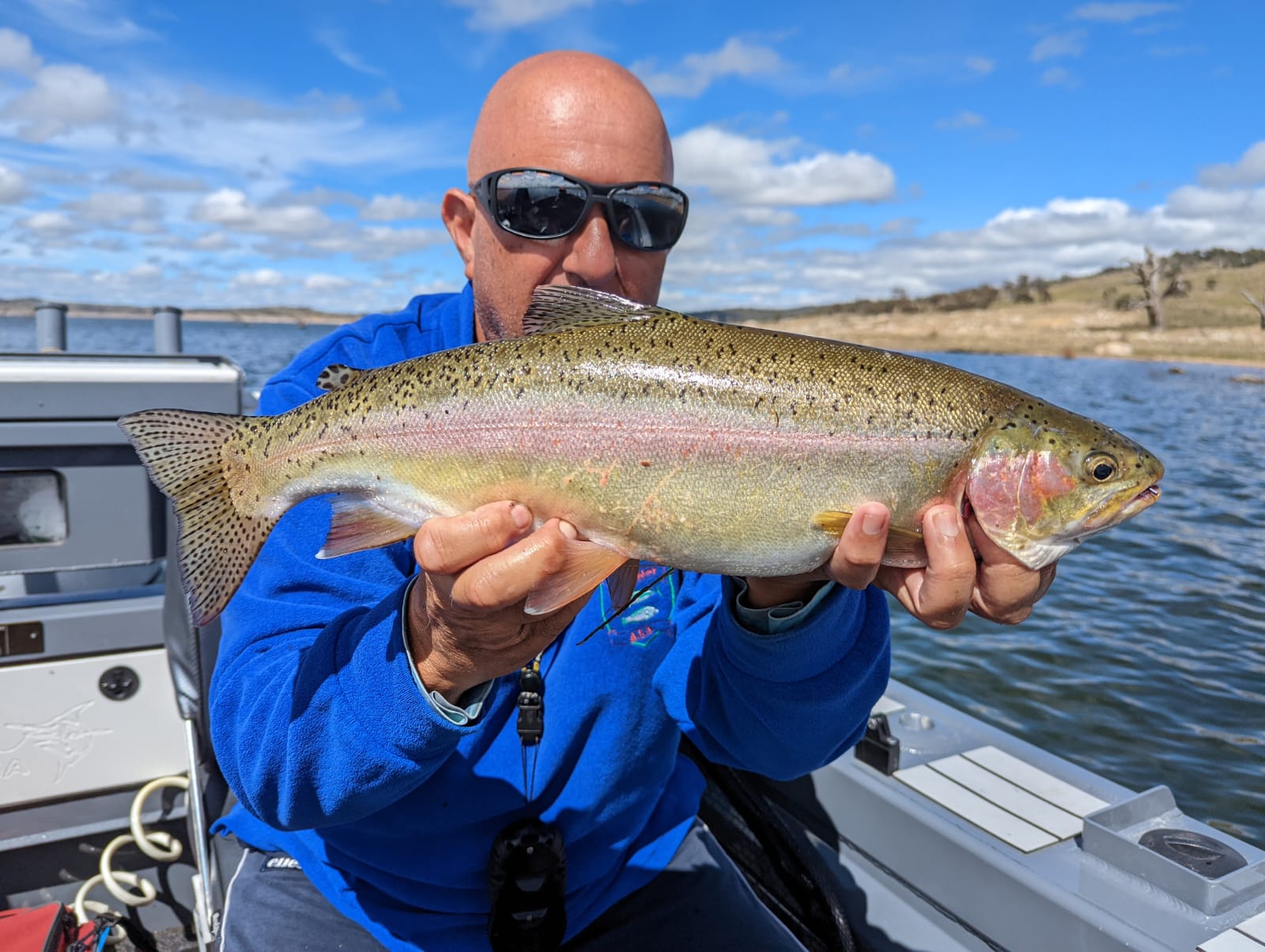 The Technique
The step-change in catch rates came when we started to really combine using the sonar to target fish and work the lure in the depth the fish were holding. Nothing groundbreaking in that comment, although where we started to catch consistently throughout the day was when we adapted the standard lift and drop technique that works so well with blades. As most know, these lures are usually hopped off the bottom via a lift and drop retrieve, but the key difference was instead of hopping them off bottom we were working them mid water.
The technique can take some getting used to and understanding how fast a VX35 sinks is important. If we were marking trout in the top three meters of the water, once cast in, we would immediately start the retrieve keeping the lure in the top three meters of the water column. The technique relies on make long draws of the rod, pausing at the top for a few seconds, then slowly wind down the slack as you drop the rod tip keeping contact with the lure. The long draw is best done slowly and deliberate, holding the rod tip high while you pause at the top. If fish were marked mid water, say 3 to 5 metres down, once cast in, we would count the lure down to that depth and then start the lift, pause and drop. The general rule is 1 second per 1 metre of sink – to fish marking at 4 metres, count to 4 before starting the retrieve – it's pretty simple. Most hits are coming on the pause when the rod tip is at its highest so maximise that time as much as you can. The sink back down is probably the second most productive time in the retrieve and then the long draw. However, it's the long draw that calls in fish and the pause is the invitation to strike. Also, I believe the reason the larger VX40s and VX45s don't work as well is because the extra weight of the lure inhibits the ability of the lure to pause at the top for long enough and the sink back is too fast. The VX35 is the perfect bowl of porridge – it's just right!
While the retrieve is best done slow, there are times when you need to speed it up a little. If we are fishing shallower water between 8ft and 15ft the blade only takes seconds to hit the bottom and get fouled. In this depth you need to minimise the pause and minimise the time between long draws. This will keep your lure higher in the column and visible to the trout. Playing around with the speed of the retrieve in different depths is important as fish will react differently each session. That said, a slow retrieve has shown to be the overall best system. We have also tried a slow roll with a few twitches thrown in. Surprisingly, it works well too. We have had success with this retrieve when we are fishing in shallow water over standing weed where there isn't enough water to do a lift and drop. A slow-rolled lure over the top has actually accounted for our best brown to date. This can also be a good technique if your fishing in gale force winds as a slow roll won't have any slack line which is the only nemesis of the lift and drop retrieve. By fishing down-wind though, you can usually manage the slack line well enough to keep fishing. Due to discovering the slow roll we cottoned on to the fact trolling blades had to work. We weren't disappointed either. While we haven't experimented enough to truly understand the nuances of trolling blades, it's clear the technique works very well.
One observation we made was set back distance. We found the best hits came on the troll when the lures were a long way out the back. We had the boat just in gear and the longer set back on a 3-gram lure may have let in swim a touch deeper. Perhaps this is where the larger 40s and 45s will come into their own with the bigger weights.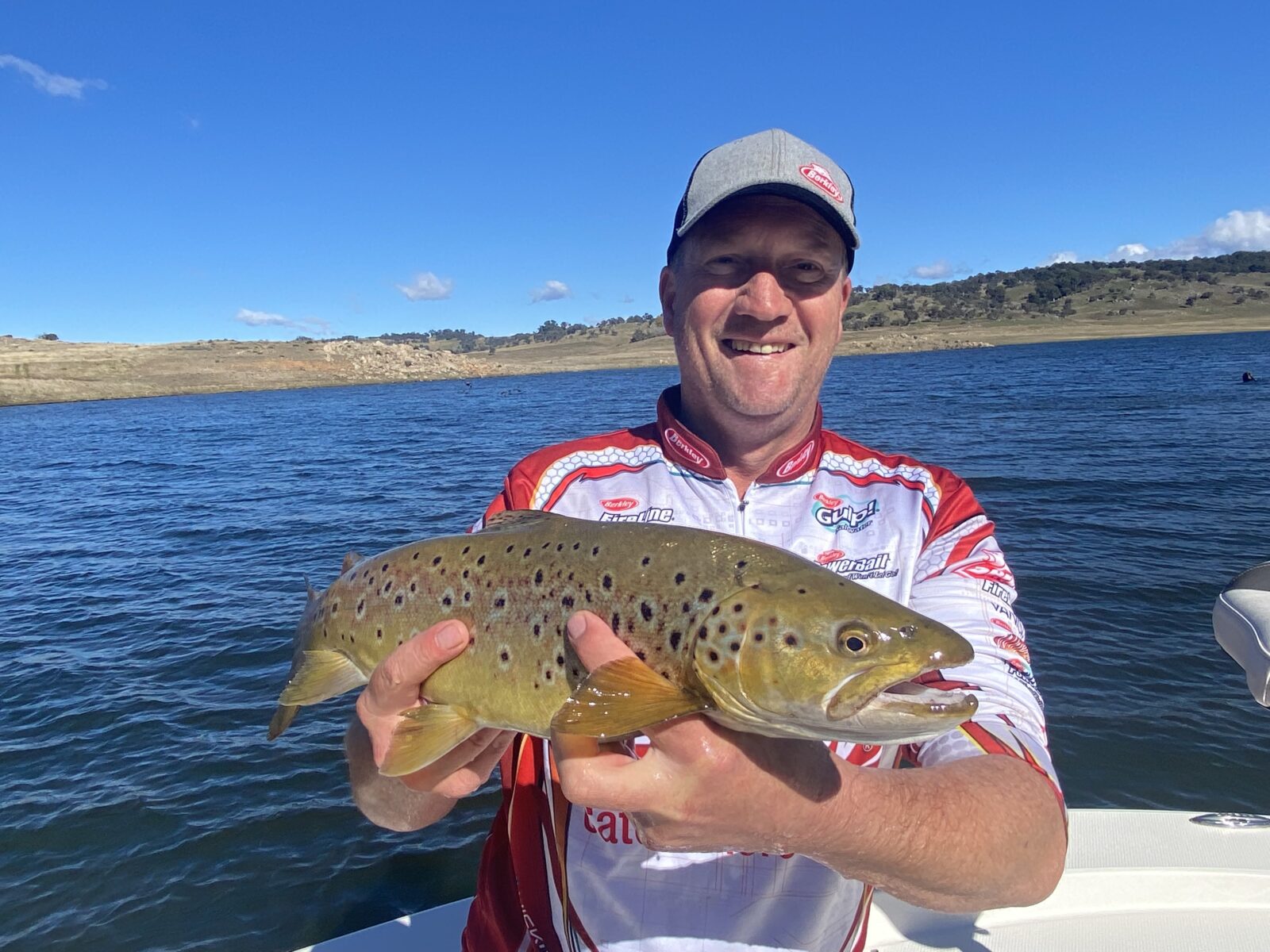 The Locations
Where we've had our best success has literally been in the middle of nowhere. It's massively counter-intuitive as my natural tendency is to fish sloping banks, points, isolated boulders or drop off's. None of that particularly matters. The game is all about using your sounders to mark schooling fish, come back a cast distance away, press spot lock on the electric motor and start the lift and drop to roughly the depth you are marking fish. I don't get too excited by seeing the odd fish mark.
I want to see schools of fish before I'll commit to casting at them. Judging by how good a fishery Lake Eucumbene is, finding schools of trout hasn't been a problem for us thus far. As mentioned, what has surprised me is finding fish schooled in the mouth of a bay or straight down the middle of the main lake – and usually high in the water column. On windy days, wind-swept banks have produced well and so too has shallow weedy bays.
In fact, our best browns have come in shallow water over the top of standing weed. We don't get the numbers in shallow water, but we are seeing better quality. The added bonus to this technique is it's not dependent on time of the day, weather conditions, moon phase or barometer. We have been successful in every conceivable weather pattern and moon phase and still managed to catch good fish throughout the whole day. As long as you stick to the formula and hop that lure right though where they are holding, they will commit.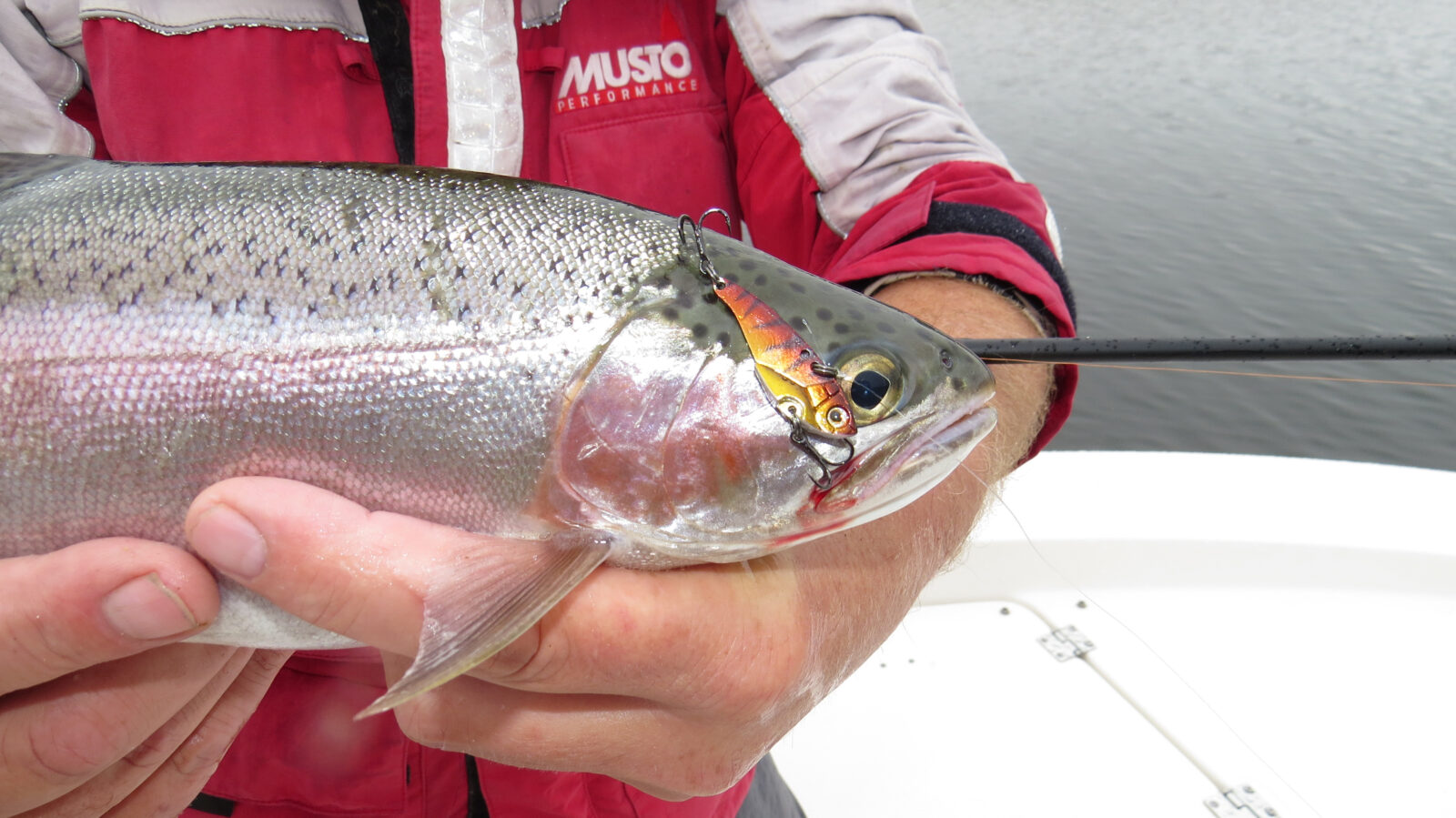 The Gear
This is probably the least important aspect of the technique. I haven't noticed trout to be line shy or leader shy so any light braid and leader set up will work fine. If there is one aspect I would think about, its rod length. Due to fishing open water, cast distance is important so a longer rod between 7'3' and 7'7" in either 1-3kg or 2-4kg is ideal. Personally, I use an Abu Garcia Rayrex 1-3kg 7'7" rod and it is perfect for this task. In fact, this rod has quickly become my favourite rod for light saltwater too. I find myself using it over more expensive brands and custom rods I have. It's cheap but super effective and has quite a bit of grunt down low. I have this mated to a 2000 Daiwa Luvias in high-speed version loaded with 3lb braid. I prefer a high-speed reel as spritely rainbows can come charging back at the boat and picking up slack line quickly is necessary to stay connected. On the business end I use 4lb Gamma Fluorocarbon leader. This all may sound extremely light, but it's been more than enough to knock over some quality fish. By keeping it light it also helps with casting distance and bite detection. Really, there's no fear of busting off a fish anyway as fish are usually hooked mid water and away from anything nasty. Really, it's that simple. If you can replicate a lift and drop retrieve as you would normally do on the bottom but do it mid-water, you'll be rewarded with some unbelievable trout fishing. The key is taking the time to sound out the fish before you start casting. Know where the fish are and work the lure in the depth they are holding, and the lure will do the rest. The vibration of the VX35 seems to be a trigger trout just cannot refuse.