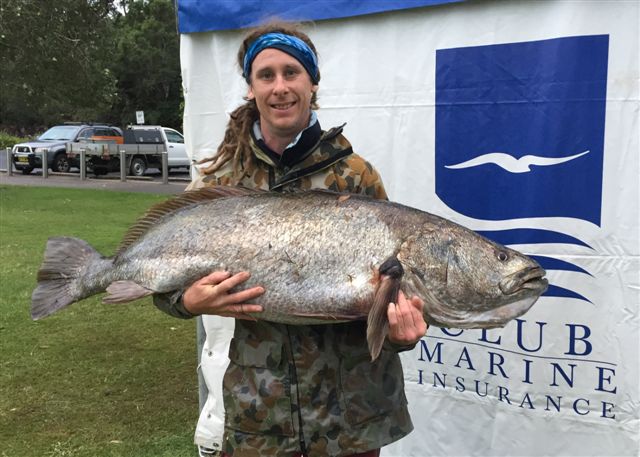 OVER 500 anglers of all ages endured some terrible conditions to enjoy the 2017 Club Marine Trailer Boat Fishing Tournament (TBFT).
In the 24-year history of the event, there has never been such bad wind & rain over the three days with many people unable to make it because of flooding from cyclone Debbie.
This year, Mathew Godfrey convincingly won the Senior Crown on 23 points from 2-times past winner, Paul Lennon, on 14 points. Displaying skills across a variety of species, mathew won points for cobia, mulloway, snapper, teraglin, and tuna.
Amongst the Seniors some standouts include Mathew Godfrey's 17.723kg cobia and 8.288kg snapper, Paul Lennon's 30.778kg mulloway, Ben Doolan's 11.302kg kingfish and Shane Scott's 22.603kg longtail tuna.
Displaying obvious exhaustion from long hours on the water, the Junior Champion Anglers exuded obvious pride and joy at getting some top fish over the weekend. The 2017 Champion Junior Angler award went to Amy Falko with 38 points from Luke Arthur with 12 points. Amy's family support group helped her win points for kingfish, mulloway, snapper, tailor, teraglin, and tuna.
Hope Estate helped make Saturday's "Hope Brewhouse" BBQ a great success. Because of the poor weather conditions this was held at the local PCYC. Many anglers chose to forego the BBQ and lucky draws to stay out fishing. This meant that those who attended had greatly increased chances of winning some wonderful prizes.
Major lucky draw prizes this year included $500 gift vouchers from Frogley's Offshore and quality sounder/plotter units from long time tournament supporter Navico.
TBFT would like to extend its thanks to the contestants, sponsors, volunteers from Shoal Bay Fishing Club, local businesses and other organisations (including the PCYC, Marine Rescue & Tackle World Port Stephens) for helping make the best of some thoroughly testing conditions.
The 2018 Club Marine Trailer Boat Fishing Tournament will be held on 23rd, 24th and 25th March.
For full results, photos, details and entries for upcoming tournaments please visit the TBFT website.