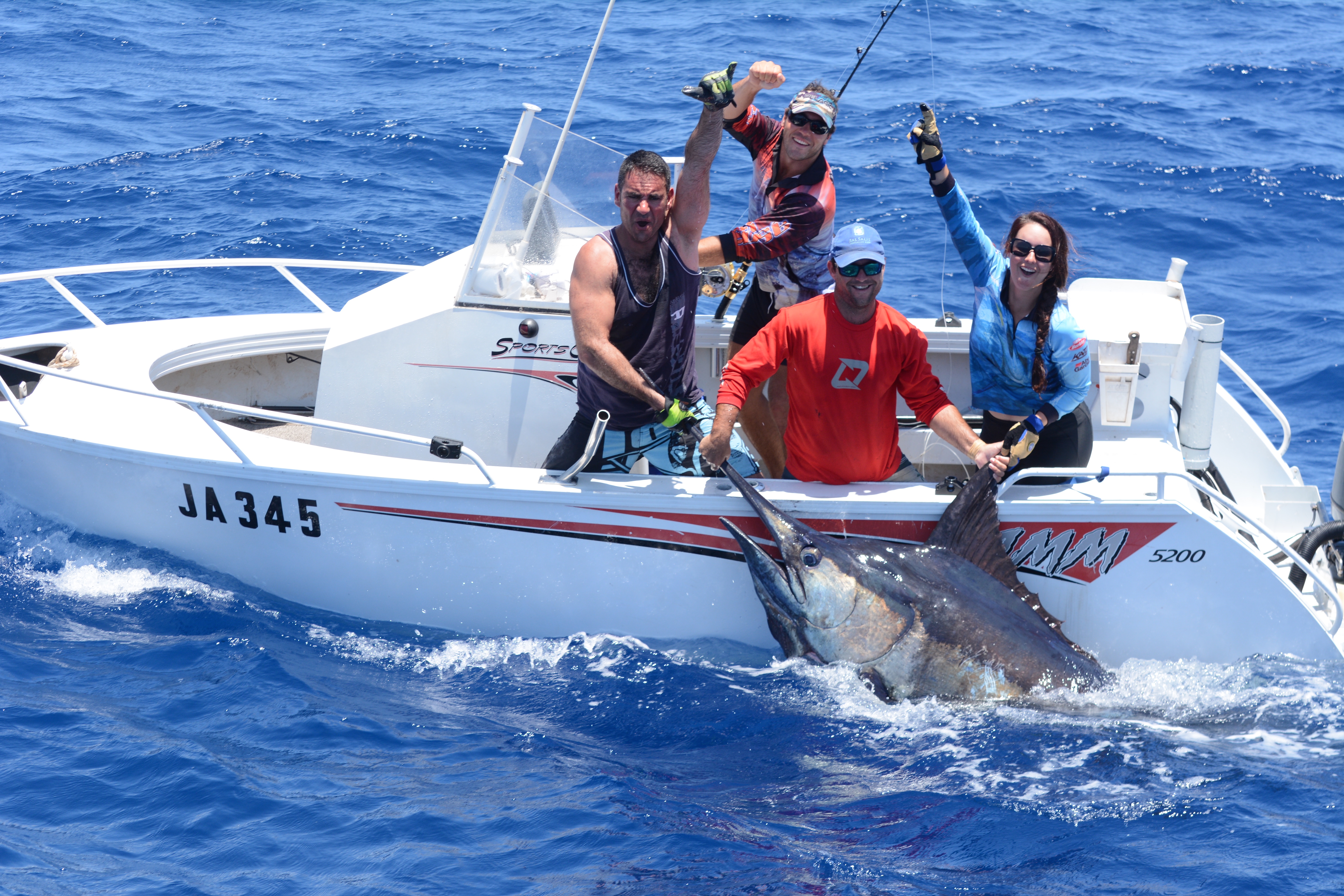 MARCH 16, 2018, kicked off the Exmouth Game Fishing Club's (EGFC) GAMEX game and sport fishing tournament – the 50th running of Western Australia's most prestigious and popular fishing event. A less than favorable long term forecast and severe tropical Cyclone Marcus looming to the north made for a nervous lead up, however, after a windy opening day, the fleet of 56 boats and 233 anglers were treated to superb, flat calm weather conditions and fishing to match right through the week-long tournament.
GAMEX is a reflection of Exmouth's extraordinarily diverse fishing options, with 27 different prize categories over 35 point scoring gamefish species across line class, tag and release and capture sections.
On the bluewater front, reports from the heavy tackle grounds beyond the continental shelf edge prior to the event had been slow, as hot currents had put Exmouth's famous blue marlin fishery in a bit of a slump. Action on the inshore grounds was a different story though, with very positive reports in the lead up resulting in most teams targeting in the hotly contested billfish sections concentrating their efforts on the nearshore grounds along the back of the Ningaloo Reef where excellent numbers of small to middling black marlin, as well as sailfish, dolphinfish, wahoo and more were found throughout the tournament.
Not all billfish encountered were at the smaller end of the scale through. Reel Teaser tagged the largest blue marlin for the tournament estimated at 240 kg, while Stormy fought a 300 kg+ blue on day 3 which they intended to take for the billfish capture section, but lost the fish at the boat after a two hour fight. Nauti Bouy tagged a nice black estimated at 180 kg on 15 kg tackle.
Champion Boat Tag & Release Marlin came down to the wire, with Azura just edging out The Wench by 19 tags to 18. Azura also picked up Champion Boat over 7m Tag & Release Billfish with 24 tags over Our Time with 16 tags. The Wench won Champion Boat under 7m Tag and Release Billfish with their 20 tags over Nauti Bouy with 10 tags and Champion Boat Tag & Release Sailfish was won by On Strike with 10 tags over Billistic with 6 tags.
Final billfish stats for GAMEX 2018 were 797 fish raised, 594 hooked and 307 tagged and released. This total catch was made up of 231 black marlin, 63 sailfish, 11 blue marlin and 2 striped marlin.
In the line class capture sections, a wide variety of species were brought to the weigh station, including Spanish mackerel, dolphinfish, wahoo, yellowfin tuna, barracuda, queenfish, golden trevally, cobia, rainbow runner and more. In its 50 year history, GAMEX has been responsible for more state, national and world records than any other Australian fishing tournament, and that tradition continued in 2018.
Junior angler, Jesse Sutton had a tournament to remember logging claims for five Australian Junior records and one Female Australian record. Jesse also released a greater hammerhead estimated at 100 kg on 3 kg line.
Overall winners were Small Fry Harvey Mitchell on Swamp Donkey with captures on 5 different line classes, Junior Jesse Sutton on Got Im Onwith captures on 11 different line classes across 5 species, Female Anna Passmore on Pullin Skirt with captures on 7 different line classes across 4 species and Male Kade Ross on Pussee Galore with captures on 11 different line classes across 11 species. Champion Boat Overall went to Seatrix ahead of In Deep.
Dates for GAMEX 2019 are March 22 to 30. For further details, click HERE.