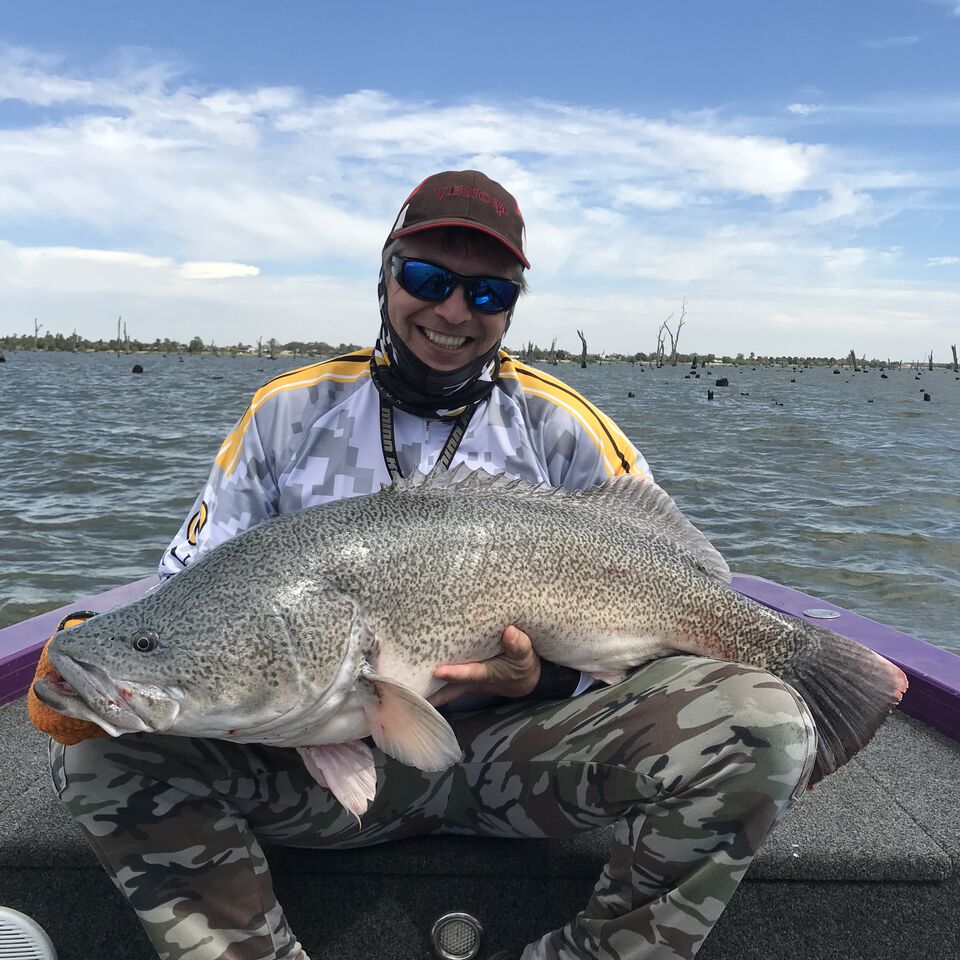 THE 2018 Lake Mulwala Cod Nationals were held from March 15-18 and this event is regarded as the pinnacle of Murray cod lure fishing events in the country.
This year saw a host of guest anglers attend and the team numbers bolstered up to 33. It really was the crème de la crème of Mulwala cod fishers with past winners, big fish magnets and long-time fishers all coming together to compete.
The best part of this tournament is it is treated as more of a get together for likeminded anglers. Sure, every team is out to do well, but after hours the tournament makes a point of keeping everything in perspective and ensures the social side of fishing is well looked after.
Each night has a different theme with bonfire and pizza night, triathalon night and yabby racing night making the nightly activities a reason to compete in themselves. All meals are provided and this takes the pressure off the teams and allows them to concentrate on the fishing itself.
Day 1 – Any Lure Day
The first day was sponsored by Zerek Lures and that meant that any fish caught on a Zerek lure received bonus points. This meant plenty of Zerek lures were thrown around with plenty of interest shown in the lures.
The fishing was typical of Mulwala with short bite windows or frantic action followed by lulls of a couple of hours whee only the odd cod was caught. The day was dominated by small fish but Wilson Fishing's Stephen Booth, fishing in Team Zerek, hooked into a great fish at around 1.30 pm. The fish battled hard and eventually came in at 102.2 cm on the official measure tube.
But leading the pack was to be a very short lived experience for Stephen as only 20 minutes later, Luke Quarrell hooked into his own dream and landed a 102.9 cm fish, taking the daily big fish prize.
The leaders after day one were Phil Keetelaar and Richard Cambridge who amassed an impressive 12 team points.
The individual leader after Day 1 was Ian Rogers with 1,731 points.
Day 2 – Spinnerbait Day
Day two was co-sponsored by Bassman Spinnerbaits and Edge Lures and the entire field had to fish spinnerbaits for their fish to count.
This day was highlighted by Cod Nationals newcomers Team Humminbird, especially Bryn Matthews.
Bryn managed to catch a brilliant Mulwala Murray cod of 103.1cm on a Bassman spinnerbait giving the team an awesome push up the charts into second place overall. The team chose to use their 1.5x multiplier, won the big fish of the day bonus point and finished up with a first place for the day, giving them 19.77 points for the day.
The leaders after Day 2 were Team Wilson (Ian Rogers and Matt Rogers), who also had a brilliant day using Bassman Spinnerbaits to accumulate 16.38 points with their 1.5x multiplier and their bonus points for using sponsors products.
Day 3 – Hard Bodied Lure Day
Day three saw teams restricted to using hard bodied lures with the sponsor of the day being Gidgee Lures.
Team Wilson chose to use Gidgee Fatty Juniors for most of the day and again patterned the fish in the weedy shallows. Their method was solid again with the team adding another 11.41 points to their tally, giving them an unassailable lead with a total score of 36.79 points – over 15 points ahead of the nearest team.
The big fish for Day Three was taken by Mick Beale at 104.4cm. This fish was taken on a Jackall Dows Swimmer in very shallow water and was a fish the team had located in the prefish and left alone. This fish showed the importance of prefishing sensibly and not disturbing fish just prior to the tournament and taking the risk of the fish sulking.
Day 4 – Any Lure Dash 4 Cash Day
With a forecast 40 knots of wind, the Dash 4 Cash Day was moved to Bundalong and competitors were restricted to the river areas to avoid the lake and the problems the wind was creating.
This day belonged to Team Venom with Anthony Pavlou and Michael Haley bringing in two legal fish to the weighmaster at the ramp and securing the win for the day. This earned them 10 points and shot them into 9th place overall at the end of the competition.
Dash 4 Cash day was a very tough tournament day with many of the competitors not even turning a scale, so for Team Venom to land two fish was a fantastic effort in the short, 4 hour session.
The Wash Up
Although it seemed a foregone conclusion by the end of Day Three, the competitors were excited to see Team Wilson crowned as Overall Champion Team. The team landed 11 legal fish over the competition, easily the most by any team with only 82 legal fish landed in total for the entire tournament.
This win was made even more special with Ian Rogers taking out Champion Angler with 2,514.2 points and Matt Rogers coming in Runner-Up Champion Angler with 2,278.7 points.
For the competition there were 408 Murray cod landed by the 66 competitors. Within this were four metre-plus Murray cod landed, a first for the competition to see this many truly big fish caught. This shows just how good the anglers are getting at fishing Lake Mulwala and how many larger fish above the 75cm maximum size are in the lake. It's exciting for the future of Lake Mulwala and the event.
Next year's Lake Mulwala Cod Nationals will be held on March 14-17.
2019 will see team numbers limited to 40 with priority given to existing teams. I'm going to tip that they'll have teams waiting for a drop out, so get in touch with the crew at Lake Mulwala Fish, Camp & Ski in Mulwala to secure your spot for next year.
Total Team Points
Pos Competitors Day 1 Day 2 Day 3 Day 4 Total Pts
1 Ian Rogers/Matt Rogers 9 16.38 11.41 0 36.79
2 Kris Hickson/Bryn Mathew 0 19.77 2 0 21.77
3 Derek Blow/Kade Blow 0 9.44 7 3 19.44
4 Craig Leehane/Luke Quarrell 11.75 0.48 0 5 17.23
5 Thomas Pinter/Mick Beale 7.49 0 9.73 0 17.22
6 Chas Bunting/Sunny Martins 5 0 9.47 0 14.47
7 Corey Goldy/Ben Faro 0 8.44 3 1 12.44
8 Phil Keetelaar/Richard Cambridge 12 0 0 0 12
9 Anthony Pavlou/Michael Haley 0 0.48 0.47 10.92 11.87
10 Michael Massier/Matthew Pejkovic 0 5.48 2.205 4 11.685
Individual Points
Pos Name Day 1Pts Day 2 Pts Day 3 Pts Day 4 Pts Total Pts
1 Ian Rogers 1731 412 326.2 45 2,514.2
2 Matt Rogers 50.2 1331 897.5 0 2,278.7
3 Bryn Mathew 50.2 1779 46.7 51 1,926.9
4 Mick Beale 675 0 1044 0 1,719
5 Anthony Pavlou 439 440.5 287.5 293.5 1,460.5
6 Mick Massier 89.9 759.7 496.8 96.6 1,443
7 Luke Quarrell 1029 276.5 50.3 42.9 1,398.7
8 Derek Blow 52.1 376.5 877.3 88.8 1,394.7
9 Ben Faro 52.2 802.2 454 46.2 1,354.6
10 Chas Bunting 712.8 0 478.9 92.9 1,284.6