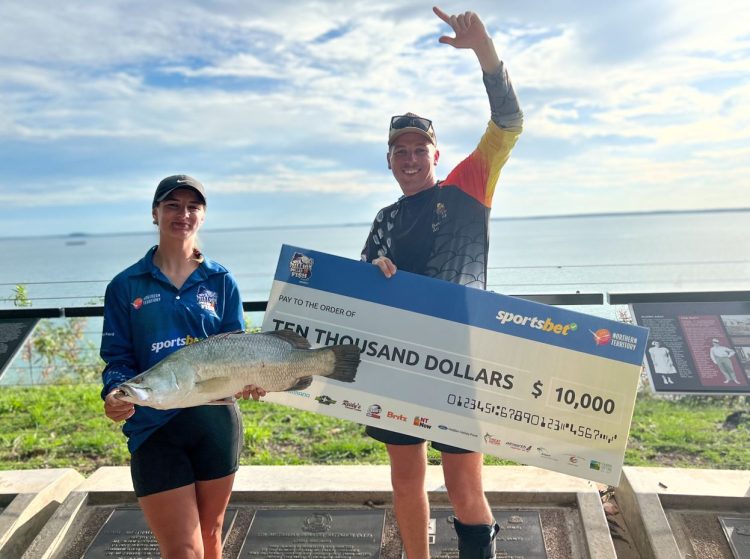 AUSTRALIA'S richest fishing competition is living up to its name, with a record-breaking start to Season 8 of Northern Territory's Million Dollar Fish.
Within one month of the competition launching, $90,000 worth of prize money has already been won by eight lucky anglers, including an interstate fisho, and $9,000 donated to charity.
The most recent winner is Victorian fisho Ranae Eels, who bagged a $10,000 barra on 19 October in Darwin's stunning Bynoe Harbour. The Ballarat resident was celebrating her last day in the Top End on a fishing charter with Barramundi Adventures before heading home.
"I can't believe I caught a red-tagged barra on my last day in Darwin. We've been travelling around Australia and are returning home for Christmas, but we'll be back in the Territory next year to try and catch another tagged fish," Ranae said.
Darwin resident Komang Budiana landed the seventh $10,000 fish on the same day, catching his winning barra land-based fishing at Stokes Hill Wharf tourism precinct in the CBD.
Two fish have been caught at iconic fishing spot Daly River Crossing, plus another one in Bynoe Harbour. The remaining fish have been caught at easily accessible fishing spots within an hour or two of Darwin, including Manton Dam, Hardies Lagoon and Bridge Lagoon.
The unique initiative is delivered by Northern Territory Major Events Company (NTMEC) on behalf of the Northern Territory Government.
NTMEC head of events and pperations Coryn Huddy said Season 8 is the best yet.
"Eight fish caught already, including one worth double the dough, which landed the lucky angler $20,000! These are amazing results for Australia's richest fishing competition, and a great reason to head to the Top End to throw in a line. We've got pristine waterways, worldclass fishing and millions of dollars up for grabs, so book your trip now," said Huddy.
Million Dollar Fish Season 8 runs until 31 March 2023. There are still 92 x $10,000 barramundi swimming around Northern Territory's Top End waterways, in addition to nine fish worth a million dollars.
Each time a Season 8 $10,000 barra is caught, an additional $1,000 is given to an official Million Dollar Fish charity of the angler's choice. A total of $9,000 has been donated so far.
To reel in a prize-tagged barra or win fantastic prizes as part of the monthly Lucky Prize Pool, anglers must be registered for Season 8.
Register for free at www.milliondollarfish.com.au.