SCHOOLS of southern bluefin tuna have made their presence felt off Sydney's coast in recent days, resulting in many of the city's trailer boat fishos and charter operators chasing the action while it lasts.
One Sydney charter operator, Damien Carr of Reef Magic Reef Charters, has had some very happy clients on board his 43ft O'Brien of late.
Reef Magic runs charters out of Sydney most of the year and runs out of Port Stephens during the marlin season. Carr this week sent Fisho a report outlining some of the recent tuna action they've experienced off Sydney:
Our first day out saw the conditions improve as the morning progressed and with a crew of five on board eager for their first bluefin we set a course towards the area which looked best on the SST's and current charts. Within a mile of our mark we were pack attacked by bluefin and managed a four-way hookup on solid fish. The Scentblazer teaser was absolutely getting smashed by fish and as I was trying to pull it in they were ripping it back out of my hands. After an hour or so and losing one fish we boated the other three which ranged from 57-70kg.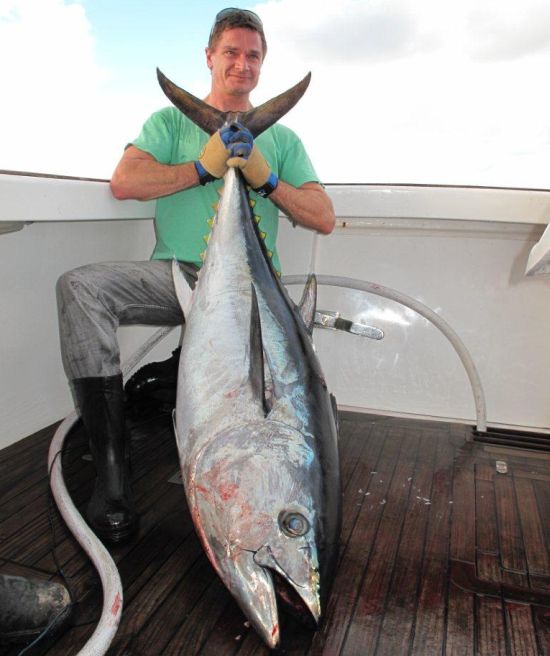 After a week of bad weather we managed to get out again on Saturday and the charts still showed the area we were in last week was the area to be. The conditions weren't great with rain squalls and 15 knot south westerly winds keeping temperatures down but we persisted in the area and eventually we had two rods go off and the fun began … with one of the fish on a Stella we knew we were in for a fight. After two hours we had both fish on board between 65-70kg.
We had just got the lures back in the water again and the rod with the Stella on it went off, and this was a big fish – after two and a half hours and at 6.30 at night we finally got the fish to the surface. As it came into our floodlight range we soon realised we were in trouble with a great white shark following right behind it. I was trying to scare the shark by hitting the water with the gaff and I grabbed the leader and quickly got the gaff into the fish and dragged it towards the transom door as the boys on board opened the door I pulled the fish aboard – this is when I had my "Jaws" moment imagining the shark coming aboard through the back door. This fish was a cracker and would have pushed the 100kg mark.
Sunday we were back out and again the same area produced fish and the water temperature was still sitting around 18.5 degrees, as we approached our mark we had a double hookup while trolling and unfortunately got bitten off on one rod by a fish trying to eat the snap swivel. We concentrated into catching the other fish and heard other boats also getting multiple hookups, we finally got colour after 50 minutes and boated a nice 65kg model – our first on a Scentblazer lure.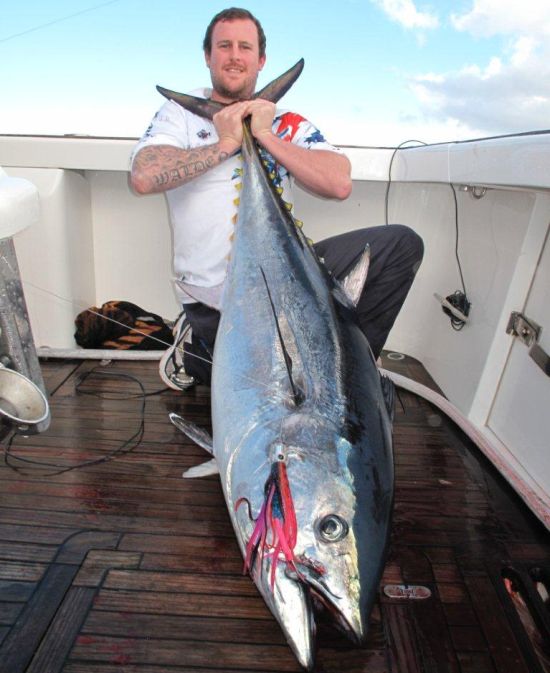 We were out again yesterday and the the bite continued with us catching multiple fish on lures, poppers, jigs and stickbaits. Clients kept five fish and we released others – we could have caught fish all day…
Another big shark, this time a mako turned up today and was happy to eat a frozen striped tuna that we fed him and happily swam off and left us alone.
Good luck to all those venturing out!
Damien Carr, Reef Magic Charters (0407113349).