ANOTHER great day was had by anglers at the Sofala Carp Blitz 2012.
The age of the anglers at the event ranged from three to 78 years, with all kids winners on the day with each receiving a variety of prizes. The aim of the day was to involve families in the fantastic pastime of fishing which to date we have been very successful in achieving.
The benchmark was set by the Bathurst carp event which was held two weeks prior to the Sofala Carp Blitz. Bathurst's event attracted 550 registered anglers and resulted in around 500kg of carp removed from the Macquarie River with the largest fish going 6.05kg. Rod Evans took the title of biggest fish.
Sofala's anglers removed around 250kg of carp and did not quite reach the size that won the Bathurst event. Sofala's largest carp of 5.86kg was weighed in by Ryan Donaldson.
The champion ladies' section was won by Christy Healy with a carp registering 4.74 kilos. Richard Benson took out the biggest bag with a haul of 14 carp.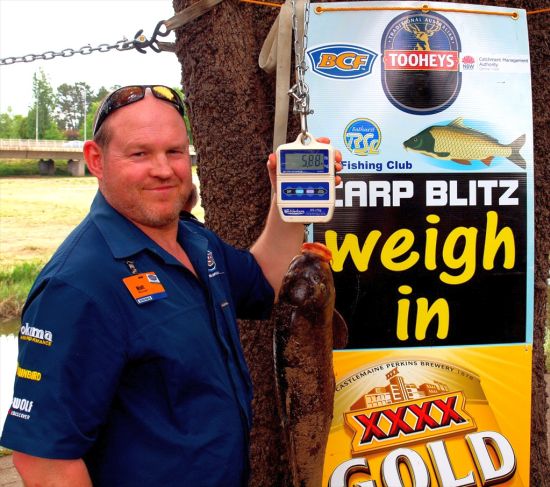 Matt Lawson , manager of BCF at Bathurst with the largest fish weighed in at Bathurst , pipping the largest fish at Sofala by 20 grams.
Four year old William Moorhead caught three carp to win the 5-year-old category and Ruby Crowe weighed in five carp to win the six-year-olds' category. Lily Crowe also caught five carp to take out the prize for nine-year-old girls. Jacob Gittany's 4.54kg carp won the prize for nine-year-old boys.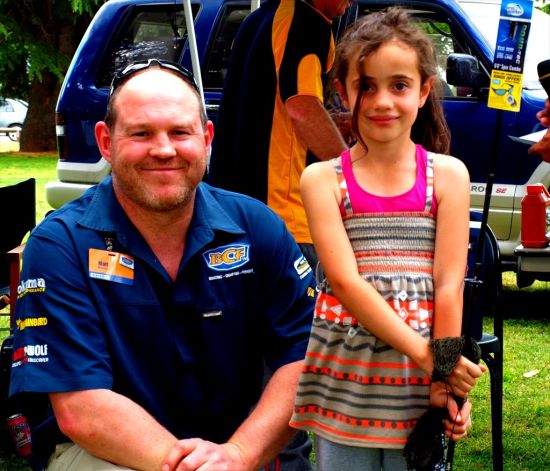 Matt Lawson with junior girls' winner Isabella Mc Bride.
In the 10-year-old category, Hannah Smith's 2.12kg fish was the girl's winner and Harry Healy's haul of four carp gave him the boy's prize. Jack Healy won the boys' 11-year-old category and Keira Roach took the honours in the 13-year-old girls'.
In the 15 year old category Caitlin Roach's 2.96kg carp took out the girl's prize and Mitchell Chifley's biggest fish of 4.7kg, the boy's prize. Fifteen year old Dean Fitzsimmons won the biggest bag for juniors with a total weight of 12.77kg.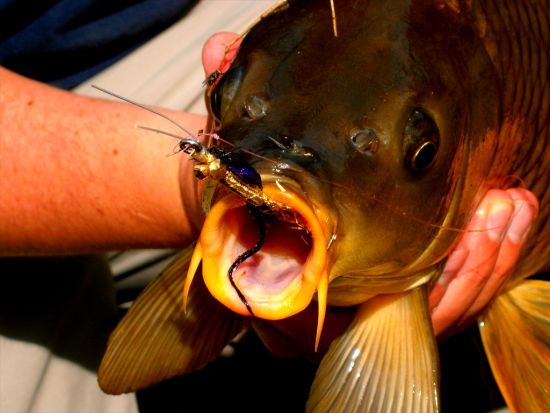 Fly-caught carp.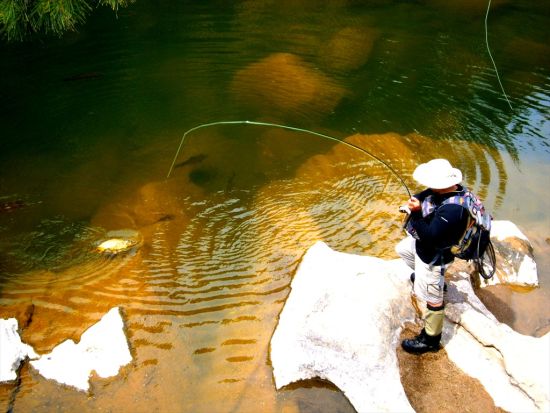 Matt Hansen caught three carp to win the fly fishing category and Brendan Cole took out the secret weight of 2.67 kilos with one of his fish weighing 2.66kg.
Top bait for carp on the day was fresh Hawkesbury River prawns which have also have produced great results in previous years.
Sofala holds the largest fish recorded to date with a fish at last year's event weighing in at 9.16kg.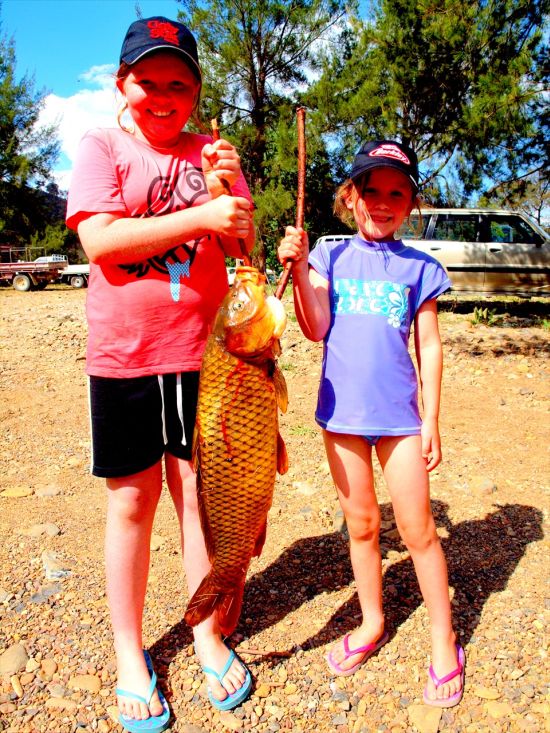 Lilly and Ruby Crowe were winners at Sofala with five fish each.
Around $1500 was raised on the day which will equate to $3000 worth of native fish for local waterways thanks to the NSW DPI Fisheries dollar for dollar scheme.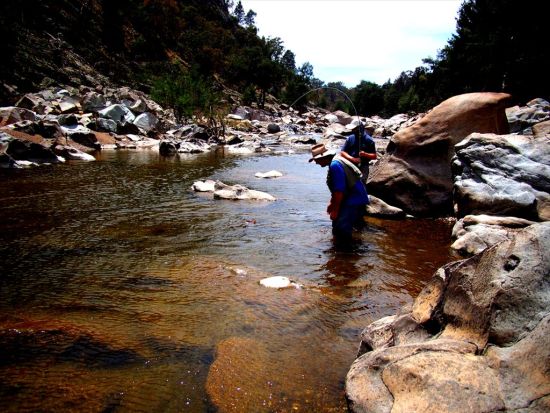 Eddie Savovic brings another carp in on fly.
The organisers once again thank Pure Fishing for providing a truckload of Berkley, Shakespeare & Abu Garcia rod-reel combos for the winning anglers and BCF for supplying hundreds of dollars of gift cards for prizes and their overall support for many worthwhile events such as this. Fishing World also supplied magazines for all junior anglers and these along with the bags of mixed lollies were eagerly sought. Fisho also supplied a 12 month subscription for one very keen young angler, John Bartyzal.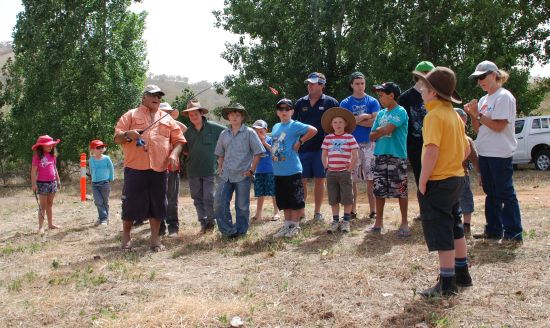 Expert Fly Caster instructor Eddie Savovic presents John Bartyzal with his 12 month Fisho subscription.

Big thanks also to: Warren & Sue Hill from Tanwarra Lodge supplied an accommodation package. Clayton Miller from the Catchment Management Authority attended and donated gift vouchers and support for catering, Essential Energy supplied prizes. Bathurst Portables supplied toilets, Westco Confectionery supplied lollies for the kids , David Thompson Plant Hire at Hill End, Wayne Crowe for Catering, Tom & Betty Williams representing Fish Care volunteers, Kerry & Vicky Simmons; Wayne & Leonie Crowe donated bottles of wines and glasses; Rod Harrison, Dave Rutar & Eddie Savovic for teaching fly fishing. The Inland Waterways Rejuvenation Association donated an Engel fridge-freeze. Dot Smith donated watercolour paintings, Ashley Miller donated a load of firewood and Col Gordon donated a gold nugget. Inland Waterways Rejuvenation Association supplied us with an Engel Fridge Freezer as top prize in our raffle.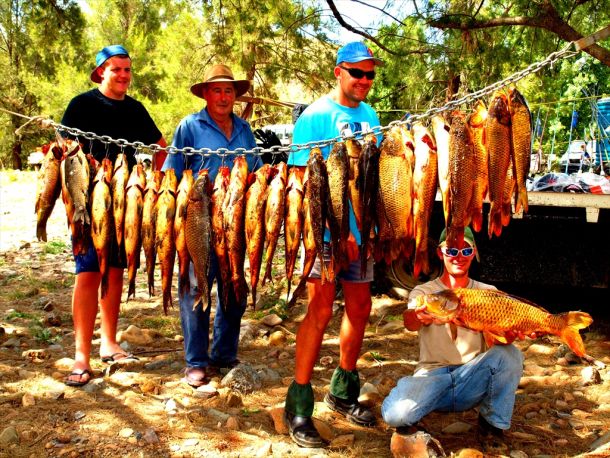 Ryan Donaldson standing on right weighed in the biggest fish at Sofala this year being 5.86 kg.