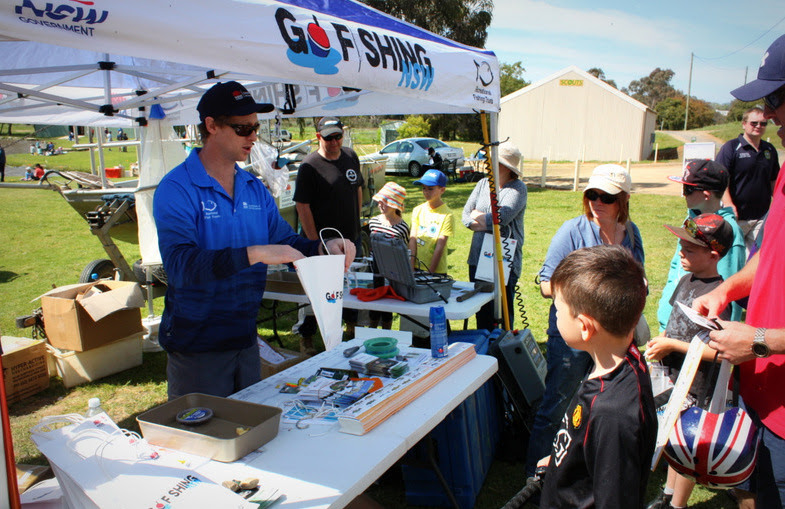 RECREATIONAL fishers are being encouraged to wet a line with family and friends on Sunday 15 October, which is national Gone Fishing Day.
Best of all, a recreational fishing licence will not be required on the day, anywhere in Victoria (check regulations for other states).
Victorian Fisheries Authority CEO Travis Dowling said newcomers to fishing could try the pastime at more than a dozen free events being hosted by angling clubs, schools, agencies and Landcare groups.
"Gone Fishing Day complements the State Government's Target One Million plan for recreational fishing, which aims to get more people fishing, more often and increase participation to one million anglers by 2020," Mr Dowling said.
"Angling icon Rex Hunt will be at Mordialloc Pier with Fisheries staff on the day for the fourth VicFishKids event. There will be rods and reels for people to use, plenty of bait and expert tuition available. Everyone's welcome no matter what their age or fishing experience."
"Rex will be joined by Aaron Habgood, co-host of the Reel Adventures radio show, and Sam Goodwin who was a Masterchef finalist earlier this year.
"Aaron will demonstrate how to fillet and prepare fish whilst Sam will assemble a simple dish that everyone can try at home, during two cooking sessions at 11am and 1pm.
Mr Dowling said Gone Fishing Day was a chance to escape day to day tasks, get in touch with nature and spend time with the people that matter.
"Once again, the Futurefish Foundation will host 'Mates Day on the Bay', which helps disadvantaged people get out on Port Phillip Bay in privately owned boats to experience the thrills of fishing."
Learn more about the day and what's on Sunday 15 October at www.vfa.vic.gov.au/gonefishingday
(A full list of Gone Fishing Day events follows)
Location

Time

Host

Mordialloc Pier

10am-2pm

Victorian Fisheries Authority

Karkarook Lake, Moorabin

10am-2pm

Oakdale Angling Club & Fish Protection Society

Portarlington Pier

11am-2pm

Drysdale Sportsfishing Club

Mornington Pier

11.30am-4pm

Victorian Women's Recreational Anglers Association.

Ess Lagoon, Casterton

8am-3pm

Casterton Angling Society

Victoria Park Lake, Shepparton

11am-3pm

Goulburn Broken CMA and partners

Campaspe River, Kyneton

12-4pm

Kyneton Angling Club

Campaspe River Reserve, near Rochester water tower

12-4pm

Rochester Angling Club

Campapse River, Burnewang

12-4pm

North Central CMA

Campaspe River, Axedale

12-3pm

Longlea & District Landcare Group.

Campaspe River, Echuca

12-4pm

Echuca Moama Landcare Group.

Campaspe River, Strathallan

12-3pm

Stathallan Family Landcare Group.

Carp-a-thon Family Day

9am-2pm

St Paul's Anglican Grammar School




46 Cross's Road, Traralgon.

Moyne River, Port Fairy

9.30am-1pm

Port Fairy Angling Club




5 Gipps St, Port Fairy.

Goulburn Murray Water channel, McEwen, between Everard and Brose Rd

9am-1pm

Kyabram Anglers Club.

Foletti Park Lake

10am-1pm

Donald Angling Club.

St. Helen's Boat Ramp Foreshore

10am-2pm

Fishcare Geelong and Bellarine.

Marine & Freshwater Discovery Centre 'Get Hooked – family fishing trips'

12.30pm & 2.30pm

Victorian Fisheries Authority




$10 per person. Limited places. Bookings essential. 03 5258 3344. Suitable for 8 years & over.

Marine & Freshwater Discovery Centre Open Day, Queenscliff

10am-1pm

Victorian Fisheries Authority




2A Bellarine Hwy, Queenscliff.

Patterson River Boat Complex Ramps 1 and 2.

10am-2pm

Futurefish Foundation will host the 18th annual 'Mates Day on the Bay' event where people with disabilities go boat fishing on Port Phillip.