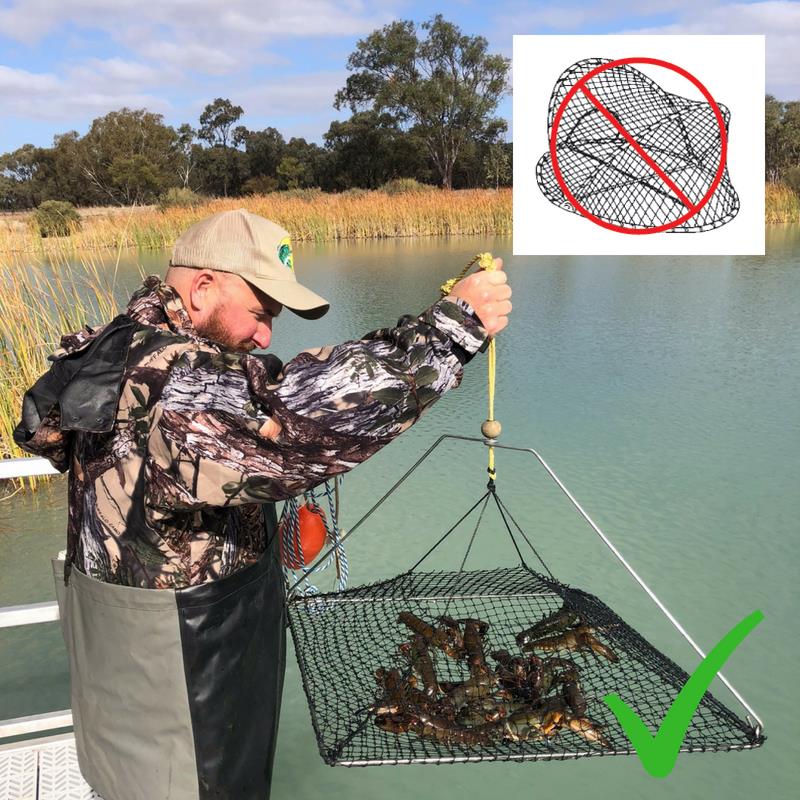 FOLLOWING last week's report that major retailers will soon stop selling opera house yabby nets, Victorian Fisheries Authority (VFA) recently announced plans to change the types of yabby nets that can be used by recreational anglers (Stage 1). The changes, to be introduced from 1 July 2019, will simplify yabby fishing rules and ban the use of opera house nets in all Victorian waters.
Up until now, many fishers who purchased opera house nets to target yabbies were unaware they couldn't be used in public waters. The use of opera house nets has been implicated in the drowning of air breathing wildlife such as water rats, platypus and turtles. Research by the VFA has shown alternative 'wildlife friendly' yabby nets such as open top lift nets are just as effective at catching yabbies as opera house nets when fished actively.
Stage 2 will involve a one-for-one exchange program enabling fishers to trade in their old opera house nets for free 'wildlife friendly' open top lift nets, which can be used in both public and private Victorian waters. Under the exchange program, the VFA will make new, open top lift nets available from participating tackle stores, at major fishing events, and from our regional Fisheries Officers during their routine patrols. More details of the exchange program will be announced in Spring 2018.
Leading up to the commencement of these changes on 1 July 2019, the VFA will work with the fishing tackle sector, anglers and environmental groups on an awareness campaign around 'wildlife friendly' yabby nets.
For more information click HERE.