IN disturbing news relating to the proposed construction of a pipeline from the Macquarie River to the township of Orange in NSW that threatens stocks of Murray cod and other iconic native fish, it has been revealed the Orange City Council (OCC) appears to have ignored stakeholder concerns and due consultation process by advertising for tenderers for the project.
This development has understandably raised the ire of the the Orange and Region Waster Security Alliance – an amalgamation of organisations opposed to the pipeline proposal. A statement released by the Alliance says it is "totally dismayed" that Orange City Council has called for "suitably qualified contractors for early Tenderer involvement and supply and construction of 37km of DN375 pipeline, 3 pump stations and associated infrastructure."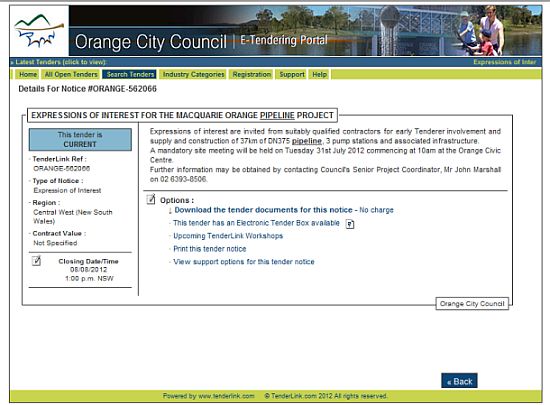 The Orange City Council's ad for tenderers for the Macquarie River Pipeline project.
Ken Smith of the Friends of the Macquarie River (an Alliance member group) expressed his total frustration at Council's arrogance. "OCC don't want to wait for the Environmental Assessment process to be completed and the public to have a say on the pipeline before calling for tenders. Orange residents are again asked to foot the cost of calling for tenders when the project hasn't been approved."
Furthermore Mr Smith said "Council is requiring possible tenderers to inspect the pipeline route but this would involve trespass on pipeline landholder's properties as many of these landholders have not granted access permission. Again this shows the arrogance of Orange City Council by barging onto peoples' property."
The Alliance water spokesperson, Paul Wettin, is also dismayed at this very pre-emptive action. "Why is Council in such a rush? Orange is swimming in water and there is no urgent need for additional water supply as there is currently enough to last 4-5 years".
But Mr Wettin was more concerned that both the State and Federal Government may also have endorsed this action by Council despite the need for the project to satisfy a wide range of legislative approval requirements which are to be addressed in the Environmental Assessment.
"The project is being overseen by a State and Federal Government Steering Committee which has senior government agency representatives. Presumably the Steering Committee has endorsed this action by Council and if so it calls into serious question the independence of these agencies in the Environmental Assessment process. Have the 2 Government's already given their tacit approval? After all they have expended millions of taxpayer's money on the studies for the Environmental Assessment" Mr Wettin said.
"The Alliance will be writing to the relevant State and Federal Ministers seeking their assurances that the project will be assessed on its true merits and with full independence. We are watching this whole process very carefully" Mr Wettin said.