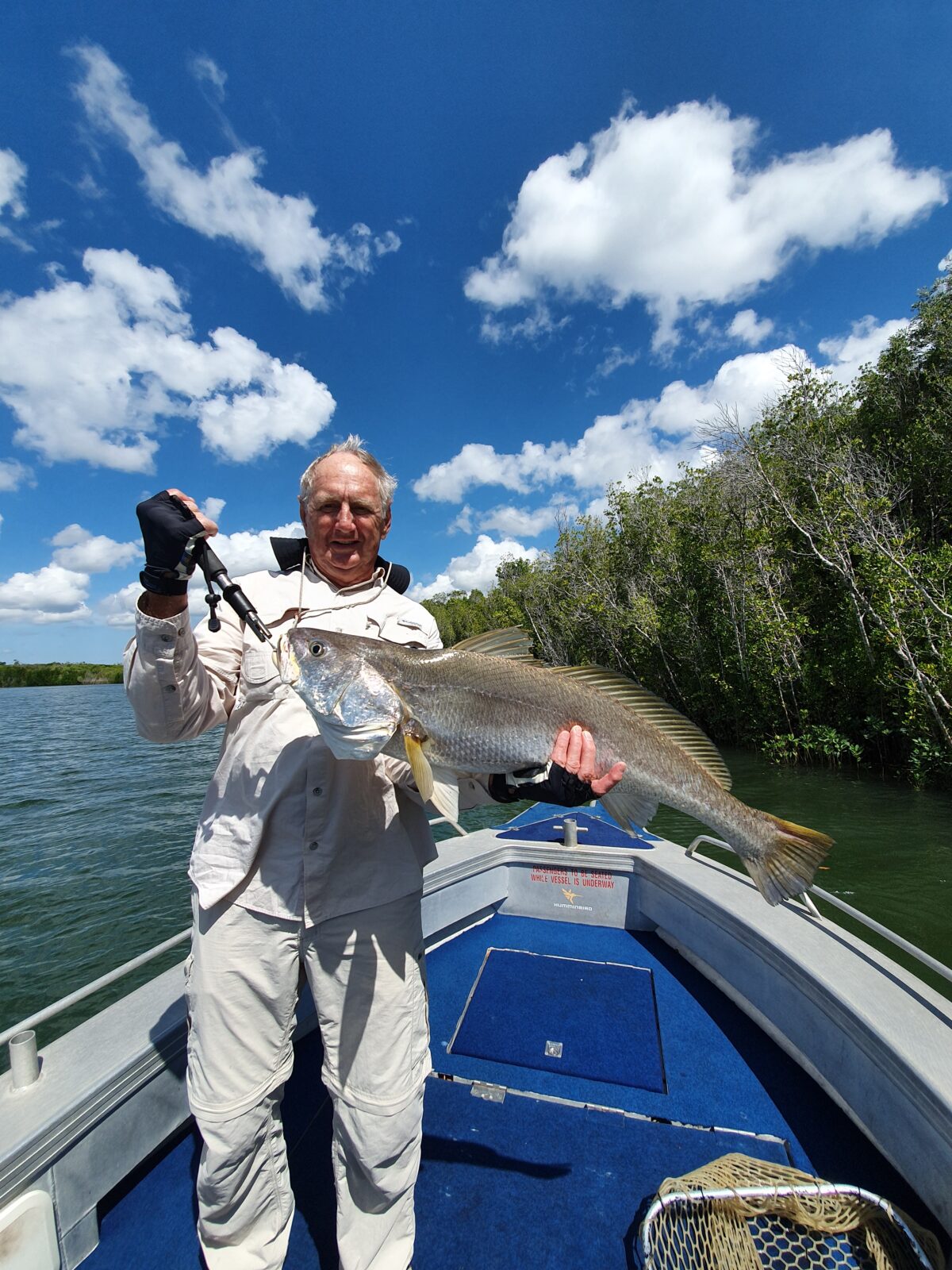 SITTING round after dinner with a few fellow fishos at Melville Island Lodge last week the discussion moved from the relative merits of the NRL over the ARL to the range of fish we'd caught over the previous days while chasing barra. If you've not fished the NT for barra you might be surprised at what can turn up on your hard body or soft plastic lure when you're fishing the snags, drains or flats. Some days you'll boat more mangrove jacks than barra, and on this trip our catch of these two species was about even, with plenty of jacks to 48cm.
Variety up there is broad. Here's a list of species beyond barra encountered on a typical trip…. by my count 18. They're in rough order of desirability as by-catch: threadfin salmon, mangrove jacks, black jewfish, queenfish, GTs, golden snapper, blue salmon, tarpon, giant herring, spotted javelin fish, Queensland groper, bar-tailed flathead, pikey bream, longtom, gold spot cod, black spot cod, barracuda, salmon catfish. You obviously don't get this suite of species every day, but over a week with a couple of mates they'll each show up for someone in the party. The jacks top out at about 48cm and the goldies at about 42, after which they move offshore for the rest of their respective lives and grow a lot bigger. The jewies are inevitably outsize, and you lose a majority around the snags. Ditto for the Queensland groper and the bigger cod…. potential rod breakers in the timber, from bitter experience. The threadies can be over a metre and are considered by most as better eating than barra. The queenies can be quite massive, as there's a theory that the big old fish live out their lives in creeks rather than the open ocean to avoid predators. The GTs are generally small, but a big one turns up every now and then.
After agreeing that this variety only added to the barra fishing experience, I made the assertive statement that the by-catch range caught when fishing for luderick with weed or sea cabbage baits was at least as big. I was howled down when I claimed at least 20 species were on the list, and sadly the old memory stopped me at about 15 as I copped "you're kidding, on dirty old weed" comments from some of the AFL supporters. I explained that there was as much variety around the Sydney rocks, wharves, and coastal lagoons on luderick tackle as there is up north when throwing lures. When I got home, I dredged the memory and here's the list of 27 by-catch species I've seen over the years taken on luderick gear.
Rock blackfish, yellowfin bream, silver drummer, sawtail surgeon, spotted sawtail, tarwhine, silver trevally, black spinefoot, dusky flathead, sea mullet, Australian salmon, tailor, chinamen leatherjackets, yellow-finned leatherjackets, zebra fish/rock blackfish hybrids, silver sweep, white ear, girdled parma, diamond fish, yellowtail, rock cale, herring cale, sergeant major, kingies, bluefish, frigate mackerel. I've landed 24 of these on luderick gear, hooked and lost more than a few kingies, and seen taken but not caught bluefish and frigates.
Some of these are highly desirable (rock blackfish, yellowfin bream), some just pests (black spinefoot, diamond fish, rock cale) and some are highly entertaining on light tackle (the sawtails and the pelagics). But they all do their bit to provide variety and enjoyment when targeting the key species of choice.