RESULTS from a recent survey revealing 70 per cent approval for the federal Government's marine parks plans have been called into question following revelations the polling company had close links with anti-fishing groups, including the US-based Pew organisation.
The poll was conducted by Essential Research on June 25 and has been used by NSW Greens MP Cate Faehrmann to push for more marine parks in that state. The results of the poll have also been used in mainstream media reports, including the article HERE that appeared in the West Australian on July 11.
Since the poll's release, it has been revealed that Essential Research has links with various anti-fishing groups via what appears to be its sister company, Essential Media Communications (EMC).
The EMC website, http://www.essentialmedia.com.au, has a button linking to the Essential Research web page on its primary navigation bar.
Recreational fishing activists questioned the veracity of the poll after a search on the federal Government's lobbyist register on June 12 revealed that The Wilderness Society and the Pew Environment Trust were listed as EMC's top two clients.
The Wilderness Society and Pew are driving forces behind campaigns to ban recreational fishing in the Coral Sea and the south-west of WA.
Along with various other organisations, Pew is involved with the WA-based Save Our Marine Life (SOML) alliance. According to its website, EMC works with SOML as a lobbyist "to build public awareness and lobby the Federal Government to significantly increase protection (in WA's south-west region)".
Western Angler editor Scott Coghlan contacted EMC staffer Paul Sheridan on July 12 in order to obtain more information about the poll results and clarify EMC's links with Pew and other anti-fishing groups.
In an email to Coghlan, Sheridan said "Essential Research and Essential Media Communications (EMC) are separate businesses and Essential Research was not commissioned by the Pew Environment Group or any other organisation to run (the question about marine parks)."
Sheridan also stated the Pew was no longer a client of EMC, despite being listed as such on a government website.
A former journalist and media advisor to NSW Greens MP Ian Cohen, Sheridan works as an associate director with EMC and was quoted in media reports discussing the Essential Research poll results.
Fisho has contacted Sheridan to clarify his position with Essential Research/EMC. At the time of publication we received no response but will detail any comments or statements if and when we receive them.
On June 13 references to Pew and The Wilderness Society were removed from EMC's listing on the Government's lobbyist register. The listings were removed less than 24 hours after Coghlan's initial inquiry about EMC/Essential Research's links with the anti-fishing groups.
Australian Recreational Fishing Federation spokesman Allan Hansard today said it was important that companies conducting polls on topical subjects such as marine parks fully disclose any links they may have with anti-fishing organisations.
"Not disclosing any possible links with groups pushing a particular bandwagon or with politicians wishing to use information to further their own ends tends to mean that polls like this one conducted by Essential Research can be seen as being a bit dodgy," Hansard said.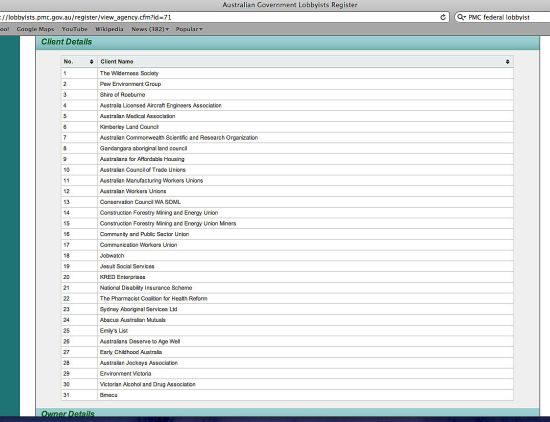 This screen shot of the federal Government's lobbyist listing shows The Wilderness Society and Pew Environment Trust as being No 1 and 2 on EMC's list of clients. The next day references to these organisations were removed.