GETTING out of bed early on a cold July morning can be tough. I made the effort last Saturday to meet good mate and Fisho writer Sami Omari for a hastily organised assault on Botany Bay. Sami and I had first fished the Bay together several years back, although muggy summer mornings and popper fishing for kingfish were on the agenda back then – quite a departure from the crisp pre-dawn temperatures of late.
On Saturday we didn't have much of a game plan, which isn't unusual when Sami and I fish together. Neither of us had fished the place for quite a while, moreso Sami who hadn't been near the place for a good few years as he'd bought a new boat and as he lived closer to Sydney Harbour tended to fish there. More to the point though Sami was still very disgruntled about the expansion of the Port Botany container port in recent years which has turned some of his favourite big silver trevally flats into concrete and towering metal. This trip was hopefully going to provide the first step in Sami's recovery…
On the drive to the ramp, I'd heard reports on ABC'S Big Fish program of jewfish being hooked and lost near the Captain Cook Bridge – near to our launch site at Sylvania – and some good trevally and bream at popular spots out on the Bay. When Sami heard the jew report he chuckled. We have a history of being unsuccessful when it comes to catching jewfish – except for once when we scored several "soapies" on a trip on the aforementioned Sydney Harbour – not that we've seriously gone out to solely target jewies. It's usually more of a loose "see what's around" approach. This usually means a half hearted attempt for jews with lures around tide changes. Typically as a result we haven't had much "luck".
Whatever happened this time around it was good to be just out on the water, even if it was just to witness an amazing winter sunrise, as we did upon motoring away from the ramp. There was no wind and the horizon's orange glow began to light up the glassy water mirroring yachts boats and the Captain's bridge.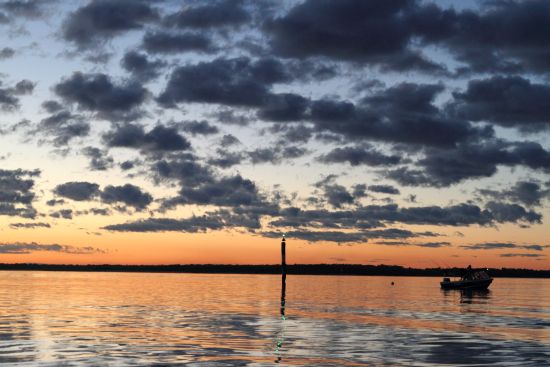 After getting Sami to steer the Webster around while I snapped a few hopeful pics of the sunrise we headed across the Bay while it was still calm. The westerly was forecast to reach around 15 knots which wouldn't cause too much unpleasantness apart from sending a chill across the water.
With no game plan we decided to fall back on previous proven methods and worked small soft plastics around some marks we had near to the airport runways. This proved a pleasant option as the sun warmed on the horizon and we had a few bites straight away. The fish were only small though, judging by the frustrating number of missed strikes we had straight up. We guessed they were small bream and snapper which tend to congregate in these areas at this time of year. We were hopeful though of encountering some of the silver trevally we have there in the past. We didn't, settling for a mix of bream, small pinky snapper and around legal sized flatties. Hardly anything to write home about (or a Fisho website report??).
By around 9am the westerly was up and sending a chilly wind our way. It also seemed to signal the end to any of the hard earned action we'd had. Ever hopeful of jagging a jew I foolishly suggested we fish the Captain Cook bridge around the 10am tide change. Sami gave me a look that suggested I was mad, but we went anyway…
Long story short, our lack of jewie success came as no surprise, Sami had a snooze on the deck for 20 minutes (he'd been working late and had little sleep), and my concerted casting effort near the bridge only attracted the attention of a Water Police boat whose friendly officers carried out a full safety check of the Webster.
All in all though, it was still good to back out on the Bay…