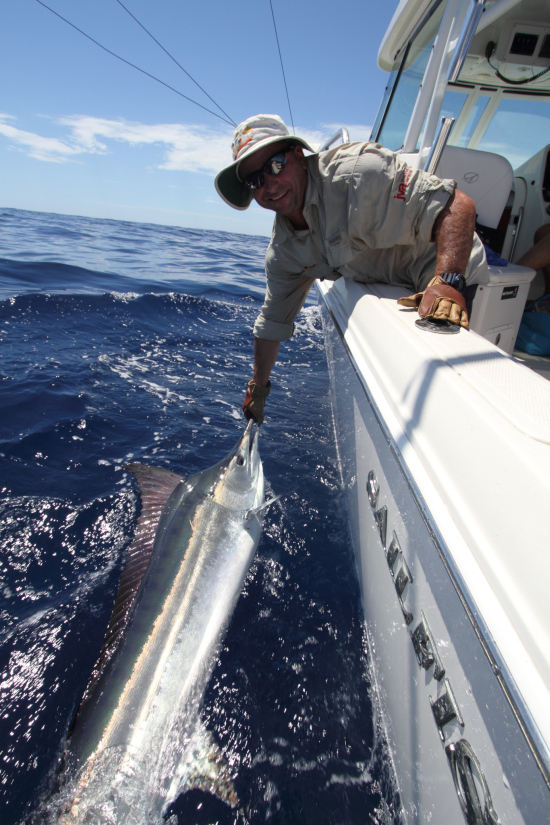 NEXT year will see the 50th anniversary of the Exmouth Game Fishing Club's (EGFC) GAMEX game and sport fishing tournament – Western Australia's premier game fishing event.
This six-day tournament held in the fish rich waters off Exmouth's Ningaloo Reef began as a small, local fishing competition in 1969; just 2 years after the township of Exmouth itself was formally proclaimed. In 1978 this tournament was officially named GAMEX and rapidly grew in popularity to become the most prestigious sport and game fishing tournament in Western Australia.
In its 50 year history, GAMEX has been responsible for more state, national and world records than any other Australian fishing tournament. This is a direct reflection on the truly world class sport and game fishing available in Exmouth waters, where over 35 gamefish species are regularly encountered and the fishing grounds lie within very close proximity to shore.
Exmouth Game Fishing Club President, Dennis Bryan-Smith said Exmouth was gearing up to celebrate the 50th running of GAMEX with its best event yet.
"GAMEX is a very popular and important fixture on the sporting calendar of the Ningaloo region, attracting participants from around the country and even overseas."
"The event's autumn timeslot is the best time of year for fishing off Exmouth, and the many fun and educational activities surrounding the event this year will make GAMEX 2018 one not to be missed!" Mr. Bryan-Smith said.
First time participants can now apply for the GAMEX incentive; an introductory initiative which offers new entrants valuable local guidance on how and where to fish, as well as discounted entry fees.
In addition to world class fishing, the week-long event incorporates social evenings, educational activities, scientific studies, product information and displays. There are kids fishing clinics, filleting demonstrations, along with opportunities to meet renowned captains and anglers.
GAMEX also provides an ideal opportunity for corporate promotion or showcasing, with strong media coverage across print, radio, television and social media outlets, and a variety of sponsorship and advertising opportunities available throughout the event.
"GAMEX is one of north-western WA's most popular and well renowned events" Mr. Bryan-Smith said.
"Aside from world class fishing, GAMEX visitors can also enjoy all the extraordinary experiences Exmouth and the Ningaloo have to offer."
Dates for GAMEX 2018 are March 16 – 24. For further details, visit: www.egfc.com.au.