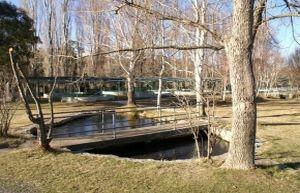 THE NSW Government is encouraging visitors travelling to the Snowy Mountains to add the Gaden Trout Hatchery to their holiday 'to do' list.
Minister for Primary Industries, Niall Blair said this is one of our State's premier breeding grounds for large trophy fish and also a great place to visit for those who enjoy mountain biking, trekking and camping in the summer and winter months.
"The hatchery produces 1.1 million trout annually, of those we stock around 75,000 rainbow trout finglerings, 10,000 brook trout and 10,000 Atlantic salmon finglerings fish into Lake Jindabyne each year," Mr Blair said.
"This year we will also be stocking an additional 10,000 slightly larger rainbow trout, which are expected to have a higher survival rate and improve fishing opportunities for locals and visitors."
Deputy Premier and Member for Monaro, John Barilaro said the hatchery plays a vital role in building fish habitats and contributes to the state's $3.4 billion recreational fishing industry.
"The Monaro region is well known for spectacular fishing all year round – I will continue to make sure we enhance our fishery capabilities here in the region to ensure it continues to be some of the state's best fishing for many generations to come," Mr Barilaro said.
"Over 5000 people visit Gaden each year and during the school holidays kids have the opportunity to feed some of the larger stock at the education centre and learn to sink a line further down the river."
The hatchery stocks are distributed in the Snowy Mountains, Southern Highlands and Central Tablelands rivers and dams.
DPI Fisheries extend their thanks to the Acclimatisation Societies and volunteer fishing groups who help to stock and provide advice on stream conditions.