World renowned manufacturer of fishing lures and accessories, Rapala, was presented with the International Game and Fish Association's (IGFA) 2009 Lifetime Achievement Award on April 10, 2010 at IGFA headquarters in Florida, USA.
Rapala lures are responsible for notching up the highest number of IGFA world records, laying claim to world record catches on every continent except Antarctica. Rapala is the first lure manufacturer to receive the Lifetime Achievement Award by the IGFA.
The Seventh Annual World Record Achievement Awards also recognise individual angling achievements in 2009, with awards presented to men, women, juniors and fly anglers for the most world records set this past year.
At the ceremony, Rapala also received the following awards:
• 1st place for lures: 29 new world records caught on Rapala lures in 2009.
• 2nd place for scales: 47 new world records weighed on Rapala scales in 2009.
• 3rd place for line: 10 new world records caught on Sufix Line in 2009.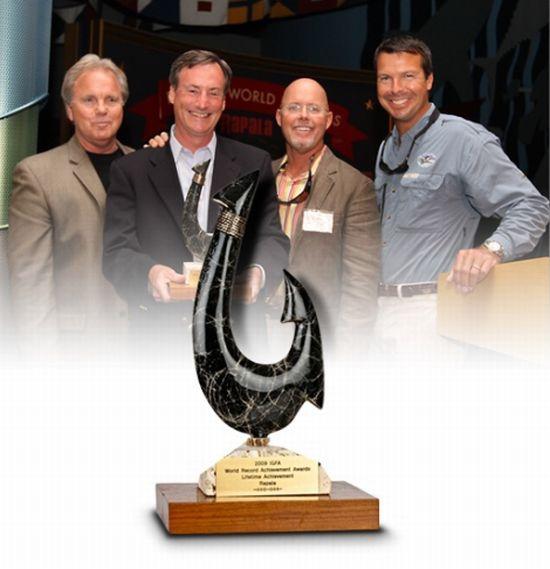 The IGFA Lifetime Achievement Award for Rapala presented to Tom Mackin, president of Rapala USA, was in the form of a granite circle hook sculpture custom-created by well known artist David Wirth.
"We are extremely honored to have received the IGFA 2009 Lifetime Achievement Award," said Mackin. "We are always excited when our lures land a record and it's a privilege to be recognized by the IGFA with this award."
For more information on Rapala Lures visit: www.rapalafishingnews.com