WITH just two weeks to go until the Orana Mutual Macquarie River Fishing Classic and Carp Muster, early bird entries are flowing in for the weekend of December 7, 8 and 9.
The catch and release competition for Murray cod and yellowbelly (golden perch), with a carp muster on the side, will run for the length of the Macquarie River from below Lake Burrendong to the Barwon River, with the pre-comp briefing getting things underway at 7pm on December 7th.
Entrants will receive their official Macquarie Classic ID tag and measuring mat at the pre-comp briefing. Anglers will be required to supply two clear photos to enter a Murray Cod or Yellowbelly in the event, being one of the fish on the mat with the measurements clearly visible, and one of the fish being released. All carp will need to be taken back to a host venue where they will be counted, measured and disposed of.
All host venues are currently taking early bird entries, with those wanting to enter the fishing competition at a cheaper rate able to do so up until December 1. Competition host venues stretch along the Macquarie River and include the Lion of Waterloo in Wellington, the Mitchell Inn Geurie, The Garden Hotel Dubbo, The Courthouse Hotel in Narromine, The Warren Golf Club, and The Carinda Hotel.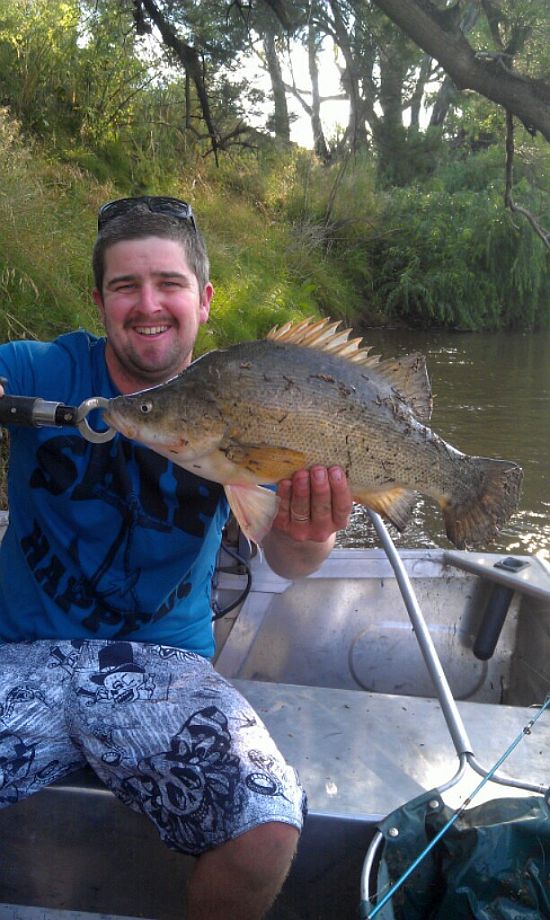 Save the natives – Wayde Stinson with a helathy Macquarie River golden perch.
Major sponsors Orana Mutual have kindly donated $10,000, whilst the Garden Hotel and the IWRA both wrote out cheques for $5,000 each to get the competition up and running. Dubbo Marine also contributed a boat, motor and trailer package to the tune of $5,000, with the CMA also contributing $3,000. Wasil Electrical industries have also sponsored the production of the pre-comp briefing DVD.
At the launch of the not for profit event earlier this year, Orana Mutual was announced as the naming rights sponsor for the event. 'This is a catch and release competition for Murray cod and Yellowbelly on a scale not seen before,' said Mr Luck, Orana's Regional Manager. 'We literally will have people competing from below Burrendong Dam to the Barwon, with local tally rooms spread from Wellington to Carinda. Orana Mutual prides itself on being "at the heart of our community" and it's great to bring local people together to utilise one of our best resources in the region. We hope people get behind this concept and it will be great to see who really does have bragging rights. But really, it's about people getting out and enjoying the river".