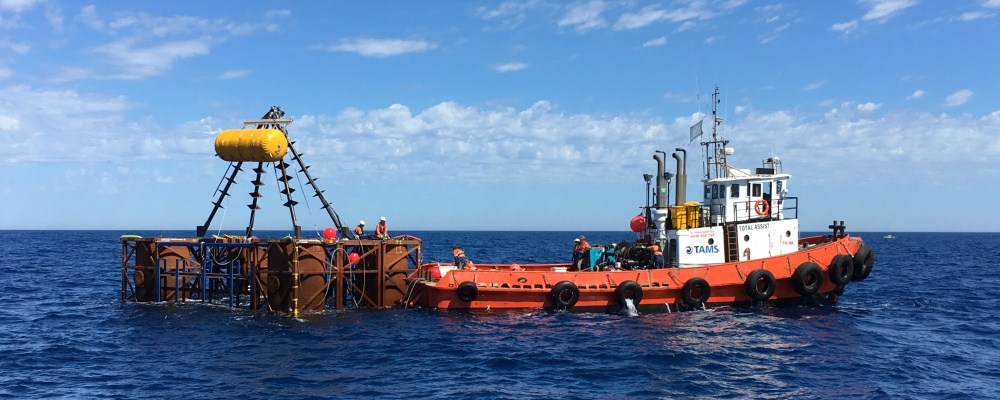 FISHING for Perth metro pelagics is set for a breath of new life according to Recfishwest with the successful instalment of two steel reef towers in late December and mid January, which will boost fishing opportunities for fishers over the summer months.
The reef towers differ from the concrete reef frameworks currently installed off Dunsborough, Bunbury and Mandurah and those planned for deployment in Esperance, Exmouth and Dampier. The towers are the first steel artificial reef structures, with a different layout and construction to the demersal reefs, and on a much larger vertical scale.
The purpose built reefs are an impressive 12.5m high, 10m long and 7.8m wide and each reef weighs a massive 70 tons.
The reef towers have been specifically designed to not only house demersal fish species but namely to attract an array of pelagic top-water fish in a similar way to traditional-style FADs. The lattice-like steel upper part of the reef will provide structure and concentrate small baitfish, attracting predatory pelagics which are expected to turn up fairly quickly.
The purpose built design will also allow demersal species to shelter amongst the large base structure with its various shapes, crevasses and vertical profile however it will take longer for demersal species to turn up in any great numbers.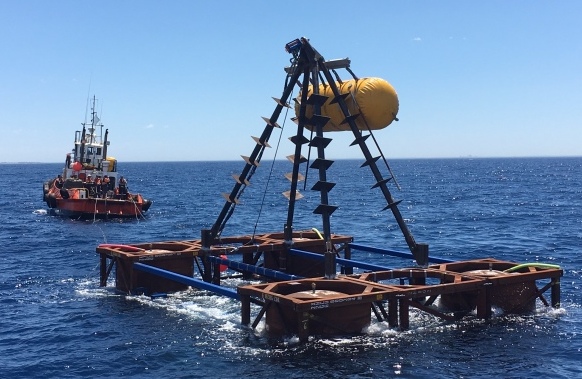 The steel lattice structure provides a complex habitat with variations in temperature, shade and hydrological effects such as current. The curved steel plates on the tower promote upwelling and the surfaces of the structure can be colonised by macro-algae, sponges and corals to favour a variety of different species and higher abundances of fish.
The wide range of habitats influenced by the reef towers will hold a good variety of fish species, with pelagics such as samson fish, yellowtail kingfish, salmon, spanish mackerel and tuna all expected to turn up at the reef as well as demersal species such as pink snapper, dhufish and baldchin groper.
There's also a good chance of King George whiting, skippy, flathead, flounder and even mulloway that are caught in the surrounding areas. All of these species have been encountered on the established South West artificial reefs but other species such as yellowfin tuna and bonito are also expected to make an appearance.
The reef towers will be located in "the paddock" between Garden Island and Rottnest Island, see below for coordinates.
Tower 1: 32° 07′ 527" South, 115° 27′ 998" East (depth: 44.3m)
Tower 2: 32ᵒ 07′ 461″ South, 115ᵒ 26′ 978″ East (depth: 45m)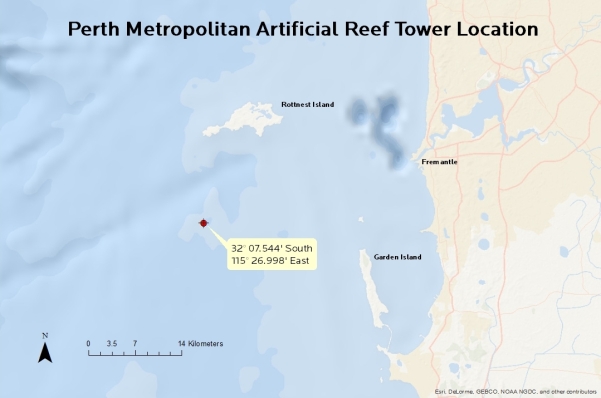 (Co-ordinates shown on map are wrong but general location is correct. Use the co-ordinates above the map as they are correct)