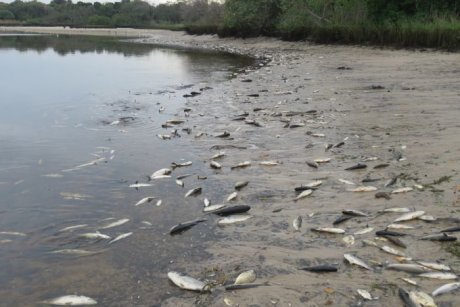 THOUSANDS of fish have died on the New South Wales north coast after a council bowed to public pressure and opened a lagoon, sending a deadly wave of de-oxygenated water surging down a nearby creek.
According to an article on the ABC website, a sand bank was removed from Tallow Creek, just south of Byron Bay, following complaints from nearby residents about flooding in their yards.
Local conservationist Dailan Pugh said as the water rushed out to sea, oxygen levels in the creek plummeted.
"Because there was no rain occurring in the catchment at the time, it was inevitable that what they were doing would result in a significant fish kill," he said.
"There were thousands of bream and flathead and whiting and mullet and eels dead on the banks and more in the water.
"It was an environmental disaster…this was known that this was going to occur, council did it any way."
The Byron Shire Council has permission to open the lagoon once water levels reach 2.2 metres.
The council's flood engineer James Flockton said public pressure forced the council to act as soon as the trigger level was reached, although waiting for rain could have mitigated the risk of a fish kill.
You can read the full story HERE.