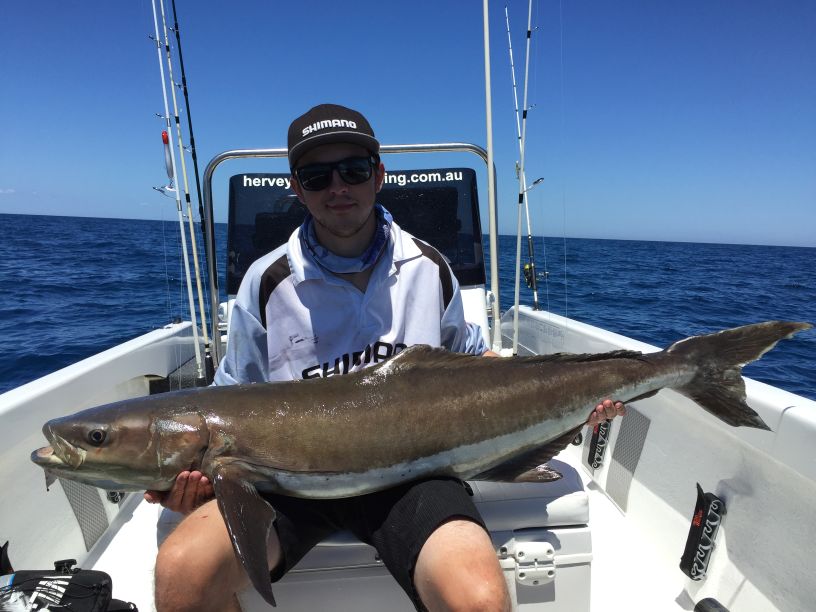 HERVEY Bay witnessed some great fishing in October with a range of species from bottom fish like sweetlip, scarlets and cod right through to cobia, giant herring, golden trevally and black marlin.
Early in the month good longtail tuna were about on the surface mixed in with the mac tuna. Longtails can be a little harder to find then mac tuna this time of year, but when conditions were good there were some nice ones to be caught.
Cobia are also about at this time of year and sometimes pop up where you least expect them. Andrew Chorley from Hervey Bay Fly and Sportfishing witnessed some big ones around 80lb start fighting over one of their hooked mac tuna. With guests from Sydney on board he said it was a great spectacle to witness.
Chorley and his guests have also been into a few juvenile black marlin with guest Matt Baxter landing two small blacks within 10 minutes of each other on a day where he also scored a big cobia (pictured above and below).
Hervey Bay Fly and Sportfishing will spend the next month or two guiding guests from all parts of the globe looking to target black marlin along with other pelagic species on both lure and fly so if you want to get involved make sure you drop Andrew Chorley a line at fishing@herveybaysportfishing.com.au or go to the Hervey Bay Fly and Sportfishing website.