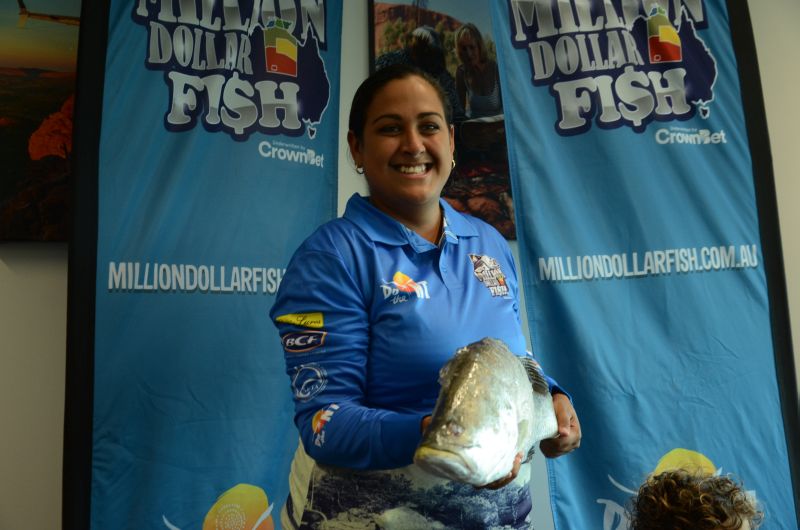 A SIXTH barramundi worth $10,000 has been caught in the NT Government's Million Dollar Fish competition by the luckiest family in the Northern Territory.
The 77cm prize-tagged barra was caught at the Daly River on Sunday 16th October by Nikita Jason from the Daly River.
Ms Jason's partner Kurt Baumann is a previous winner who caught a $10k barra earlier this month in the family's favourite spot, as well as a $10k barra in Season 1.
The competition has now landed six fish, with $60,000 in cash prizes now handed out in the first 18 days.
Million Dollar Fish is an important tourism campaign to generate increased visitation to the Northern Territory over the low season and has so far has seen more than 30,000 people register, half of those from interstate.
Ms Jason's capture is the sixth prized fish from Season 2 of Million Dollar Fish to be caught.
"I was overwhelmed when I saw the tag, I just couldn't believe it. I don't go fishing regularly, but my partner Kurt fishes for our family every day," said Ms Jason.
"We were at our usual spot at Daly River crossing and we caught five barra on Sunday night. I use a black and white rubber lure and Kurt uses a special flick technique," Jason said.
When asked what her lucky charm was, Ms Jason said it was her children.
CrownBet CEO Matt Tripp is now expecting a regular call confirming the Million Dollar Fish Red Tags.
"How can we be surprised? It seems along with the best fishing locations in Australia the Northern Territory also has the best recreational anglers," Tripp said.
It looks like the Daly River is the place to be chasing red tagged barra, given it's the third to be caught in that location this year.
Participants must register online at the Million Dollar Fish website.