BARRA Base, situated on the foreshores of Port Hurd, a massive estuary system on the western side of the Bathurst Island in the NT, is well known as the first and probably most iconic fishing lodge in Australia.
I never got to fish at Barra Base – by the time I developed a serious interest in Top End sportfishing the lodge had gone out of business – but I did get to fish Port Hurd on a mothership trip a decade or so ago. At the time, the old Barra Base was rundown and was being used as accommodation for workers at a now defunct barra farming operation. Given the history of the place, it was interesting to look at the derelict buildings and think back on all the TV shows and magazine articles inspired by this landmark fishing operation.
The good news is that Barra Base has been resurrected. Now known as Bathurst Island Lodge, no expense has been spared in refitting and updating this famous fishing destination. Together with a team of Fisho writers, I'm just back from three days staying at the lodge and fishing around the vast Port Hurd system. I got the redeye back from Darwin last night and am writing this blurry eyed and with hands scarred and roughed up after lip gripping multiple barra and threadfin salmon.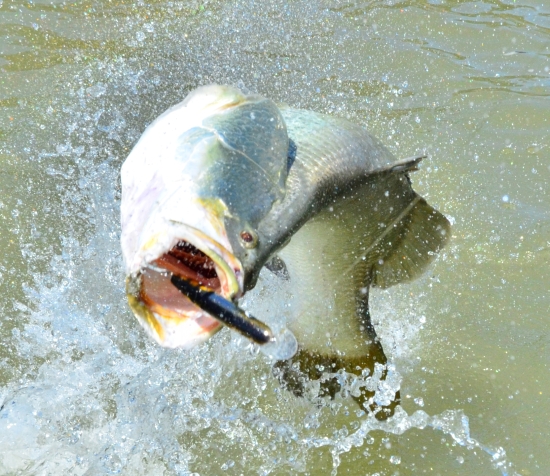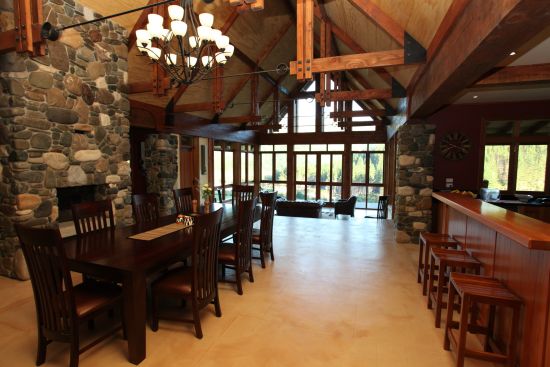 Bathurst Island Lodge has been completely refurbished. It's a pretty cool place to stay! IMAGES: JAMIE CRAWFORD.
We'll have a full feature on Bathurst Island Lodge in the July issue but I'll run through a few basic details and highlights of our trip so you get a bit of a taste of what's on offer.
Bathurst Island, along with neighbouring Melville Island, is part of the Tiwi Islands. The local Tiwi people own Tiwi Adventures, which operates Melville Island Lodge, the Johnson River Camp and now Bathurst Island Lodge. Tiwi Adventures is definitely the biggest sportfishing operation in Australia – in fact, it's now probably one of the biggest in the world.
Tiwi leaders are determined to develop long-term business opportunities for their people and have focused on sportfishing tourism as an ideal way to maximise their economic development at the same time as preserving the sustainability of their unique environment.
Commercial fishing, along with mothership charter operations, have been banned in Tiwi waters, thus meaning that guests of the lodges can enjoy pristine and exclusive sportfishing.
Mike Baxter, who runs the lodges for the Tiwis, kindly invited myself, along with Fisho writers David Green, John Newbery, Peter Zeroni, Jamie Crawford, Sami Omari and Dave Rae, as well as regular visitor Bill Little, up to check the new lodge out. It officially opens today – a crew of nine clients flew in late yesterday and are doubtless on the water as you read this.
We fished Friday, Saturday and Sunday and can report good numbers of all the usual estuary suspects – barra, threadfin, jacks, goldies and blue salmon plus a few oddities such as a tripletail caught out of a barra snag. We didn't get to fish the offshore grounds on this trip but the reef systems just a few miles offshore are home to black jewfish, Spanish mackerel, XOS golden snapper, longtail tuna and various reef species. Further out around the Bathurst Trench you can expect to find sailfish and even sizable black marlin.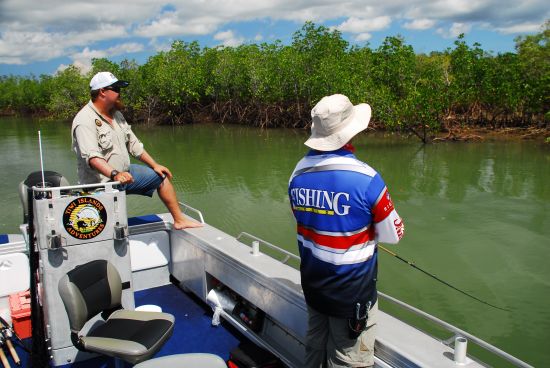 Fisho's Jim Harnwell works a snag as guide Simon Stenn keeps an eye out for cruising barra and threadies. IMAGE: JAMIE CRAWFORD.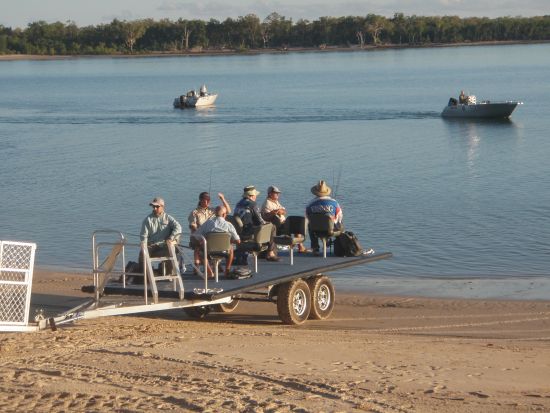 A nifty "pontoon trailer" is used to transport guests to the boats. You don't even get your feet wet at this joint.
Port Hurd has long been known as a threadfin hotspot – multiple world records were set at the infamous Second Creek, just around the corner from the lodge. I can report that nothing seems to have changed in regard to the local thready population. We all experienced fantastic shallow water action with rampaging whiskery salmon savaging hapless jelly prawns around creek mouths and along the edges of mangrove fringed flats. Most of the fish encountered were in the 70-90cm range, with more than a few bigger fish as well. The biggest fish included a 104cm beauty for Jamie and a 102cm model for John – cracking threadies in anyone's language.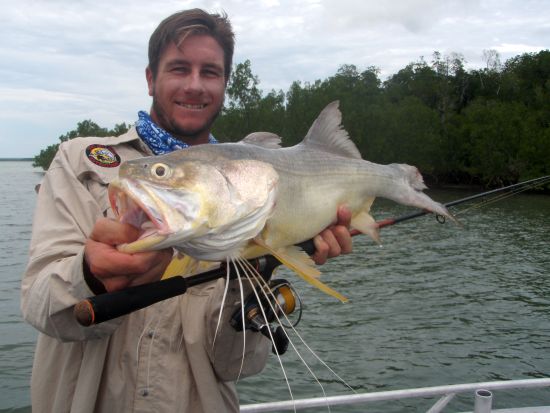 Port Hurd is known as a threadfin hotspot. Guide Kel Mills displays a nice specimen caught by the author on a light spin stick.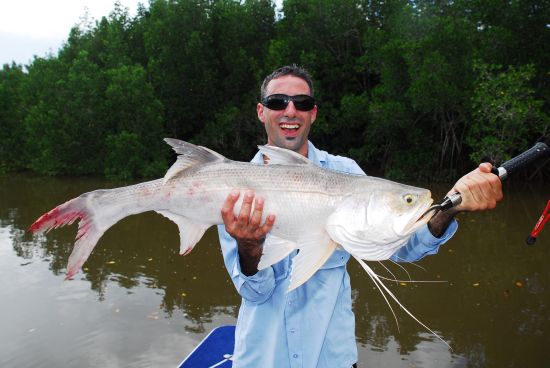 Fisho writer Jamie Crawford with one of many threadies caught during the trip. This one went 96cm, Jamie's biggest was 104cm – check it out in the July issue!

Quality jacks – Dave Rae scored a solid 50cm model – plus barra up to around 85cm made for exciting lure casting on the many snags, drains and creek mouths we fished and explored.
This was pretty much an exploratory mission – Mike wanted to use us to help finetune the operation before the first "real" guests arrived – so we spent a fair bit of time with the guides checking locations and generally getting a feel for the place. The lodge is extremely lucky in that NT fishing legend Mark "Westy" West is the head guide. Westy guided here back in the Barra Base days and knows the area intimately. Together with fellow guides Troy Newton, Kel Mills and Simon Stenn, all of whom are experienced operators, Westy will no doubt have the place completely wired in no time flat. The boats used are custom built 6.4m plate alloy models powered by 150hp Suzuki four-strokes. Three anglers can comfortably cast lures from these big, stable and seaworthy vessels.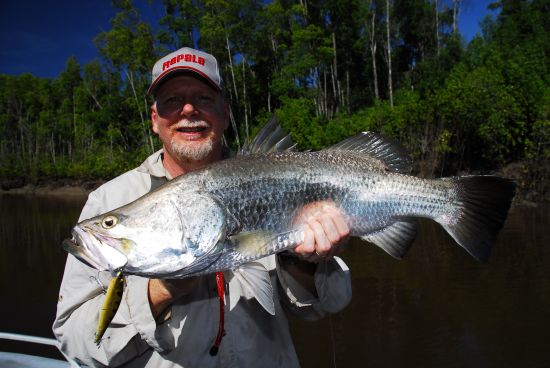 Fisho's NT Correspondent Pete Zeroni with a shiny barra caught on a new Storm Twitch Stick lure. IMAGE: JAMIE CRAWFORD.
Running operations on land are Lindsay and Karen Mutimer, both of whom are well known as highly experienced fishing lodge operators. Lindsay is highly regarded as one of the NT's pioneering sportfishing guides and provides a wealth of knowledge when it comes to ensuring the entire operation runs smoothly and efficiently. Karen and her assistant Sharon, together with chef Paul Minogue, ensure you want for nothing. The food is top notch, the rooms spotless and comfortable, nothing is too much trouble.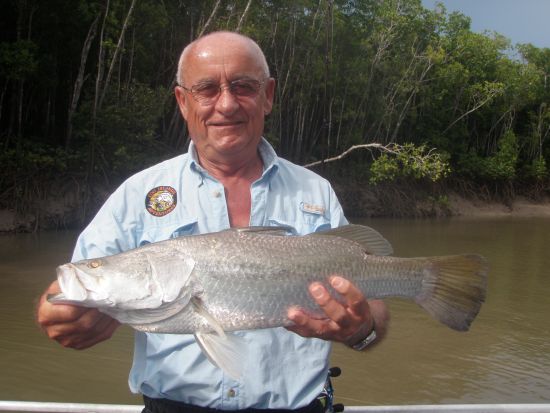 Sydneysider Bill Little makes regular pilgrimages to the Tiwi Islands. Here he displays one of many barra he caught during our quick trip to the new lodge on Bathurst Island.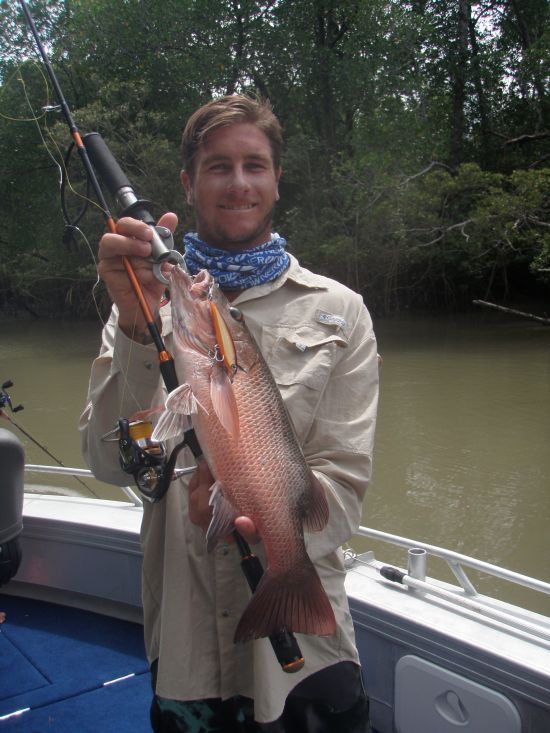 Top young guide Kel Mills with a solid jack caught only a short boat ride from the lodge.
All up, I think I can say that the entire Fisho team found everything to be pretty much as good as you could possibly expect in this sort of remote sportfishing operation. The fact that the lodge is built right on the beach – the water is literally metres away – gives this operation a unique appeal. Check it out at www.tiwiadventures.com.au or call Nigel Baxter on 08 8947 3366 or 0457 162 472 for more details. Even though the lodge has just opened, I understand bookings have been very popular so you might want to get in quick …
Stay tuned for the July issue when Greeny will give his perspective of the Bathurst Island operation.