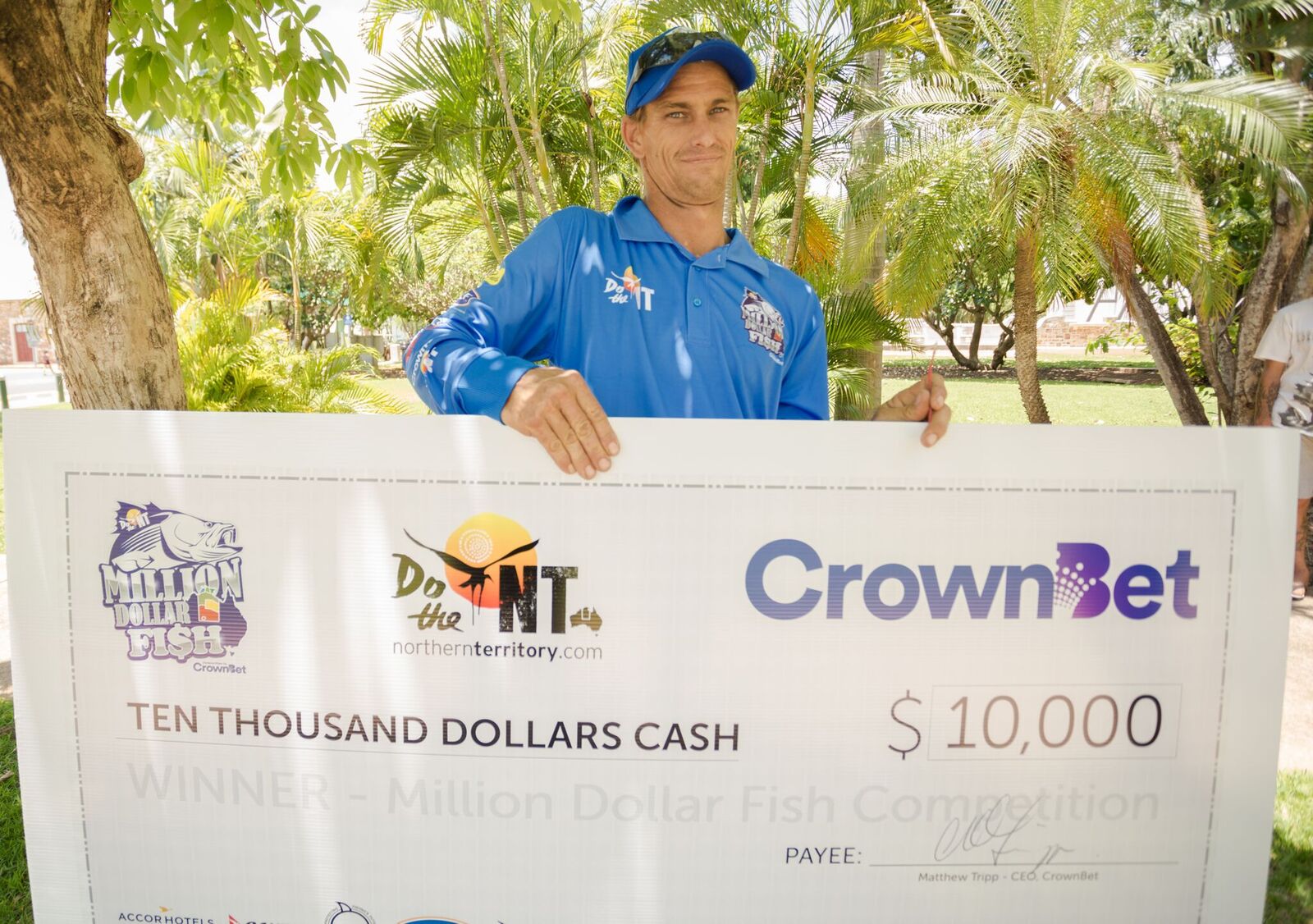 DARWIN man, Chris Louden, has caught a barramundi worth $10,000 in Corroboree Billabong as part of Season Two of the Northern Territory's Million Dollar Fish campaign.
It was a turn of good luck for the two brothers that often fish together as Chris' brother, Brad had earlier caught a tagged barra from Season One of the competition last week that was ineligible for any cash prize.
The catch spurred the pair on to go out again and try to turn their luck around.
"The barra put up a good fight. It took at least 10 minutes to reel it in and we didn't even know it had a tag in it until we got it on the boat, and then we saw it and I said you're joking," Chris said.
The winning 72cm barra was caught over the weekend at Corroboree Billabong while back out on the water with his brother and a friend.
Having fished with his brother since they were in their teens, Chris intends to share some of his winnings with Brad, and plans to spend his portion of the $10,000 prize on fixing his car and a new fishing rod.
"My car broke down last week so it's about time I got some good luck," he said.
Commenting on his brother's win, Brad said: "The time we spend fishing together has made us much closer. We're best mates and brothers, and we fish at least three times a week."
The recapture is the third since the competition began one week ago with the first two fish caught in Darwin Harbour and the Daly River respectively.
In Season Two of Million Dollar Fish, 101 barramundi were tagged and released across the Territory, with 100 carrying $10,000 cash prize tags. Today's win means there are still 97 $10,000 barras lurking and the prized million dollar fish to be caught.
In addition to the prize-tagged barramundi, registrants for Season Two are also in the draw to win $96,000 worth of prizes, including five HelloWorld holidays to five different regions in the Northern Territory flying Qantas, a Jayco Camper Trailer worth $30,000, Engel fridges, Shimano and BCF Fishing Tackle, JMGillies Classic Lures, Accor Hotels for Le Club points, Qantas flights, XXXX GOLD cartons and a fishing charter. All sponsor prizes are being drawn monthly up until February 2017.
For more information, or to register, visit the Million Dollar Fish website.