The first winner in our Weird Baits comp launched last week is young Sam Weimar of Mossman Queensland.
Sam wins a special collector's edition Rapala X-Rap complete with Fishing World logo for his attached entry that features an innovative way of using kitchen cutlery to catch queenfish.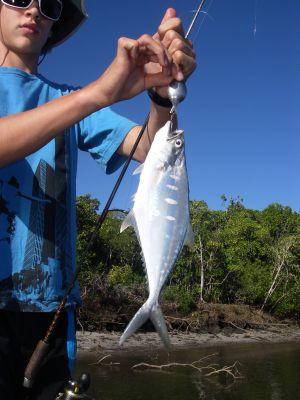 According to Sam:
My weird bait or lure, is a metal tea spoon I found in our cutlery draw. Using the hacksaw I cut off the handle and then drilled a small hole at the back. I used some wire trace and threaded through a treble hook before crimping it shut with using a small metal tube and pliers. The fish pictured is a queenfish I caught on it in the Daintree River on my first test out. The lure has a great action and has caught me various fish, however Mum still isn't impressed that one of her tea spoons is missing. Planning to test out knives and forks in the near future!
Well done Sam, an exclusive Fishing World Rapala X-Rap is on its way to you.
For your chance to win send in a story and pics of fish caught on weird baits and you'll go in the draw to win a cool Fisho-branded Rapala X-Rap lure. We've only got 20 of these fantastic lures left to give away. All you need to do is send your story (200 words max) or picture to comps@fisho.com.au. Winners will be chosen at random; the judges' decision is final. Remember, weird will win!