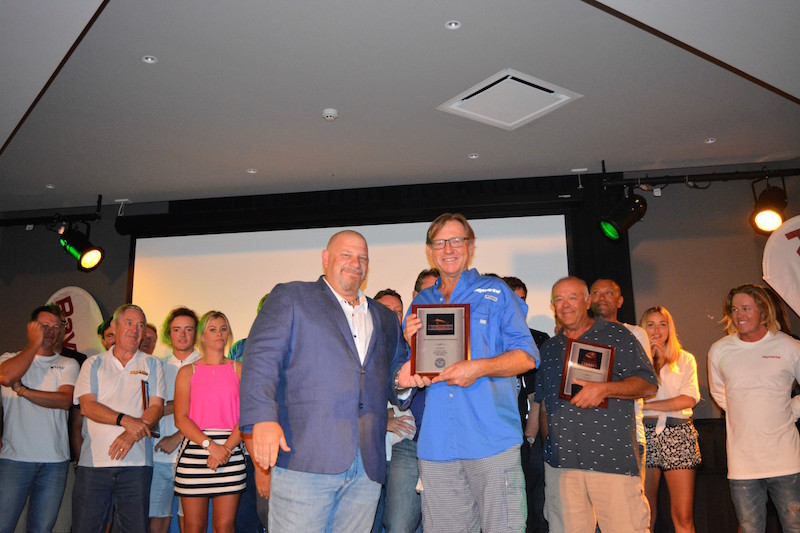 LONG-TIME charter skipper and highly respected game fisho Scott Thorrington reckons his Raymarine electronics setup helped him to his recent NSWGFA Interclub victory.
Thorrington – who operates Haven Charters from the NSW Central Coast – relied on Raymarine's technology to come up trumps in the recent NSWGFA Interclub and he says his use of Raymarine technology during the past three years has vastly improved his tournament results in general.
"I used to place regularly in the top five or 10 in the various tournaments I fish, but since I've come onboard with Raymarine I'm now consistently placing in the top one or two," Thorrington said.
Fishing from his Blackwatch 34 Freedom, as part of the Central Coast Game Fishing Club's Tag & Release Team 1, Thorrington and his crew amassed a massive 49,000 points with blue and black marlin on 10 and 15kg tackle to propel their team to a winning position.
Tough conditions made the fishing hard for many of the boats fishing the 2017 NSWGFA Interclub. Now in its 55th year, the Interclub ranks high on the game fishing tournament scene, each year attracting hundreds of competitors to its home base of Port Stephens, in the NSW Hunter region.
Thorrington's strategy during the 2017 Interclub was to use his CHIRP sounder to find the bait.
"Raymarine's high-definition CHIRP images allow me to see how the bait is reacting. CHIRP doesn't just show a red blob, it shows individual baits. And you can tell from those images exactly how those baits are reacting to any marlin that are around. And that allows me to work out the best way to catch them," he said.
High pressure tournaments like the Interclub tend to sort the wheat from the chaff, especially when the conditions are testing. The 2017 marlin season has been one of the toughest in recent memory, with fish scattered along the coast in unusually low numbers.
It's at times like these that professional game skippers like Scott Thorrington rise to the challenge. As his results in this year's Interclub attest, Thorrington can produce fish like few others.
Find out more about Raymarine's marine electronics technology that Scott Thorrington relies on at raymarine.com.au.