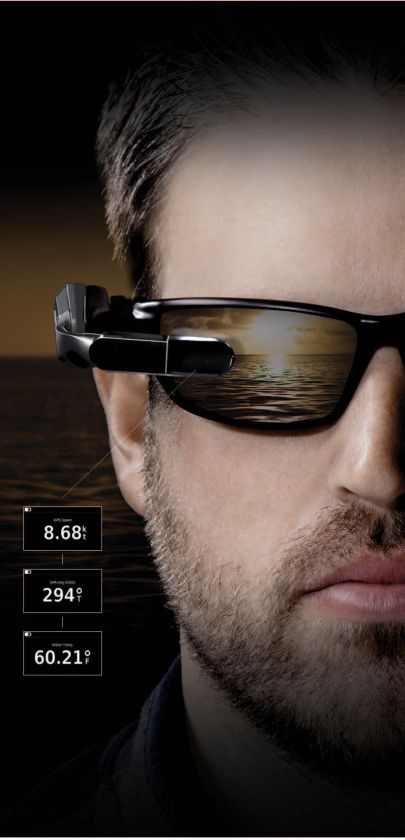 DESIGNED for cruising, fishing and sailing, the innovative Garmin Nautix is a hands-free in-view display that enhances boaters' situational awareness by putting important information in their line of sight.
The versatile design of the Garmin Nautix attaches to most sunglasses and it displays key boating data including speed, heading, water depth and temperature, wind direction, engine rpm, and more from compatible onboard Garmin marine electronics (with the ability to receive information from up to 12 different data screens).
Featuring eight hours of always-on battery life and a durable, weatherproof design, the Garmin Nautix is built to withstand the harsh marine environment. Its glove- and wet-weather friendly touch panel can be used to rotate between data displays, and its adaptable mounting style allows it to attach on either arm of the glasses with a fully-adjustable arm and eyepiece for optimum display position.
Weighing approximately 30g, the Garmin Nautix is designed for comfort. Its integrated ambient light sensor and colour display ensure readability in all conditions, and it can be worn with polarised and prescription lenses.
Displaying a continuous view of critical boat data, the new device is beneficial in a number of on-water situations: for cruisers, if you have to hand over the helm to someone else for any reason, you can maintain watch over vessel speed and other information; for anglers, when you're actively searching the water for signs of fish or birds and want to see a change in water temperature or depth; for sailors, you can view advanced racing data, including countdown timer, time to burn, and start line information.
The Garmin Nautix is compatible with the GPSMAP 7400 series and the new GPSMAP 8400 series.
RRP from AU$599.
For further information visit the Garmin website.