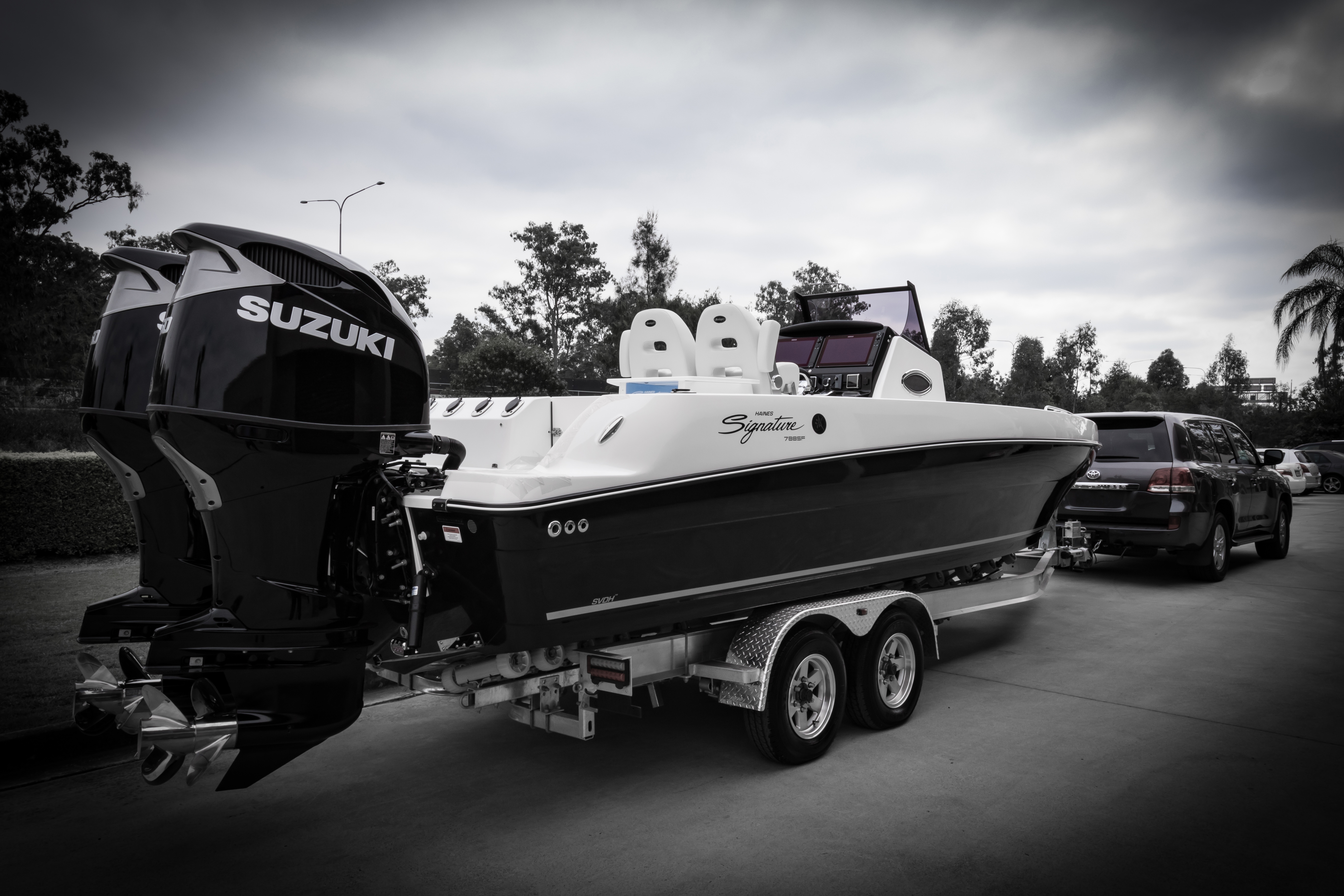 ONE of the largest legally trailerable boats in Australia is here with the release of the Haines Signature 788SF at the Brisbane Boat Show.
According to the manufacturers, the 788SF is a formidable bluewater fishing machine that's an impressive addition to the iconic, Australian-built, Haines Signature range.
Designed with the offshore sport fisher in mind, the boat is well suited to tackle the open waters with its 500L fuel tank, stainless steel finishes, big screen electronics and a transom rating up to 400hp (single). Overall the the 788SF is a well-equipped and stylish fishing boat.
The prototype model on show featured a centre console configuration with full composite (Thermalite) construction, powered powered by two of Suzuki's mammoth 350hp outboards.
The show model also featured a number of optional extras such a Roswell speaker and amplifier system with JL Audio head unit, 2 x 16" SIMRAD NSS evo3 units with StructureScan 3D transducer, WiFi and GPS, stainless steel rod holders, live bait tanks and underwater LED lights, with the wiring all easily accessible via a fold-down dash design.
The 788SF also possesses all the comforts of home including a full head (toilet, shower and sink) and on board fresh water (hot and cold), while providing endless comfort with fully upholstered lounge seats for up to 10 people.
To complement the twin engines, the 788SF is also equipped with a Suzuki Precision Manoeuvring joystick control system.
John Haines of The Haines Group believes the legally trailerable 788SF will rival the current crop of challengers in the offshore fishing boat category.
"There's nothing out there on the market quite like the 788SF at the moment and we feel it satisfies the needs of a number of different types of customers, but serious fishos will appreciate its sheer size and functional casting space combined with its towability and impressive performance capabilities," said John.
"Currently, customers seeking a larger class of fishing boat have to look at the aluminium boat market as an option, so we've released the 788SF to cater for those who want all the bells and whistles but in a fibreglass construction, while still being able to legally tow it with a large family 4WD," John said.
The 788SF is priced from $149,000 for a boat, motor, trailer package (with Suzuki DF250APXX, Dunbier alloy trailer and features, as standard) and is available to order now, with first deliveries expected later this year.
For more information, visit our website at www.sigantureboats.com.