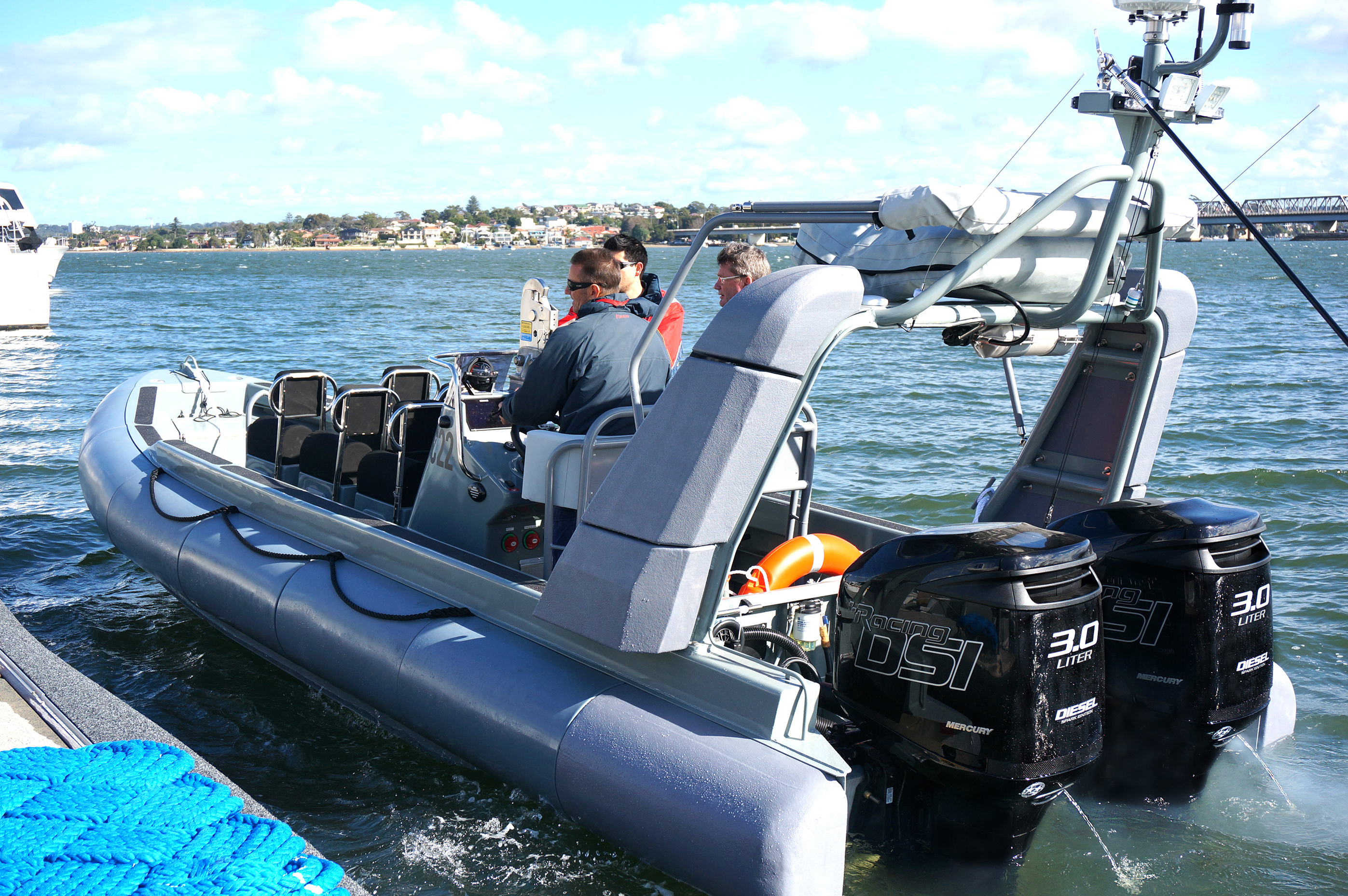 THEY are the first of their kind, the Royal Australian Navy's six new 7.6 m RIBs, each sporting a pair of 175hp Mercury OptiMax DSI diesel outboards.
What makes these boats special is the fact they are powered by outboards at all. For many years, the RAN has had a ban on outboards because traditional petrol engines – and the fuel itself – were considered too flammable to be aboard warships. That meant the Navy had to rely on diesel inboards, even at the cost of performance in smaller vessels.
Everything has now changed with Mercury's new 3 L DSI (Diesel Spark Ignition) outboard which has been specifically engineered to address the needs of military and other specialised commercial applications around the world.
Based on Mercury's proven OptiMax technology, the high-performance DSI outboard differ significantly from a normal diesel engine which uses compression to cause the fuel to combust. DSI motors, much like petrol engines, use a spark plug to ignite the fuel which has been finely atomised by a small charge of compressed air.
Additionally, a "glow plug" supports the spark plug for improved cold-weather starting and better idling. Built by Britton Maritime Systems from a proven design, the six new BMS DSI 760 Ship Boats have been allocated to the Navy's Cape-class patrol boats. They will provide general support and act as interceptors when the patrol boats have to investigate or seize other vessels.
The twin 175hp DSI outboards, with 17 pitch propellers, provide the 3 tonne RIBs with all the power and speed they need in their unpredictable roles. Designed to carry up to eight people along with 200 kg of cargo, the ship boats can reach 40 knots at 5,750 rpm in a flat sea.
By replacing inboards with outboards, the Navy achieves a range of advantages. The new boats are easier and cheaper to service, they are about 500 kg lighter and have better performance characteristics including a tighter turning circle, they are significantly quieter and enjoy additional cargo space.
Given they are based on trusted OptiMax technology, the new DSI outboards also provide the key features which Mercury is renowned for, including;
SmartCraft Engine Guardian for real time engine diagnostics
Custom-calibrated Propulsion Control Unit
Electronic multipoint lubrication · 60-amp, belt-driven alternator
Low Emissions
High performance cylinder liners for optimal engine running
To learn more about Britton Maritime Systems and the BMS DSI 760 Ship Boats, go to www.brittonmaritime.com.au.